Crisis Management Expert Tells Us T.J. Holmes & Amy Robach's New Venture Is A Smart, Bold Move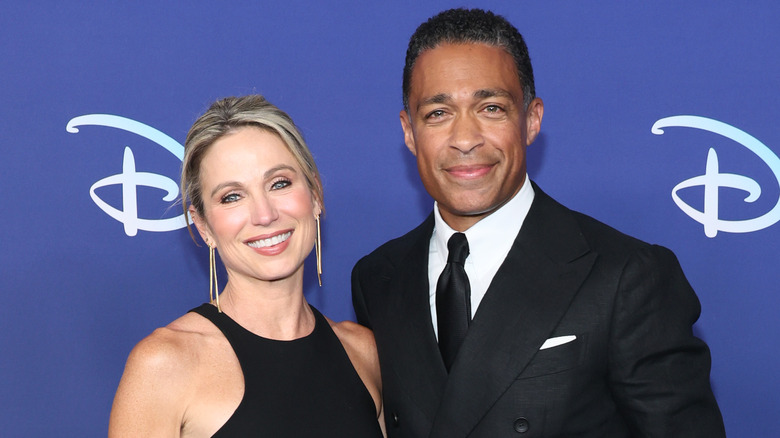 Dia Dipasupil/Getty Images
T.J. Holmes and Amy Robach are back in business — literally. The former "GMA 3" anchors have announced their return, not on television, but rather via a podcast.
It's been more than a year since the scandalous photos of Holmes and Robach cozying up in New York City hit the internet, per the Daily Mail. The bombshell images revealed the two journalists had been in a romantic relationship for months despite being married. Although a source told People none of their relationships overlapped, viewers weren't convinced. Holmes and Robach's questionable romance was all the buzz, and it wasn't a good look for the ABC network. It all became too much, and on December 5, 2022, they were officially removed from their posts. Holmes and Robach were finally let go from the network in January 2023.
Since then, the couple has laid relatively low, but have remained steadfast in their relationship. However, it seems like enough time has passed for the two to make their return. In a joint Instagram post, the couple revealed the launch of their upcoming podcast, "Amy & T.J." They captioned the photo of the two embracing, saying, "How's this for instagram official? #silentnomore." While there still may be controversy surrounding the couple, crisis management expert and president of Gillott Communications, Eden Gillott, spoke exclusively to Nicki Swift about Holmes and Robach's new business venture.
Amy Robach and T.J. Holmes are in control of their careers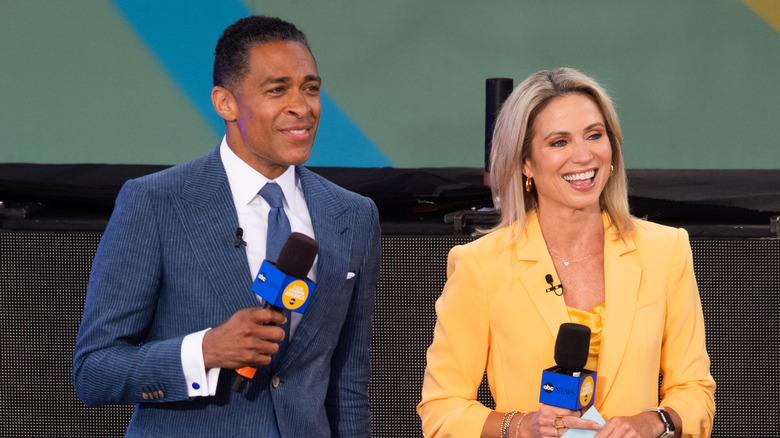 Noam Galai/Getty Images
Amy Robach and T.J. Holmes' big podcast announcement has everyone tuning in and the start date marks a significant moment in their lives. In their announcement, the couple revealed their podcast will launch on December 5, exactly one year after they were removed from "GMA 3." Crisis management expert Eden Gillott exclusively told Nicki Swift, "Amy Robach and T.J. Holmes' choice to launch on the anniversary of their firing could be seen as a bold statement of resilience and new beginnings. A year can offer a sense of closure and reflection and can symbolize a fresh start and a desire to put the past behind them."
Gillott revealed the launch of the podcast will allow the couple to "refocus on their careers." It also gives them flexibility in what they do and say. She explained, "Launching their own show offers Robach and Holmes creative control, allowing them to shape content and direction to their vision." And Gillott sees how moving forward in their careers together can be beneficial. She added, "Staying together as a duo can be advantageous, have a loyal following from their previous work which can help drive initial listenership and engagement, not to forget their built-in chemistry as a couple." 
Obviously, there's risks to working together, as trolls are bound to have their say, but as Gillott put it, "[Robach and Holmes] moved on and so should the rest of the world."