Everything Hugh Jackman Has Said About His Sexuality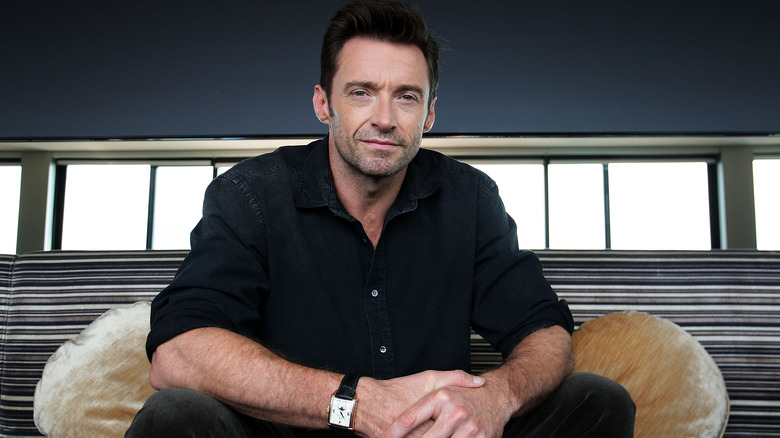 Lisa Maree Williams/Getty Images
Over the years, Hugh Jackman and Deborra-Lee Furness have repeatedly shut down rumors about his sexuality. However, speculation still swirls that Jackman is gay, and it seems like no matter what he says, there'll always be a contingent of doubters questioning his honesty. And the gossip is likely only to increase now that Jackman and Furness' 27-year marriage is over.
The couple announced they were splitting in September. In a statement to People, the Australian actors said they'd "decided to separate to pursue our individual growth." They shared that they were grateful for their time together and vowed to "undertake this next chapter with gratitude, love, and kindness." Per Bustle, the two met in 1995 on the set of the Aussie TV show, "Correlli." Despite the 11-year age difference between Jackman and Furness, it was love at first sight, and after four months of dating, he proposed. Furness said yes, and they married in 1996. In 2000, Jackman and Furness adopted their son, Oscar Maximilian Jackman, and their daughter, Ava Eliot Jackman, followed in 2005.
Everything appeared rosy when they celebrated their wedding anniversary in April. "I love you, Deb. Today is our 27th wedding anniversary. 27 YEARS!!" Jackman posted on Instagram. "I love you so much. Together, we have created a beautiful family. And life. Your laughter, your spirit, generosity, humor, cheekiness, courage, and loyalty is an incredible gift to me." Still, five months later, they were done. And inevitably, Jackman's back to fielding questions about his sexuality once again.
Sticks and stones
Hugh Jackman and Deborra-Lee Furness' 27-year marriage should be enough to prove naysayers wrong about his rumored sexuality. Not so, though, because despite the nearly three-decade-long relationship, the gossip persists. For the most part, Jackman isn't fazed; instead, he's more confused about why people care. "I think the problem is, I finally made it. I mean, you can't be a star without having a gay rumor, can you?" Jackman joked to the Associated Press in 2009. "Let's face it. You know how I feel about it. I think it's not that interesting a conversation."
Still, even though he doesn't give it a second thought, Jackman admitted to getting upset on his then-wife's behalf. "If [I was gay], I would be," he told Australia's "60 Minutes" in 2013. "It's, to me, not the most interesting thing about a person, anyway." Furness chimed in, "It's stupid, and it's annoying because it's not true."
Jackman elaborated more in an interview with Good Housekeeping in 2013. The actor admitted he doesn't waste his time denying the rumors because, ultimately, whatever he says makes no difference, and he couldn't care less what people think. "We really only get mad when there's an element of truth, right?" Jackman said. However, once again, he confessed that he is concerned for Furness. "When she hears the gossip, she finds it hard to shut up about it," Jackman said. "It's frustrating that she doesn't have a voice in the situation."
All good with gay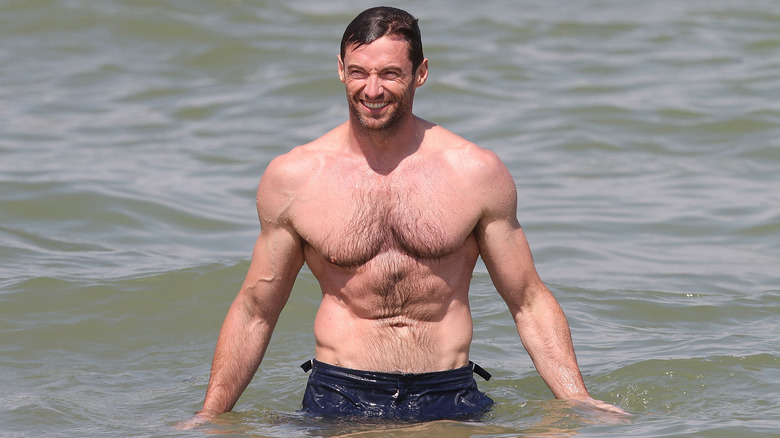 Marc Piasecki/Getty Images
Hugh Jackman rolls with the constant rumors about his sexuality. Per Metro (via Attitude), Jackman spilled the sexuality tea during a 2018 interview with a U.S. radio station. "Some dudes do get upset, some dudes say 'Don't say I'm gay' [but I am good]," he said. Jackman shared his theory about the origin of the rumors. He blamed the steamy PDA his character, Peter Allen, engages in with his longtime lover, Greg Connell, in the Broadway musical, "The Boy From Oz."
However, Deborra-Lee Furness struggled with the gay gossip clogging up her social media. "Just recently, it bugs her," Jackman admitted to The Hollywood Reporter in 2013. "She goes: 'It's big. It's everywhere!'" Furness learned to take it with a pinch of salt, though. In 2022, she told "Not an Overnight Success" that if Jackman was gay, then he'd be loud and proud and out of the closet. And Furness knows just the type of man he'd go for. "He'd be dating Brad Pitt or whatever," she quipped.
News.com.au reports that Furness admitted on "Anh's Brush With Fame" that she'd also been subject to rumors. "I was gay, too," Furness said. "You know when I did 'Shame'? I was gay. They were shocked when I got married." Furness said the constant speculation is "just wrong" and that anybody would get annoyed by continuous untrue stories about their sexuality. "It's like someone saying to Elton John, 'He's straight.' I'm sure he'd be p****d," she said.