The Evolution Of Madonna's Face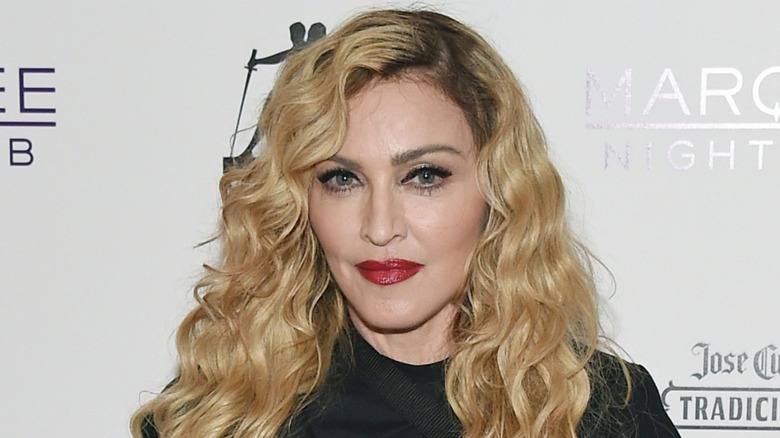 Ethan Miller/Getty Images
Madonna has been causing an entertainment commotion with her sexy, subversive, and provocative looks for decades. A Midwestern girl looking to make a name for herself, she moved to New York City from Michigan with only a few dollars to her name, but what she lacked in funds, she made up for in ambition, tenacity, and talent. Madonna quickly transformed herself from a scrappy club kid to a music idol, becoming not only one of the best-selling musical artists of the 1980s but one of the top-selling artists ever. Many celebs have grabbed the pop culture spotlight, but there are few who have held onto it like Madonna has.
Her intriguing penchant for reinvention — both physically and sonically — has defined Madonna's career from the get-go. While other artist's aesthetic twists and turns might seem like they've been created in an industry boardroom, Madonna's transformations are personal artistic expressions. 
Having been a global celebrity for much of her life, Madonna has aged under the intense scrutiny of the public gaze. Like many female celebrities, that comes with speculation about how she's maintained her youthful visage. Although many of Madonna's ever-changing looks are style choices, time has been a factor in her constantly evolving look. In celebration of a true pop icon, let's take a look at the evolution of Madonna's face to understand how the "Material Girl" has expressed herself over the years.
Her fresh-faced teenage years in the Midwest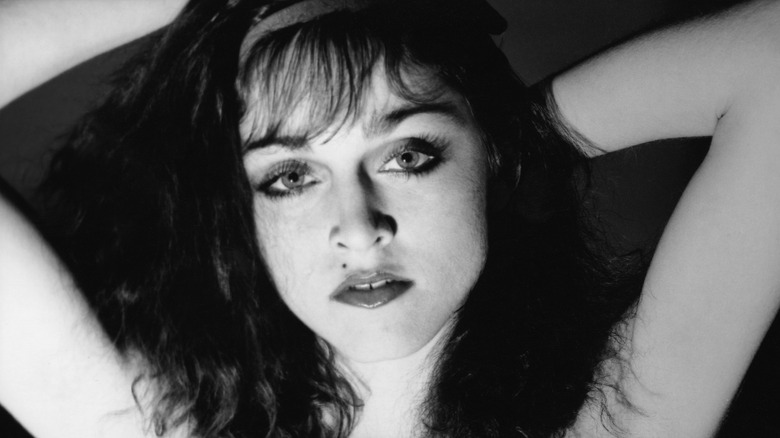 Michael Mcdonnell/Getty Images
Growing up in suburban Michigan, Madonna was already cultivating a rebellious attitude and look that would make her world-famous. In an essay for Harper's Bazaar, she wrote, "Growing up in a suburb in the Midwest was all I needed to understand that the world was divided into two categories: people who followed the status quo and played it safe, and people who threw convention out the window and danced to the beat of a different drum." However, before leaning into unorthodoxy, Madonna looked like many high schoolers of the '70s, sporting a middle hair part and delicately arched eyebrows.
Although Madonna seemingly adhered to convention through her good grades and her participation in the cheerleading squad, around then she stopped shaving her legs and armpits, defying the female beauty norms of the era. Madonna wrote of her teenage transformation, "I did the opposite of what all the other girls were doing, and I turned myself into a real man repeller. I dared people to like me and my nonconformity."
After high school, Madonna attended the University of Michigan to study dance. In the book "Madonna: An Intimate Biography," her roommate Whitley Setrakian recalled, "She was beautiful. Articulate. Very, very thin. Her hair had been chopped off in a sort of odd way with little bits sticking out on the sides. She wore lots of heavy, dark eyeliner and interesting clothes, baggy T-shirts and tight pants."
Madonna's New York club kid era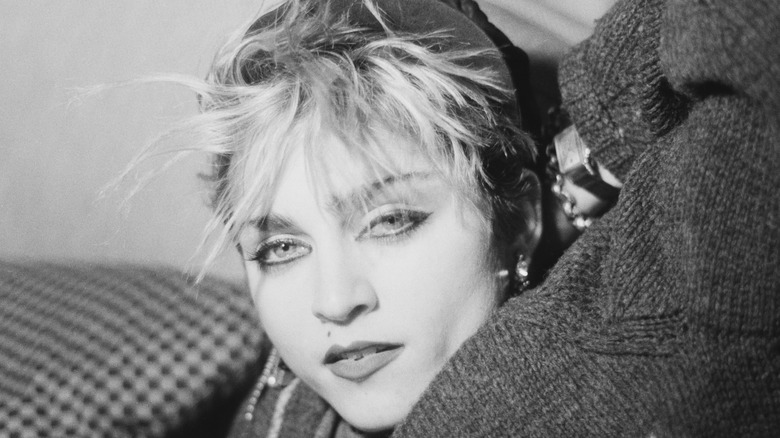 Peter Noble/Getty Images
When she was 19 years old, Madonna dropped out of the University of Michigan, moved to New York City, and cobbled together a look that would become her signature through the early 1980s. She rocked a lashing of heavy eyeliner, bushy brows, and unruly blonde-dyed hair with stylishly dark roots. What Madonna lacked in money she made up in creative drive, and she submerged herself in the city's downtown art and music scene. Hanging out, performing, and working at places like fabled punk rock clubs like CBGB and Max's Kansas City and legendary nightclub Danceteria certainly influenced her style. Madonna's scrappy club kid looks were thrown together with lots of imagination on a shoestring budget.
Even as a neophyte artist, Madonna's style was undeniable. However, she got a little help in crafting her punkified glamor from a friend. French jewelry designer, art director, and downtown cool girl Maripol's jelly bracelets adorned Madonna's arms at this time. Maripol also styled Madonna for the cover of her self-titled 1983 debut album, and she told Yahoo! Entertainment of their fashionable relationship, "I thought that she was the perfect person to carry around my style. And it was perfect for her as well."
She's the ultimate boy toy
Sonia Moskowitz/Getty Images
By 1984, Madonna was a pop music sensation, and she was about to become a superstar with the release of her second album "Like a Virgin." In the video for the album's title track, Madonna's wild club kid look got a touch softer, with her bouncy bleached curls, smokey purple eyeshadow, and bright fuchsia lips adding to her allure. 
Her electric performance of the song at the 1984 MTV Video Music Awards — where she sported a similar look to the video — proved so controversial that her manager told her it was a career killer. Madonna's manager couldn't have been more wrong. The song "Like a Virgin" became her first number-one hit on the Billboard 100 chart.
Madonna's scrappy downtown beauty soon became a phenomenon with the suburban mall set. Her fans, referred to as Wannabes, Madonnabes, and Madonna-ettes, loved her style and emulated their new idol. In 1985, Macy's created a Madonnaland display filled with Madge-inspired wears, and the retailer sponsored a Madonna look-alike contest. Madonna's signature look inspired professionals as much as it did youth; the costume designer for Madonna's mainstream movie debut "Desperately Seeking Susan" looked to the singer's closet for inspiration. Madonna's character Susan didn't stray from Madonna's now-signature messy hair, bold brows, and red lips.
Tapping into Old Hollywood glamour as a Material Girl
Madonna tapped into Old Hollywood glamor in her video for "Material Girl," and it was a look that she would return to at various points in her career. A riff on Marilyn Monroe's ensemble for the musical number for "Diamonds Are a Girl's Best Friend" from the 1953 movie "Gentlemen Prefer Blondes," Madonna's "Material Girl" video plays out as part homage to Hollywood's Golden Era and part parody of Reagan Era greed. 
Madonna took to the blonde bombshell aesthetic naturally, toning down the New York City grit for Hollywood sheen. Her crunchy curls turned into glamorous waves and her eye makeup, while still dramatic, emulated that of Monroe's chic winged eyeliner.
While becoming a blonde bombshell might have initially been done with a wink and a nod, Madonna's general look was highly influenced by Monroe throughout much of the '80s and into the '90s. In a 1990 issue of Vanity Fair, Madonna posed for famed photographer Helmut Newton in platinum blonde Old Hollywood-inspired 'do. The following year, she became the spitting image of Monroe in the Vanity Fair pictorial titled "Homage to Norma Jean," which referenced Monroe's 1962 photo session "The Last Sitting" by Bert Stern. She even showed up at the 1991 Academy Awards in her full-Monroe finery, accompanied by fellow superstar Michael Jackson. Madonna's arched eyebrows, bright red lipstick, and perfectly coiffed curls could measure up to any of Hollywood's glamor girls of yore.
Madonna goes retro feminine with her True Blue look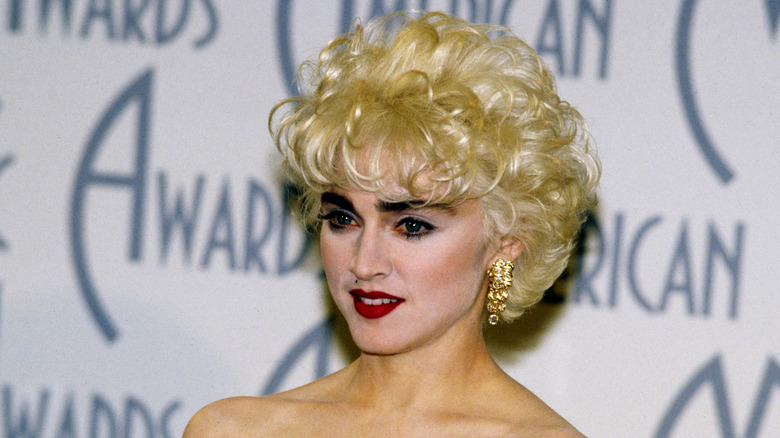 Chris Walter/Getty Images
By 1986, Madonna had put away the jelly bracelets and gone for a totally new look for her album "True Blue." She wanted to shed the struggling artist look from her "Like a Virgin" era and cut off all her hair. Looking to the 1950s for inspiration, she told Jane Pauly in a Today Show interview about transitioning her look from her "Like a Virgin" era to "True Blue." "After a while, I started feeling like I was copying myself. So I was like, 'Oh, I have to change my clothes.' And then I had money, and I could buy nice clothes."
Madonna collaborated with famed photographer Herb Ritts for the "True Blue" album cover. With her short platinum blond hair, she continued to mix 1950s glamour with 1980s edge. Her take on the look included bushy eyebrows, noticeable contour, and an accentuated beauty mark above her lip. She told The New York Times in a 1986 interview that she saw her look as "very innocent and feminine and unadorned" — a throwback to stars like Grace Kelly and Brigitte Bardot. She continued with the look in the 1987 movie "Who's That Girl," and she took her retro look and sounds on the road with her Who's That Girl World Tour.
Her soft Like a Prayer visage didn't stop controversy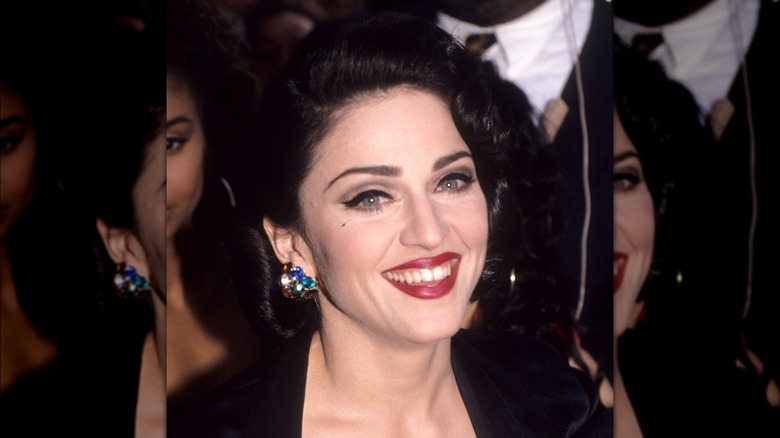 Kevin.mazur/Getty Images
By the late 1980s, Madonna signaled her pivot from sex kitten popster to serious performer by going back to brunette. In 1988, Madonna traded in her over-processed bleached hair, exaggerated eyebrows, and juicy red lips for brunette curls and natural makeup when she made her Broadway debut in the David Mamet play "Speed The Plow." She kept her more "serious" look in "Like a Prayer." In the music video for the track, Madonna sported soft brunette curls, demure makeup, and provocative slip dress. Her mix of innocence and sensuality perfectly suited the video's important social critiques on race and religion.
However, Madonna's turn to subdued beauty coincided with one of the biggest controversies of her career up to that point. That year, she signed a $5 million contract with Pepsi to not only sponsor her next tour but to debut "Like a Prayer" globally in one of their commercials. In her soft drink spot, Madonna enjoys watching herself dance to the song on screen while sipping on a refreshing cola. Her wavy retro curls, hoop earrings, and toothy smile were decidedly relaxed, perhaps reflecting a confidence she had reached in her super-stardom. But when Madonna refused to make changes to her own "Like a Prayer" video, Pepsi canceled the commercial.
She left fans breathless with her Blond Ambition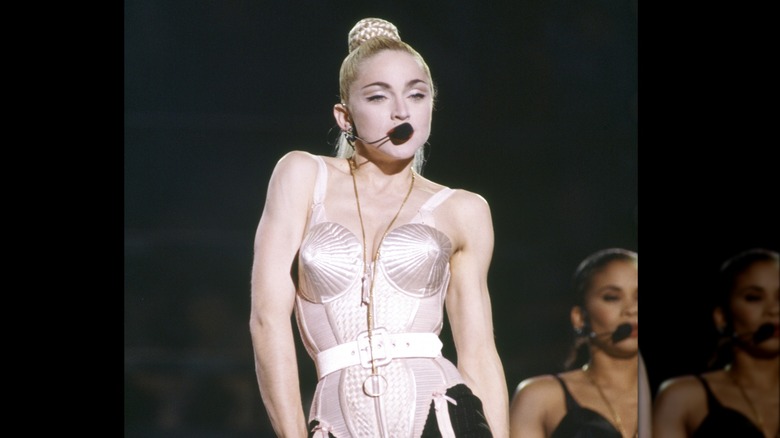 Thierry Orban/Getty Images
As time progressed, Madonna again looked to the past for facial inspiration, but this time, she also created an iconic look that would come to define the moment. She once again channeled the blond bombshell look for her role as Breathless Mahoney in the 1990 film "Dick Tracy." A few years later, she played "All the Way" Mae Mordabito in the 1992 movie "A League of Their Own" in which she sported a 1940s brunette bob. Although her 1993 film "Body of Evidence" had a contemporary setting, Madonna went for femme fatale blonde, plucking her once unruly eyebrows into 1930s pencil-thin arches.
In 1990, Madonna embarked on her Blond Ambition Tour, which would be a global platform for some of her most iconic beauty looks. Madge debuted her power ponytail, a silhouette that would become strongly and indelibly associated with the star. Madonna's fans, just like they did during her "Like a Virgin" era, started copying the look. And of course, one cannot mention this Madonna era without mentioning her Jean-Paul Gaultier-designed cone bra corset. Gaultier told The New York Times, "She knew what she wanted — a pinstripe suit, the feminine corsetry. Madonna likes my clothes because they combine the masculine and the feminine."
Her 'Sex' book was a bedtime story definitely not for children
In 1992, Madonna released her book "SEX" and her album "Erotica," a one-two punch of the Material Girl at her most provocative. In "SEX," Madonna returned to her tried-and-true platinum blonde tresses, serving a spicy combo of retro glamor and contemporary kink. Often posing fully nude, she wanted to show eroticism from a female point of view. Steven Meisel's sensual, titillating, and alluring photography placed Madonna in a number of her own sexual fantasies for the world to see.
During her "Erotica" period, Madonna embraced a severe pixie cut in both blonde and brunette. For the album's title track and the ballad "Rain," Madonna kept things cropped, both in the hair and sex toy departments. She also wore her hair short and her eyebrows plucked on the road for The Girlie Show concert tour. 
After Madonna's "Erotica" era ran its course, she released the album "Bedtime Stories" in 1994. With this album, her look varied from platinum blonde club singer in "Secret" to brunette latex dominatrix in "Human Nature." For the title track's video, Madonna mixed all the looks together — blonde, brunette, and even silver hair — for a journey into unconsciousness.
Madonna's Evita look signals she's ready to be taken seriously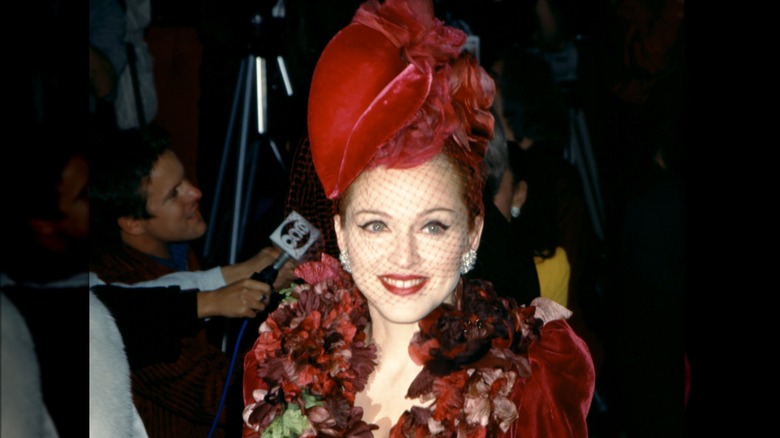 Ron Davis/Getty Images
When Madonna starred in the 1996 musical drama "Evita," it was a dream fulfilled. But before she took to the big screen as Argentinian politician Eva Perón, Madonna did some soft auditioning by playing around with her facial beauty. In the music videos for "Take a Bow" and "You'll See," Madonna tapped into a soft 1940s aesthetic, complete with hair, makeup, and fashions from the era. Instead of looking to Marilyn Monroe for beauty pointers, this time Hollywood beauty icon Ava Gardner served as a primary inspiration. Madonna eventually sent these videos to "Evita" director Alan Parker and she wrote him a letter fiercely campaigning to play Perón in the movie. Madge's hard work paid off: She got the part.
To get the look of Perón, Madonna sported wigs, prosthetic teeth, and contacts to get her character's look just right. When doing press for "Evita," Madonna channeled Perón's demure late '40s and early '50s looks. She attended the film's Los Angeles premiere wearing a red floral hat with a veil designed by Givenchy. Madonna's throwback glamor was so marketable that her looks in the film inspired retailers to jump on the glamor bandwagon. Bloomingdale's opened "Evita" boutiques and Estée Lauder sold "The Face of Evita" makeup pallets.
She turns a new leaf with her natural Ray of Light aesthetic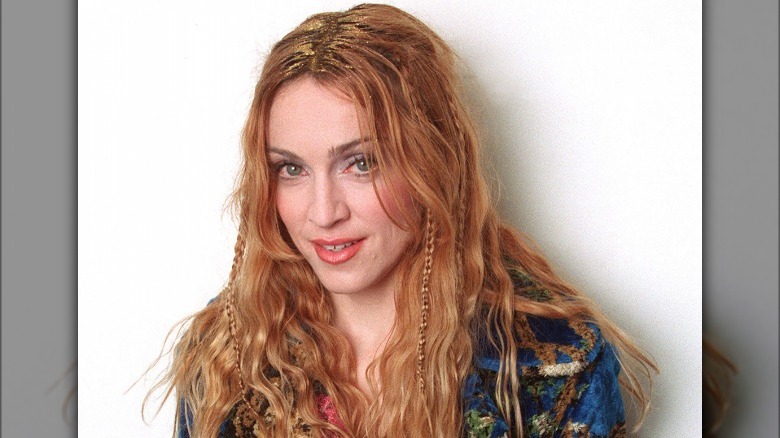 Dave Hogan/Getty Images
Madonna made a major career and beauty shift with the release of 1998's "Ray of Light." After the birth of daughter Lourdes in 1996, Madonna retreated from the spotlight and focused inwardly. She ditched the throwback platinum hair and embraced Botticelli-esque strawberry blonde cascading curls, as if Madonna was ready to float onto MTV via her own scallop shell. 
Her new, minimalistic aesthetic was perhaps best exemplified in the music video for the album's title track. Her skin glistened, unencumbered by her usual exaggerated beauty looks, radiating her newfound inner peace. She told Vanity Fair, "I'm trying to affect people in a quieter way. I set out to be honest about where I am now. I was only trying to deal with my truth right now."
As someone who once declared to Vanity Fair, "If I had nothing to do, I would stay in the gym forever," it might have come as a surprise that Madonna ditched her aerobic machines for a yoga mat. She embraced Ashtanga yoga as her preferred fitness regime and she wore henna tattoos, notably in her music video for "Frozen." For Madonna, her transformation was natural. She told The New York Times, "People have always had this obsession with me, about my reinvention of myself. I just feel like I'm shedding layers. I'm slowly revealing who I am."
Her pop star maturity comes with plastic surgery gossip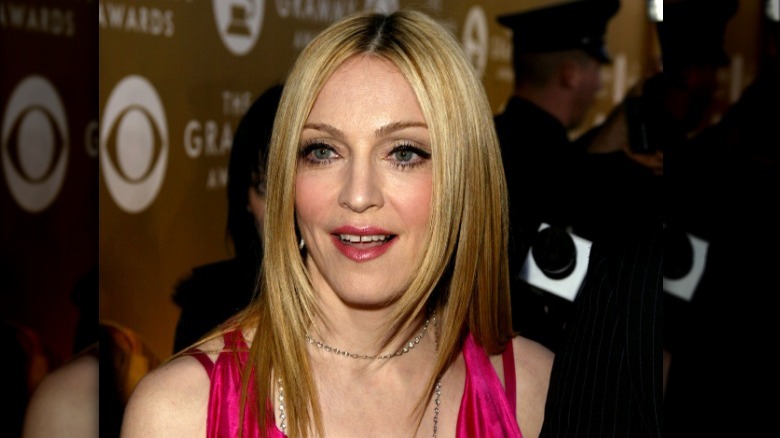 J. Vespa/Getty Images
In the early 2000s, Madonna was still at the top of her pop star game, reinventing herself with new visual identities, albeit in a more mature way. No longer needing to characterize herself with exaggerated makeup, Madonna's face was settling into its power. She continued to play with her looks throughout this time — she diversified her looks, from her urban cowboy-chic visage in "Don't Tell Me" to the subversive military fatigues she wore in "American Life" without skipping a beauty beat. Perhaps Madonna's marriage to Guy Ritchie, her move to a multi-million dollar English country estate, and her time as a children's book author influenced her personal style to become more conservative. In 2005, she posed for Vogue in a retro curly bob, demure pearls, and a covered-up skirt suit.
However natural Madonna's look was during this time, it didn't stop the press from speculating that she achieved her beauty through artificial means. In 2004, Daily Mail reported gossip about the singer undergoing a facelift after her appearance at that year's Grammy Awards. Madonna indeed looked fantastic at the ceremony – her natural makeup and slick blow-out would be the envy of stars half her age — but discussion of any possible work done to her face remained pure rumor.
She's not against plastic surgery during her '00s street fashion era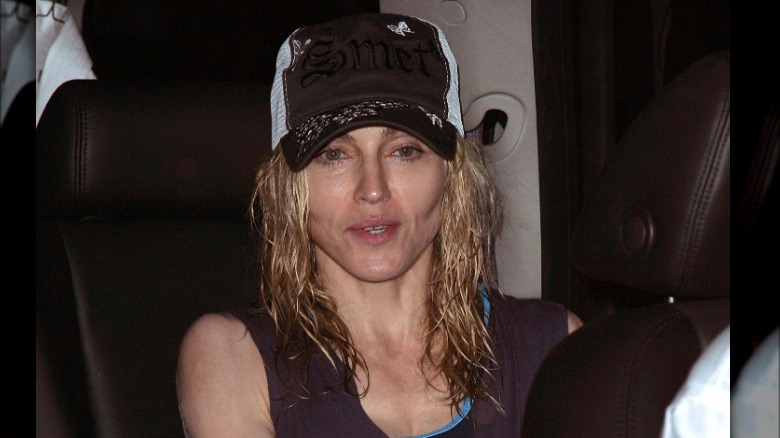 James Devaney/Getty Images
During the late '00s, there was plenty of tabloid speculation on how Madonna maintained her fresh-faced look. In 2008, her gaunt, makeup-less appearance proved shocking, with special attention paid to scrutinizing Madonna's evolving visage. She played coy about getting work done, saying she was not against plastic surgery, but didn't want to discuss it. She was quoted by Daily Mail as saying, "I am certainly not against plastic surgery; however, I am absolutely against having to discuss it." 
Even Madonna's long-time publicist Liz Rosenberg was cagy about delving into Madge's look. Jonathan Van Meter wrote about his discussion with Rosenberg in New York Magazine, saying, "When I ask [Liz Rosenberg] what Madonna has done to her face, she takes a sip of water and says, 'I don't know. I have never represented anyone who has spoken to me about plastic surgery. Nor have I asked them. I don't want to know! Anyone who has had it done, I'm all for it.'"
Regardless of plastic surgery rumors, Madonna didn't hide her face during this time. She was often spotted by the paparazzi sporting the latest in Ed Hardy fashion on her way to work out. Rocking minimal makeup and messy blonde hair, Madonna seemed to be just fine going out and about in a post-sweat sesh glow. Although Madonna's bulging biceps became a cultural curiosity, any criticism of her buff limbs, in true Material Girl fashion, didn't seem to phase her one bit. 
Madonna's grills gone wild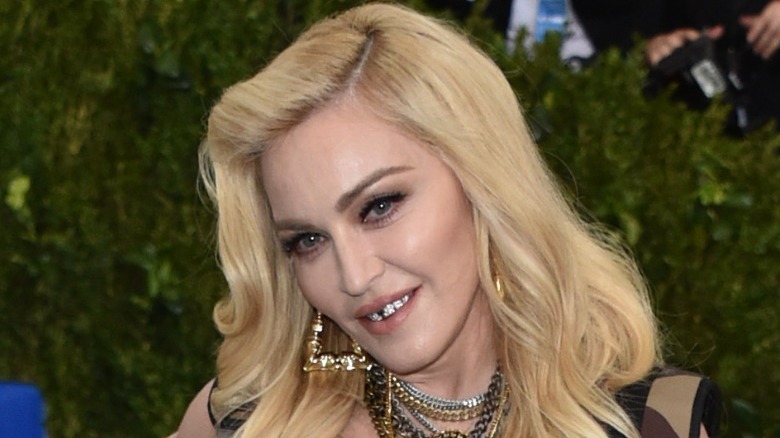 John Shearer/Getty Images
Madonna has been adorning her teeth with jewelry for decades, but she took things next level in the 2010s with her full-on embrace of grills. Her iconic gap-toothed smile had remained part of Madonna's visage since she first found fame, but like every other part of her look, she's played around with it. Back in the '90s, Madonna grinned with a gold-capped tooth while doing press for "Erotica" and her book, "SEX." But she took her dental jewelry to the next level during the 2010s, wearing grills to events like the opening of her Hard Candy Fitness Club, the 2014 Grammys, the 2017 Met Gala, the 2018 MTV Video Music Awards, and while selling her MDNA Skin product line.
Some have found Madonna's choice of incorporating grills into her look baffling, and she knows it. During an appearance on "The Tonight Show Starring Jimmy Fallon," she admitted that people had a problem with her grills. But like any move she makes, Madonna is unapologetic for her personal tastes. She told Fallon, "I just like the way it looks. Mouth jewelry. And I have really ugly teeth." Turns out even one of the world's most celebrated beauties has parts of themselves they don't unabashedly love.
She seemingly gets honest about getting work done on her face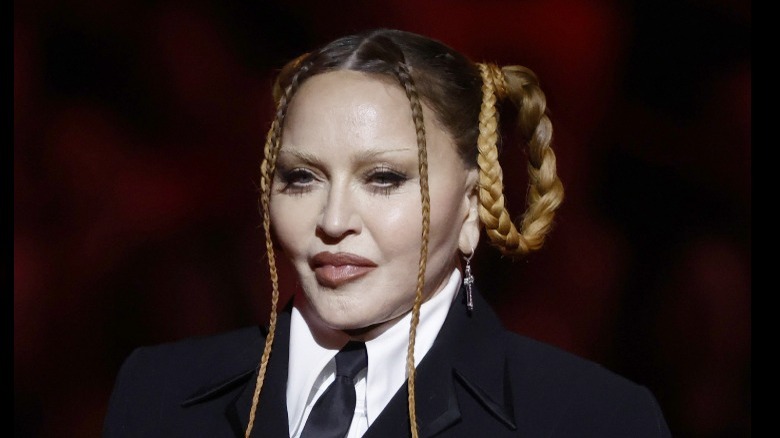 Frazer Harrison/Getty Images
In recent years, Madonna has faced criticism for her changing face. Plastic surgery rumors are nothing new for Madonna, but as a woman over 60, her seemingly wrinkle-free visage has left both fans and detractors baffled as to how she's achieved her look. Madonna has taken to expressing herself via Instagram, where she's become a heavy user of photo filters and other digital manipulations. However, when she's been spotted sans-selfie mode, she received plenty of press attention for her unfiltered looks.
Many were shocked at Madonna's altered appearance at the 2023 Grammy Awards. Shortly after the ceremony, she took to X, formerly known as Twitter, and posted a picture of herself with the caption, "Look how cute i am now that swelling from surgery has gone down. Lol." With this, she seemingly acknowledged that yes, she has had work done to her face. Madge further explained the incident on Instagram, writing, "Once again I am caught in the glare of ageism and misogyny that permeates the world we live in. A world that refuses to celebrate women past the age of 45 And feels the need to punish her If she continues to be strong willed, hard-working and adventurous."