The Real Reason Madonna And Guy Ritchie Got Divorced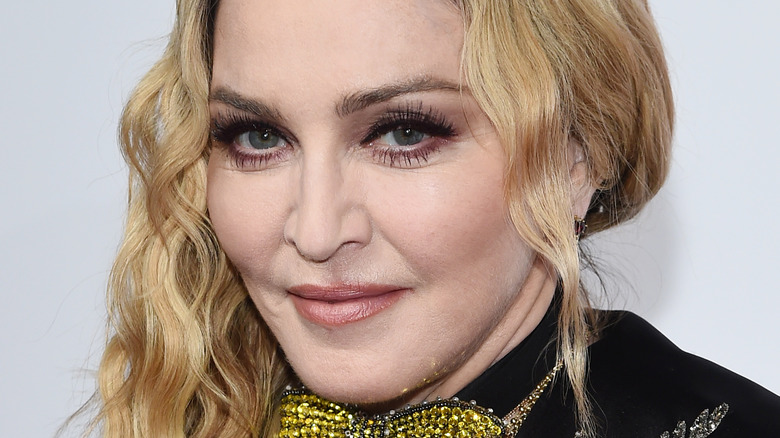 Ilya S. Savenok/Getty Images
Madonna has been in many public relationships, but has only been married twice. The "Like A Virgin" hitmaker first tied the knot with actor Sean Penn in 1985. According to Zimbio, Madonna's iconic "True Blue" album was dedicated to Penn. As noted by the outlet, she also stated Penn was "the coolest guy in the universe" in the LP's liner notes. Madonna and Penn's marriage was over by 1989 and she wouldn't walk down the aisle again until more than 10 years later.
Madonna had her first child, Lourdes Leon, in 1996 while being in a relationship with personal trainer Carlos Leon. As previously reported by The Sun, the pair first met in New York in 1994 and were rumored to be engaged. Their romance was relatively short-lived as they split months after having their newborn. It wouldn't be until the new millennium when Madonna tied the knot again.
According to Grazia, Madonna married British actor and director Guy Ritchie at a private ceremony in Scotland on December 22, 2000. Being the high-profile couple that they were, journalists and fans were kept away from their big day. Months before their wedding ceremony, Madonna and Ritchie welcomed a son, Rocco Ritchie, on August 11. In 2006, the pair adopted son David Banda from Malawi, per The Sun. Madonna and Ritchie continued to make headlines throughout their relationship and even worked alongside each other. Keep reading to learn more about their journey as a married couple.
Madonna and Guy Ritchie's movie won multiple Razzies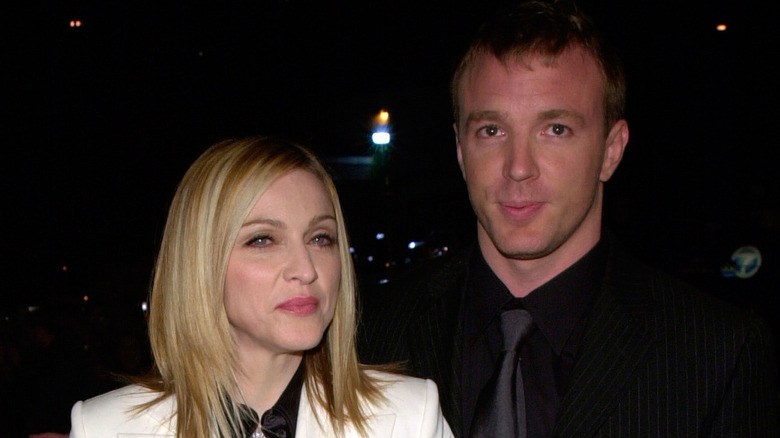 Featureflash Photo Agency/Shutterstock
Shortly after their extravagant Scottish wedding in 2000, Madonna and Guy Ritchie decided to work together. In 2002, Madonna played the lead role of Amber Leighton in the movie "Swept Away," which was written and directed by her then-husband. Even though Madonna had received her fair share of criticism in acting, she also had previously been praised for her parts in "Desperately Seeking Susan" and "Evita." Unfortunately, "Swept Away" wasn't met with similar approval.
On Rotten Tomatoes, "Swept Away" has a very low score of 5% based on 79 reviews. "Muddled and lacking the political context of the original, "Swept Away" offers further proof that Madonna can't act," the website's consensus boldly states. As noted by Box Office Mojo, the budget of the movie cost $10 million and failed to gross even half of that at the box office. During its opening weekend, "Swept Away" made just over $354,000 and only $1,036,520 in total worldwide.
At the 2002 Stinkers Bad Movie Awards, the movie took home Worst Picture while Madonna took home Worst Actress and Worst On-Screen Couple with Adriano Giannini. The following year at the Razzie Awards, the film won Worst Picture and Worst Remake or Sequel. Madonna managed to win Worst Actress for "Swept Away," Worst Screen Couple with Giannini, and even Best Supporting Actress for "Die Another Day." Ritchie, however, wasn't let off easy as he was awarded Worst Director. Ouch.
Madonna questioned whether true love existed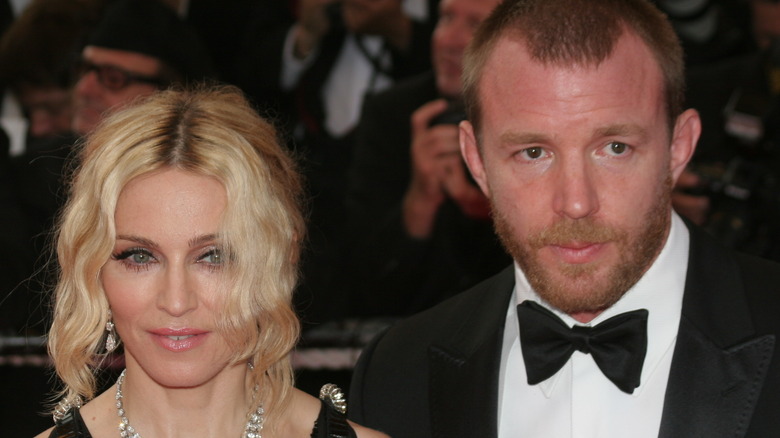 Denis Makarenko/Shutterstock
After eight years of marriage, Madonna and Guy Ritchie got divorced in November 2008, according to The Guardian. As reported by Rolling Stone, Madonna was allegedly asked to cough up a whopping $75 million to Ritchie. However, a statement released soon after revealed this was untrue, per People.
After much speculation, Madonna explained the real reason she and Ritchie split up in an interview with Newsweek in 2012. At the time, the "Hung Up" hitmaker was promoting her self-written and directed movie "W.E.," which is about a woman in an unhappy marriage who finally manages to escape. When asked whether her previous marriage to Ritchie influenced the film, she stated she had "been married 10 years when I started writing it."
Madonna also admitted she started to question whether true love existed. "I was certainly asking a kind of existential question that I think people ask when they've been married that long: what is the perfect love? Because when you start off, everything's great and lovely, and the person you've married is flawless, and you're flawless," she said, adding, "Then time goes by, and you share a life, you have children, and there are cracks in the veneer. It's not as romantic as it used to be." As for what was on her mind at the time, Madonna continued, "You think, 'This isn't what I thought it was going to be,' and 'How much am I willing to sacrifice?'"