Here's What Madonna Looks Like Without Makeup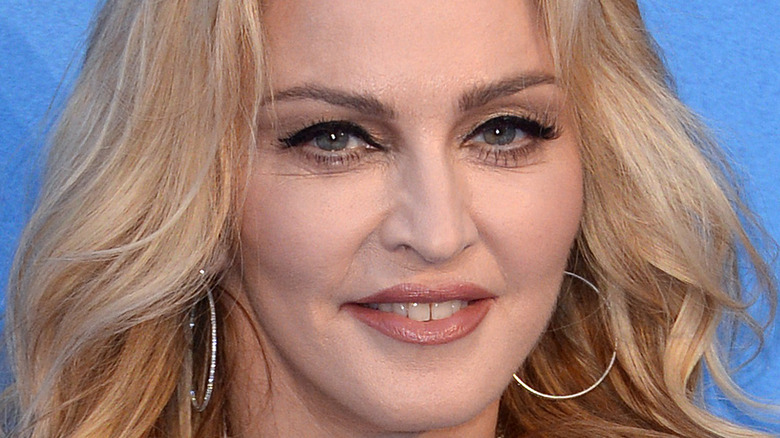 Anthony Harvey/Getty Images
It's mind-blowing to think Madonna is in her 60s. She's one of the few celebrities with an iconic status so strong that every generation knows who she is. Her single "Borderline" first skyrocketed her to fame in 1984, and she has spent the following four decades in the public eye. Her music and fashion sense have influenced millions, and she knows how to brand herself — and apparently knows how to defy Father Time as well.
Since she gained fame with her pointy bras and hair and makeup that take hours to set up, it can be hard to imagine Madonna without all the layers of hairspray and cosmetics. But the "Like a Virgin" singer does go barefaced from time to time, which gives us an idea of what she might look like if we were able to take away all the layers that make up Madonna. 
While Madonna has famously changed up her look over the years — with many wondering if the star has gotten plastic surgery, though she's never admitted to it — her skin is still shining. So, what does Madonna look like without makeup? 
Madonna is consistent with her beauty routine
Madonna has spent a lifetime working hard to look as good as she does. The pop icon's dermatologist Dr. Paul Jarrod Frank told Marie Claire that the singer "is an extremely regimented, disciplined person and she follows the essentials to a tee. Her skin has clearly benefited over the years."
She's also religious about sun exposure and applying sunscreen when going outdoors. In an interview, she told Vogue that she occasionally has nightmares about daughter Lourdes forgetting to apply sun-tan lotion. "I have dreams of her laying out by the pool without wearing any sunscreen and I go ballistic." She added that she's always been sun-conscious and careful about her skin.
Another of Madonna's top tips for a fresh face relies on hydration — both inside and out.  In fact, she believes so much in the power of hydration that she invested $1.5 million in the coconut water brand Vita Coco, according to PopSugar. But it's not just coconut water that Madonna is crazy about. One of her friends told In Touch Weekly Magazine (via Stuff) that the Material Girl has been known to spend $10,000 a month on Kabbalah water. "Madonna drinks a lot of water — that's one of her fitness secrets. And Kabbalah water is the only stuff she will touch," the source said.
Madonna has a personal esthetician and her own skincare range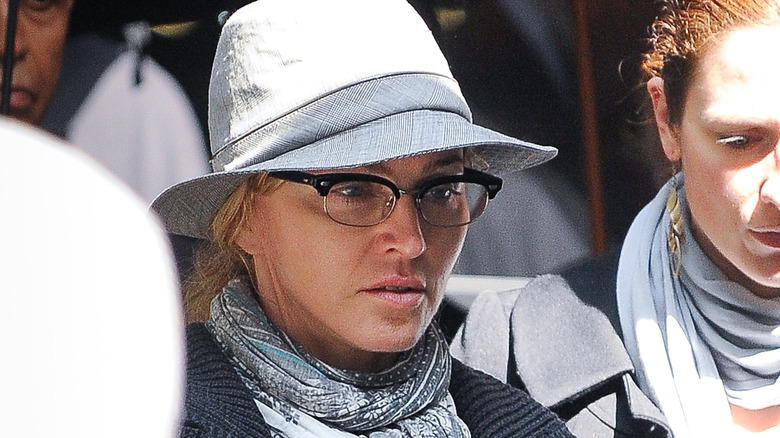 Ray Tamarra/Getty Images
While she's religious about her skincare and hydration, Madonna's ageless beauty has had its fair share of additional support. The singer has been working with esthetician Tarin Graham since 2010, according to an interview with W Magazine. 
As for Graham's work on Madonna, the esthetician does "full facials once a month, which consists of micro dermabrasion, photo facial, micro currents, and an oxygen treatment." To help Madonna prepare for a major event, Graham says that she also includes an eye mask and an oxygen treatment "for intense hydration" before finishing with a thin layer of face serum.
The eye mask and serum that Tarin Graham uses on Madonna's skin come from the singer's own skincare line — MDNA Skin. According to Marie Claire, Madonna worked with both dermatologist Dr. Paul Jarrod Frank and the Japanese company MTG to develop the range. "It's a line I can use every day," Madonna told WWD. "I developed it for me specifically, but it also feels universal. I mean, my children use it, my friends use it," she said.
What's fascinating is that a lot of her guidelines for beauty are easy enough for anyone to implement — protect yourself from the sun, hydrate, apply the basics of skincare daily, and go for occasional treatments. We just wonder what her other beauty secrets are.