What Cara Delevingne Really Blames For Her Split From Ashley Benson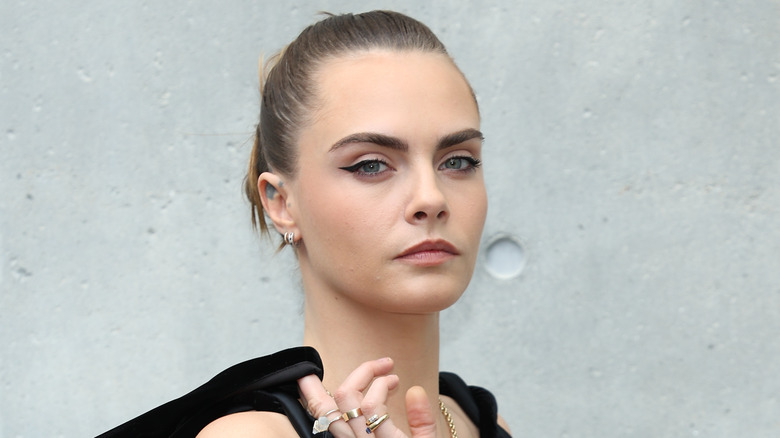 Daniele Venturelli/Getty Images
For a cozy, love-festooned two years, Cara Delevingne and Ashley Benson were a celebrity couple heavily 'shipped for their public displays of affection. With the romance blossoming during the 2018 filming of "Her Smell," the pair – colloquially dubbed "Cashley" – first sparked public intrigue after being seen holding hands on multiple outings starting that April. The dating rumors were seemingly confirmed after they were photographed locking lips at London's Heathrow Airport that August, with a source telling Us Weekly in October 2018 that Delevingne was "the first girl" Benson had dated. Fittingly, Delevingne went Instagram-official during Pride Month 2019. Posting a video of her and Benson kissing, Delevingne wrote the caption, "#PRIDE." That same month, Us Weekly also reported that the "American Horror Story: Delicate" star and "Pretty Little Liars" alum had moved into the former's West Hollywood home, with Benson selling her own house.
Things seemed full-steam ahead for the couple from there. In July 2019, after publicly wearing matching gold bands on their left ring fingers, engagement rumors ran amok for Cashley. The duo continued cranking up their PDA, famously canoodling in the stadium seats of the 2019 U.S. Open. As of March 2020, the couple even quarantined together during the COVID-19 pandemic and frequently updated fans on their status with lip-syncing TikToks of one another. 
This made Delevingne and Benson's April 2020 split all the more shocking. Although Cashley fans speculated wildly about the seemingly sudden breakup, Delevingne — one year later — offered her perspective on its cause.
Quarantining didn't work out for Cara Delevingne and Ashley Benson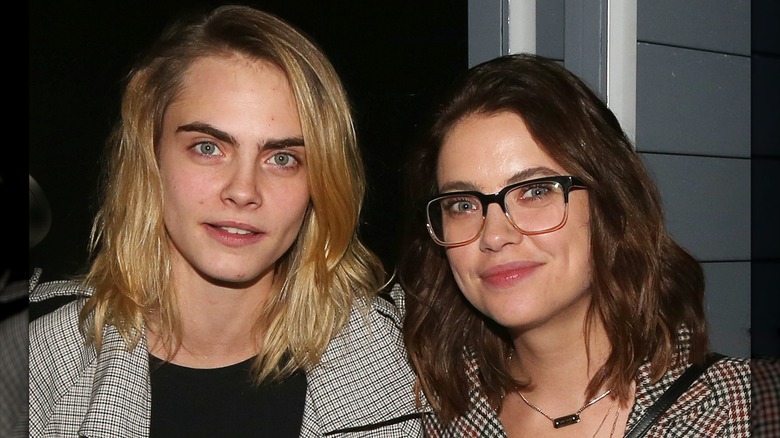 Bruce Glikas/Getty & undefined
A reason many (ex-)couples know all too well, Cara Delevingne revealed that she and Ashley Benson split apart due to the pressures of cohabitating during the 2020 pandemic. As the supermodel told Cosmopolitan in June 2021, quarantining "really makes or breaks you," labeling it "the most trying time" for them. The aftermath wasn't any better. "[It] made me deal with it more, which was harder," Delevingne admitted. "Everything is magnified in a pandemic." The "Carnival Row" star's remarks align with those of inside sources who spoke to People at the time of their split. "Cara and Ashley always had their ups and down before," one source said. "Their relationship just ran its course."
Some have also speculated that the surrounding media scrutiny didn't give them any room to breathe. In August 2020, at the height of their relationship rumors, Benson told People Now that she preferred New York to L.A. (where they quarantined) primarily because "in L.A., the paparazzi are really bad, but here I can kind of just walk anywhere and not be bothered." The "Spring Breakers" star also admitted, though, that "you kind of can't get away from that if you're in the public eye." In September 2019, Delevingne similarly told Elle U.K. of their relationship's fanfare, "I get why people care so much, and I don't want to be so secretive. ... But I've never been in a relationship where things are so public."
Cara Delevingne shut down Ashley Benson cheating rumors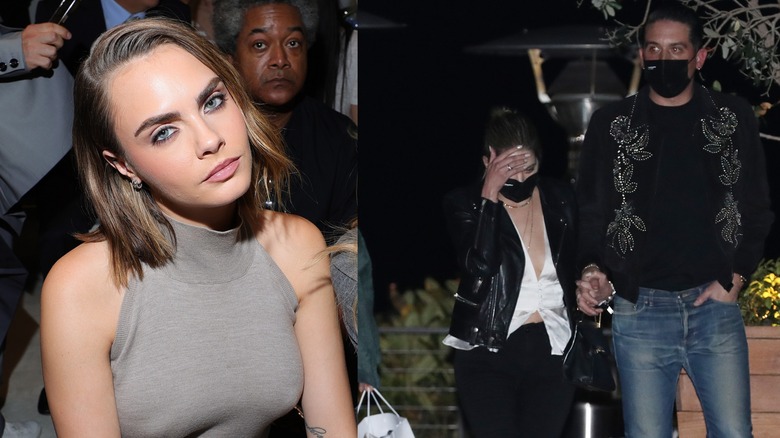 Jacopo M. Raule/Getty & Mega/Getty Images
Cara Delevingne proved that there was no bad blood between her and Ashley Benson post-split. After Benson was spotted canoodling with rapper G-Eazy several weeks after their April 2020 breakup, the "Suicide Squad" star defended her ex against rumors that she had been unfaithful. In a May 2020 Instagram Story, Delevingne addressed those bashing Benson and G-Eazy, writing, "It's more important now more than ever to spread love, not hate. To everyone hating on @ashleybenson, please stop. You don't know the truth, only her and I do and that's exactly how it should be." Benson showed her appreciation for Delevingne's message, re-posting it with an added heart emoji.
Despite their mutual goodwill, however, their 2020 breakup left Delevingne admittedly devastated. In the April 2023 Vogue issue, the Dior beauty brand ambassador described having a "complete existential crisis" in the aftermath. Without a partner and any opportunity to work that year, Delevingne felt stranded. "I felt like I had no purpose," she said. "I just wasn't worth anything without work, and that was scary."
Fortunately, things have happily bounced back for the multi-hyphenate star since. Delevingne moved on to dating musician Minke while starring in such prestigious TV shows as "Only Murders in the Building" and "American Horror Story." As for Benson, she got engaged to oil heir Brandon Davis in July 2023 and revealed her pregnancy with their first child that November.
All's well that ends well, right?