Here's What WWE Star Rhea Ripley Looks Like Without Makeup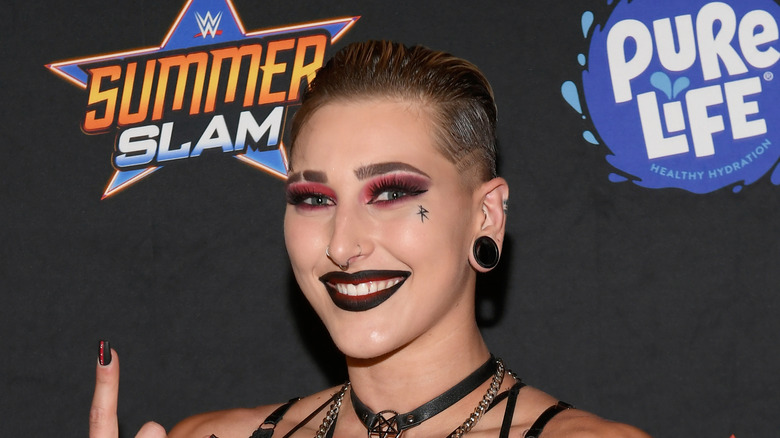 Bryan Steffy/Getty Images
Rhea Ripley may be best known for her finishing moves in the wrestling ring but she is also recognized for her goth look, often donning spiked black ensembles and a face full of purple and black makeup. The WWE star didn't always rock the rebel style — in 2018, she joined the organization sporting long blond hair and a natural face, per Sportskeeda. Over the years, her character and look progressed into the one fans know and love today.
Part of Ripley's makeup repertoire includes a lot of liquid lipstick from Sephora but for her, it's mostly about owning her aesthetic. "I'll get messages on Instagram, Twitter. I'll get people coming up to me in person just being like, 'Rhea, I love your style. You helped me accept me for me,'" she told InStyle. "It sort of brought out this side of me that I always wanted to be, but never thought that I would fit the mold of society," she continued. Although it's hard to picture her without her signature look, Ripley proved to be just as inspiring without a lick of makeup on.
Rhea Ripley's skin looked flawless without makeup
Rhea Ripley isn't always heavily made-up and she stepped out of character when she shared a beautiful, makeup-free selfie on Instagram in May. She still rocked her signature eyebrow slit and nose rings but otherwise, she looked almost unrecognizable without her usual black lipstick. WWE fans were all for her natural look and one wrote, "The prettiest girl in the whole world." Another quipped, "Best thing to come out of South Australia since the dual flush toilet."
Although Ripley goes full glam for televised events, she keeps her face fresh for live shows. In an Instagram post shared by WWE, she still had a black and purple outfit on but was devoid of any of her usual makeup. "I like how pretty she looks when she's not wearing all that makeup," a fan commented. Another loved her natural look and wrote, "She's gorgeous without makeup man." One fan wondered why The Eradicator didn't wear makeup for live events and another answered that she actually doesn't like putting on all that product. Sure enough, in a past photo shoot, Ripley explained why she likes going au naturel.
Rhea Ripley prefers going without makeup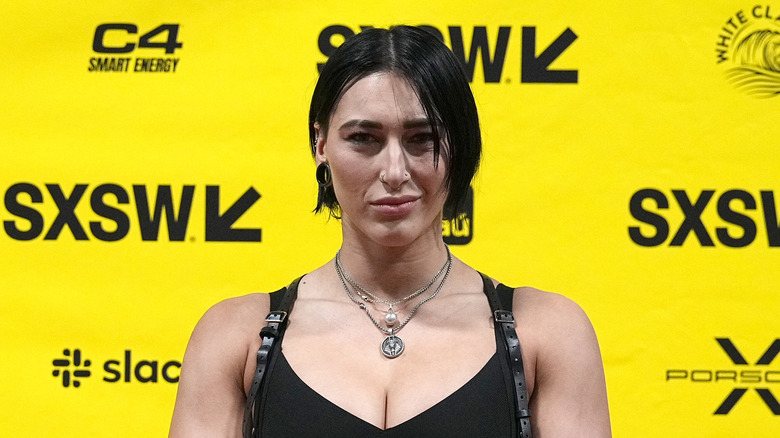 Stephen Olker/Getty Images
WWE stars have to go into full character when they put on shows, which often means tons of heavy makeup. However, in a WWE makeup-free photo shoot in 2020, the female wrestlers were able to show their bare faces. "I absolutely hate wearing makeup. I only do it at work because it looks better with the HD cameras and it's just easier to get myself across the way that I wanna get myself across," Rhea Ripley shared. The WWE champion revealed that makeup irritates her face and stated, "I'm so happy that I'm not gonna have to scrub makeup off today and I'm not gonna have red around my eyes and have sore eyes for a week because I wore makeup today."
Ripley gave fans a peek at her elaborate getting-ready process with her go-to makeup artist Laura Lomonaco, per WWE. When asked if she liked doing her own makeup, the pro wrestler answered, "I don't mind it if I'm not in a rush. When I'm in a rush, like, it makes me mad because I start stuffing things up." Ripley revealed that she used to love wearing red makeup but stated that since she joined the WWE group Judgement Day, "We're purple now, baby."