Sandra Bullock's Younger Sister Gesine Also Has A Career In TV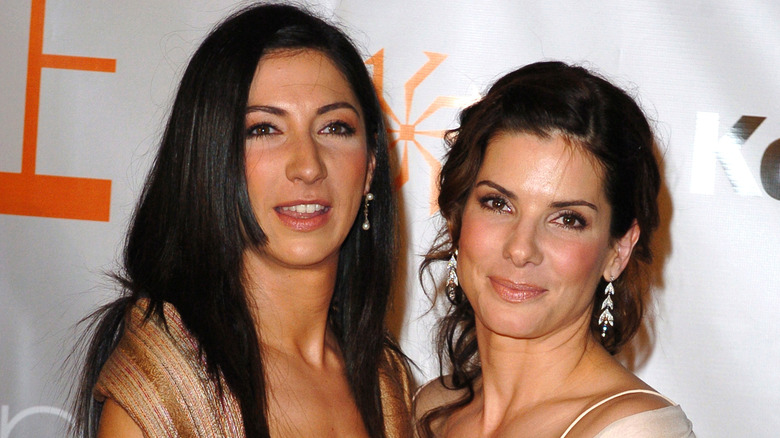 Steve Granitz/Getty Images
Sandra Bullock's younger sister, Gesine Bullock-Prado, makes a great living in front of the camera. While she may not be an Oscar award-winning actor — those accolades belong to her big sister, Sandra — Gesine was also once a Hollywood heavyweight. Before Gesine found her true passion, she was a producer for Sandra's production company, Fortis Films. The company is responsible for producing Sandra's most famous films, such as "Miss Congeniality," "Practical Magic," and "Hope Floats." According to the Boston Globe, Gesine worked with Sandra for almost 10 years, and likely helped bring some of those titles to life.
Unfortunately, Gesine wasn't happy with her career trajectory. "I think I knew the minute I got to Hollywood that it wasn't quite for me," Gesine revealed to NPR in 2010. Although working with her sister made things easier, Gesine didn't like how people used her to get to her famous sibling. "It's not entirely offensive, but it's just so silly," added Gesine. "You can see that they're being completely affected, and they give you compliments that you aren't worthy of. I didn't have the stomach for it." On the bright side, Gesine has since transitioned into a career that is easier to digest (and much sweeter).
Gesine Bullock-Prado was a TV chef
Gesine Bullock-Prado traded in her role as a producer to become a pastry chef. According to the Milwaukee Journal Sentinel, Gesine started her transition out of Hollywood after the death of her mother in 2004. Weighed down with grief, Gesine found solace by diving into her mother's favorite hobby, baking. Then she realized that producing wasn't for her. "It took my mother dying and dealing with that," shared Gesine with the publication. "I was with her when she died. I realized I didn't like what I was doing for my day job."
Gesine eventually landed a Food Network baking show called "Baked in Vermont," which premiered in 2017 and ran for two seasons. Filming the cooking show allowed Gesine to combine her love of baking with her love of "telling people what to do," according to her Build Series interview. Gesine also broke down her approach to teaching on the show. "Well, I think my mode of teaching and making it accessible and fun and silly was immediately translated because I felt I could see the people who were watching and knowing that, if I can do what I do in a class and make people laugh ... then they're not going to feel intimidated." Although "Baked in Vermont" isn't currently in production, Gesine has continued sharing her baking knowledge via her Sugar Glider Kitchen baking classes and her popular cookbooks, including her latest, "My Vermont Table."
Sandra Bullock is super supportive of Gesine's career
Gesine Bullock-Prado's pivot from Hollywood didn't affect her relationship with Sandra Bullock. Over the years, Sandra has gone out of her way to support her little sister's confectionery endeavors. Sandra even surprised Gesine during her pie-making demo on "Today." As Gesine was preparing to start her presentation, Sandra drifted through the door holding a bundle of pastry dough. "I want to know what to do with this. I don't know what to do with this," Sandra joked in 2018. Sandra also chided Gesine about her busy schedule. "This is what [Gesine] promised to teach me for my birthday, but I lose her to my children," Sandra revealed.
Gesine, of course, has returned the support tenfold. She even made Sandra's wedding cake in 2005, when she married her ex-husband Jesse James. And it was no easy task! When speaking with NPR, Gesine detailed the many, many steps it took her to not only create but also transport Sandra's cake to her wedding venue. Not only did she have to stealthily bake the cake at Sandra's house to avoid the paparazzi, but Sandra's ovens weren't working, delaying cooking time. She also had to construct it in the back of a poorly lit truck, which caused the cake to lean a little upon display. Fortunately, Gesine had an easy fix. "Any mistake that I had made in the dark, I just said, shove a flower in there," admitted Gesine.