The Harsh Way NFL Star Nick Bosa's Ex Jenna Berman Broke Up With Him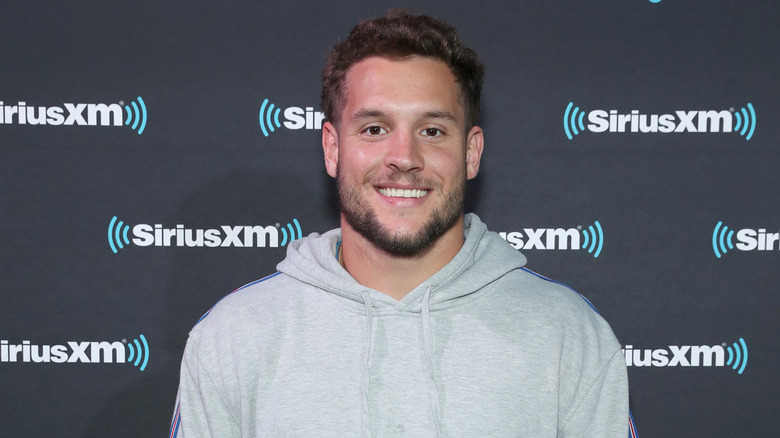 Cindy Ord/Getty Images
When Nick Bosa got sacked by Jenna Berman in 2022, she made sure that it hurt; the method of dumping we're talking about here is even worse than ghosting or breakup-by-text. The San Francisco 49ers defensive end and the model/social media influencer made their relationship Instagram official in March 2021 when Bosa shared a since-deleted photo of the two of them snuggling up on a boat together in Miami. They seemed to be a perfect match at the time; Bosa was recovering from a torn ACL, and Berman was studying to be a physician's assistant, so who better to help nurse the NFL player back to health during the off-season?
They've both found themselves embroiled in social media controversies, too, which gave them something to commiserate over. Some of Berman's racist tweets resurfaced in 2021, including one in which she described herself as a "n***er magnet." As for Bosa, after he appeared in an ad for Kim Kardashian's SKIMS Men line, some users on X, formerly known as Twitter, were quick to pour ice-cold water on those thirsting over the athlete by sharing screen grabs of some of his old tweets. In one, Bosa declared his love for disgraced, four-time indicted former president Donald Trump. Another tweet read, "Beyoncé's music is complete trash." Bosa previously apologized for some of his social media comments in 2019, including one calling fellow player Colin Kaepernick "a clown."
When Bosa and Berman called it quits, social media also played a role in their split.
Jenna Berman said 'Bye forever' on TikTok
Jenna Berman appeared to announce the end of her relationship with Nick Bosa in a November 2022 TikTok. "When he gives you the silent treatment but doesn't know you can play that game 10x better. Bye forever," reads the caption superimposed over a video of Berman blowing the camera a kiss. She also added a caption beneath said video that says, "We just will never talk again."
As of this writing, Berman has more than 1.3 million followers on TikTok, so it seems she wanted a lot of people to see her message. She's turned the comments on the video off, but she reportedly interacted with one Bosa fan before doing so. The commenter tried to get her to regret her decision by pointing out that Bosa will eventually put a ring on someone else's finger. Berman responded, "Good," according to Marca.
Berman hasn't revealed why she felt that Bosa deserved to be dumped in such a brutal, public manner, but she's shared some relationship-related content since the split. "Rule #1 never be #2," she captioned a January 2023 Instagram post. And in a March 2023 TikTok, she seemed to reveal that she was single when she explained why the dating game is so difficult for her. A voice repeating the word "pass" plays over the video, which features the caption, "Me to every guy I meet bc my standards are way too high & they're not worth destroying my inner peace."
Fans want Khloé Kardashian to date Nick Bosa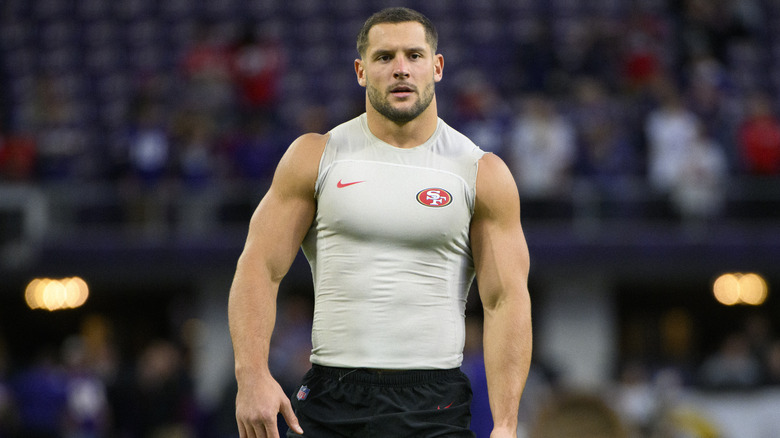 Stephen Maturen/Getty Images
When Kim Kardashian shared a photo carousel of Nick Bosa modeling SKIMS Men undies on her Instagram page, her younger sister, Khloé Kardashian, immediately outed herself as a fan of the football player. "Thank you Kimberly. Thank you," she wrote in the comments section. Her words of admiration had some of Kim's Instagram followers suggesting that Khloé should move on from her on-again, off-again relationship with her unfaithful ex, Tristan Thompson, by finding love in the NFL — just like her sister possibly has with Odell Beckham Jr. "Kim should set you up Khloe," read one response to Khloé's comment. "This man would look good on you hunni!! Take one for the lady team ... please. We need this," another person wrote.
But Bosa was possibly already taken at the time. In June 2023, a member of the WivesofNFL subreddit observed that a model named Lauren Maenner had shared a photo of Bosa in her Instagram Story. Two months later, a photo in one of Maenner's Instagram carousels showed her embracing a man whose face wasn't visible in the shot. However, some of Maenner's followers were convinced that it was Bosa. One response to her post read, "Just breaking all our hearts takin Bosa off the roster." From the sounds of it, Khloé might count herself among the brokenhearted.