Why Matthew Perry And Cameron Diaz Never Got Past Their First Date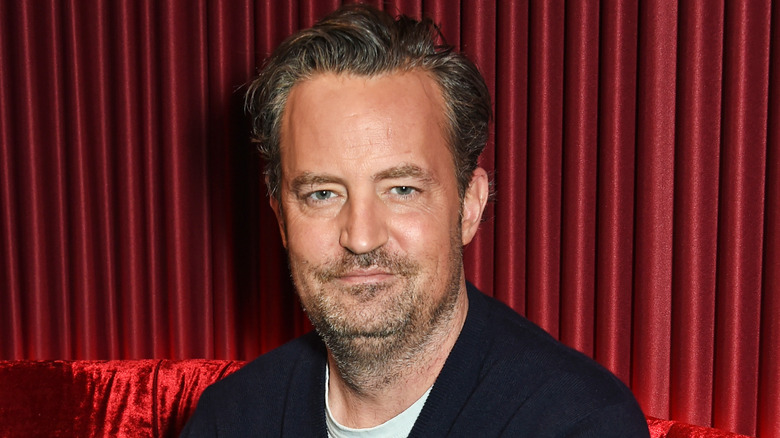 David M. Benett/Getty Images
Matthew Perry's dating history reads like a who's who of Hollywood, starting with his first romantic fling at age 18 with Tricia Fisher. Since then, he's dated several leading ladies, including Julia Roberts and Gwyneth Paltrow, and has been linked to the likes of Lauren Graham and Yasmine Bleeth. As Paltrow revealed in an Instagram tribute following Perry's tragic death in 2023, he was such a charming guy, and it was easy to fall for him. "He was so funny and so sweet and so much fun to be with," she enthused. And he didn't just make an impression on those he dated — his colleagues also praised him. "Friends" co-creators Marta Kauffman and David Crane, alongside executive producer Kevin Bright, remembered Perry in a joint statement shared by People praising his comedic timing but stressed, "More than that, he was the sweetest, with a giving and selfless heart."
However, it seems he didn't always charm everyone. In his 2022 memoir, "Friends, Lovers, and the Big Terrible Thing," Perry shared many aspects of his high-profile romantic history, including a surprising incident involving Cameron Diaz. More specifically, he revealed how their one and only date turned out to be an epic fail. Here's why Matthew Perry and Cameron Diaz never got past their first date.
Cameron Diaz reportedly punched Matthew Perry in the face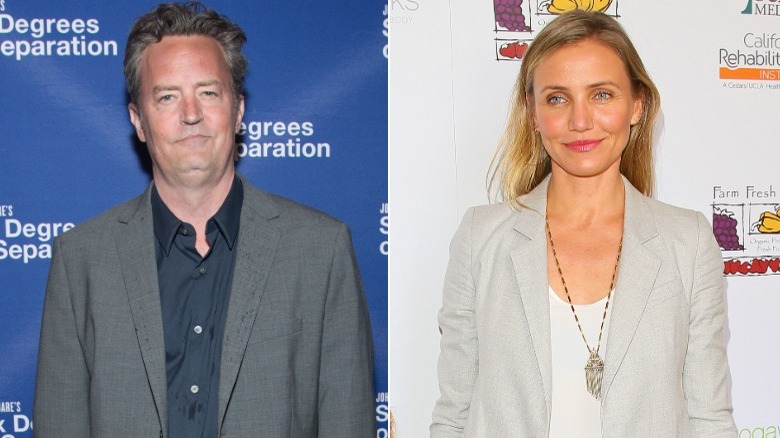 Mark Sagliocco, Jb Lacroix/Getty Images
The year was 2007, and Cameron Diaz had just broken up with Justin Timberlake when her friends thought it was time for her to meet someone new. The person they had in mind was funnyman and fellow actor Matthew Perry. So, they organized a get-together so the two could become better acquainted. Unfortunately, things did not go well. As the "Friends" star recalled in an excerpt published by Business Insider, he was looking his best — "I was working out a lot and had developed big arms" — and even worked on his tan ahead of the meetup, but it was all for nothing. "The date was at a dinner party with a bunch of other people, but upon seeing me, Cameron got almost instantly stoned," he wrote. "It was clear that she wasn't interested in me at all."
Even so, neither he nor Diaz left. The party went on, and they eventually found themselves playing Pictionary. That's when things went from bad to worse. "As she was drawing, I said something witty to Cameron, to which she said, 'Oh, come on!' and proceeded to punch me in the shoulder." Except she missed, and as Perry recalled, she missed. Instead, Diaz smacked him in the face. While it was an accident, Perry's response perfectly encapsulated their night: "Are you f**king kidding me?" he seethed. Needless to say, Perry and the "Charlie's Angel" star were not meant to be.
Inside Matthew Perry's failed A-list relationships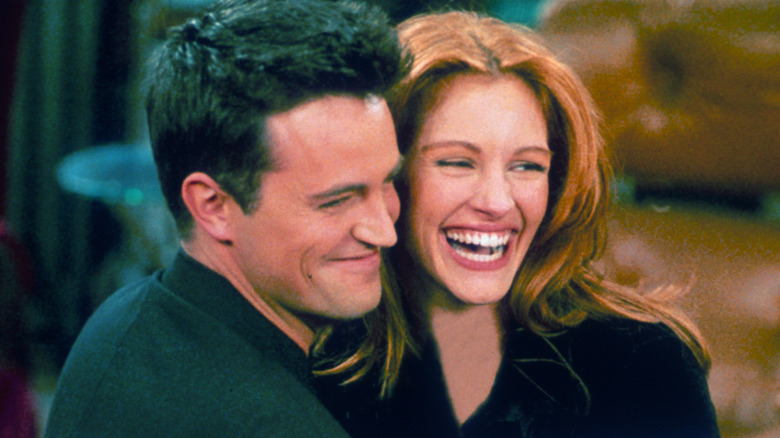 Getty Images/Getty Images
Matthew Perry had no qualms about sharing even the most personal aspects of his romantic life in his memoir, "Friends, Lovers and the Big Terrible Thing." Even when those details left some of his former flames "mortified," like Valerie Bertinelli, who couldn't believe Perry would kiss and tell. "Valerie and I had a long, elaborate make-out session," he enthused in the book. That confession in and of itself may not have caused much of a hubbub, save for the fact that Bertinelli's then-husband, Eddie Van Halen, drank a little too much and was passed out just 10 feet away from them.
Another headline-making revelation was Perry's explanation as to why he broke up with Julia Roberts after what appeared to be a lovely six-month relationship. "I had been constantly certain that she was going to break up with me. Why would she not?" he asked in an excerpt published by The Times. "So instead of facing the inevitable agony of losing her, I broke up with the beautiful and brilliant Julia Roberts." It would become a pattern for the "Friends" star, who admitted he sabotaged most, if not all, of his relationships. "There can't be something wrong with everyone — I'm the common denominator," he once told People. "I left first because I thought they were going to annihilate me."