Donald Trump's Acting Career Is Larger Than You May Have Thought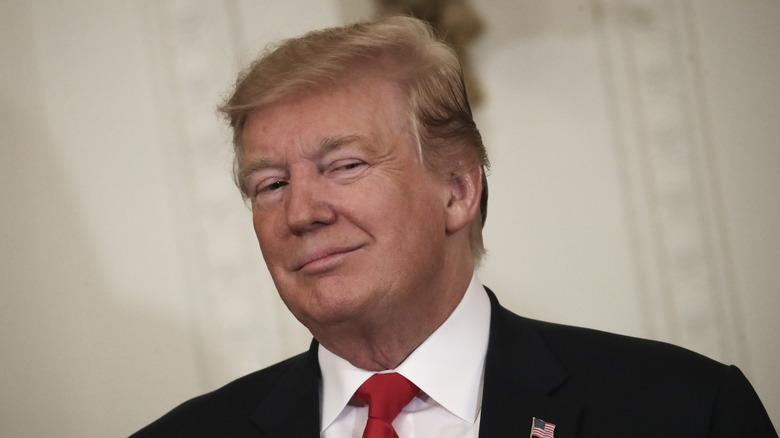 Drew Angerer/Getty Images
Whatever your thoughts on Donald Trump, you have to give him credit for never doing things in half measures. When Trump goes in, he really goes all in — for better or worse. For instance, long before he took on the bigliest role of his life, playing the 45th President of the United States, Trump had an acting career, and it's larger than you'd imagine.
The former reality star has never met a camera that he doesn't love. However, the feeling isn't always reciprocal, as Trump's most cringe-worthy TV appearances prove. Multiple reports claim that Trump is so obsessed with television that when he isn't on it, he's watching it — presumably when not compulsively posting to social media from his bed or gold-plated toilet. Trump honed his alleged unscripted speaking skills during his years as a reality TV host. However, one of the many things everyone ignores about "The Apprentice" is that Trump's impromptu boardroom takedowns weren't off the cuff; instead, they were fed to him by producers.
"There used to be a little thing right on [Trump's] desk that looked like a phone, and he pretended it was a phone, but it was actually a teleprompter where the producers were sending him notes," former "Celebrity Apprentice" contestant Clay Aiken claimed on "Under the Dome." There are many media moments that Trump can never erase — ranging from utter cringe to meh, usually depending on the scriptwriting skills. So, let's dive into Trump's acting career and separate the duds from the diamonds.
Ready for his close up
Donald Trump's IMDB page claims he's a "producer, writer, and actor" with 31 performing credits. Some acting claims are tenuous, such as appearing in Bobby Brown's "On Our Own" video where he walks out of Trump Tower and stares upwards. Or where he narrates the video versions of "Trump: The Art of the Deal" and "Crippled America."
However, there are some iconic acting moments — albeit blink and you'll miss them. One is Trump's "Home Alone 2" cameo, where he tells Macaulay Culkin's character Kevin McCallister, "Down the hall and to the left," when asked where the lobby is. There was outrage after a Canadian TV channel cut his part, and conspiracy theories abounded, fueled by Trump himself. "I guess Justin T doesn't much like my making him pay up on NATO or Trade," he posted on X, formerly known as Twitter. "They just trimmed all the fat in the film Tubby," actor and comedian Michael Rapaport replied. Meanwhile, "Inside Edition" reported that eight minutes were removed from the film to make time for advertising, and Trump's scene wasn't deemed worthy of making the cut. 
Trump also showed off his acting chops in an episode of "Days of Our Lives." He played himself, once again, as the host of "The Apprentice." Trump was lobbied by Arianne Zucker's character Nicole Walker for a place on the show. "That's a very interesting proposition, Mrs Walker, I'll get back to you," he said. "Really?" she asked. "No," Trump replied as he walked off.
Playing to type
Donald Trump was subject to type-casting during his acting career, as basically, he only played himself, and his appearances were kept short and sweet. Trump and Marla Maples appeared on a 1994 episode of "The Fresh Prince of Bel-Air." The couple waved when Geoffrey Butler, played by Joseph Marcell, introduced them. "Mr Donald, oh my God!" Carlton Banks, played by Alfonso Ribiero, gushed before fainting.
However, Trump showed off his range in 1994's "The Little Rascals" by playing a rich kid's dad. "Waldo, you're the best son money can buy," Trump tells his boy whilst watching a game. However, Trump was back to type again in a 2001 episode of "The Job." He strolls into a restaurant and makes a beeline for Elizabeth Hurley. "They told me you were here; you look great," Trump says, going in for a smooch. "Listen, are you banging her?" he asks Mike McNeil, played by Denis Leary. "No, we just met," he replies. "Well, call me Liz," Donald shoots back, going in for a second smooch.
Given the combo of Manhattan, women, and money, it was inevitable Trump would pop up in "Sex and the City." And he did in a 1999 episode. "Samantha, a cosmopolitan, and Donald Trump, you don't get more New York than that," Sarah Jessica Parker says in a voiceover. Trump wraps up a business lunch. "Well, think about it. I'll be at my office at Trump Tower," he announces, glancing at Kim Cattrall's Samantha on his way out.