All The Cosmetic Procedures Selling Sunset's Bre Tiesi Admits To Getting
Araya Doheny/Getty Images
"Selling Sunset" has it all: multi-million dollar houses, drama, and a little plastic surgery here and there. The agents of the Oppenheim Group have been the center of plastic surgery speculation for years, and while some have admitted to getting work done, others have not. But Bre Tiesi is willing to share it all.
Tiesi joined the cast of "Selling Sunset" in Season 6 alongside fellow agent Nicole Young, per People. Going into the "O Group," as they call it, can be intimidating, but Tiesi radiated confidence. She was there for work, her baby, and to make money and didn't care what the other agents had to say. And if they did say something, like her feud with Chelsea Lazkani, she would fight back. But despite being such a confident person on-screen, Tiesi has admitted to being insecure in real life. In 2021, Tiesi recorded a YouTube video answering people's questions, and when asked whether she ever gets insecure, she admitted she does. She shared, "Of course, everybody deals with insecurities. I mean we live in LA with the most beautiful women in the world. Yeah, insecurities build and they happen. I think that's just kind of a part of it."
As Tiesi appeared on "Selling Sunset" in 2023, many speculated that she had gotten work done. And unlike many celebrities who are coy about sharing what they have gotten done, the real estate agent is more than willing to share the cosmetic procedures she has had.
Bre Tiesi has had plenty of cosmetic procedures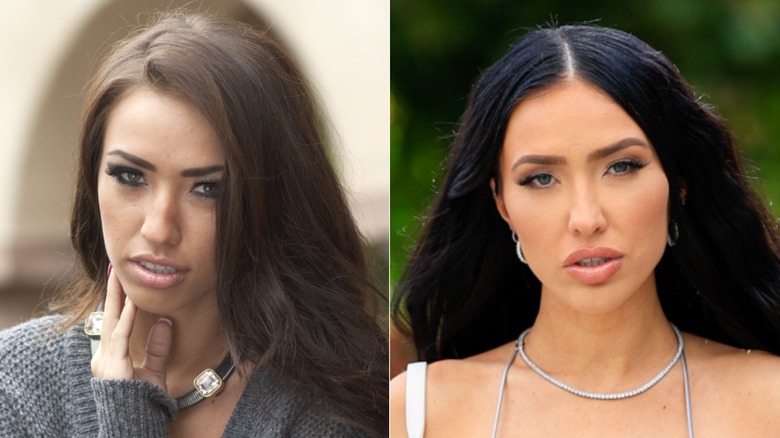 Michael Bezjian & Rachpoot/bauer-griffin/Getty
When Bre Tiesi appeared on "Selling Sunset," she took people's breath away with her stunning looks. But many wondered whether the real estate agent always looked the way that she does. After her first season on "Selling Sunset," fans did a deep dive into Tiesi's past, and a resurfaced photo of her began circulating, showing some drastic changes in her appearance, per Page Six.
Back in 2021, however, the reality star said fans would be "disappointed" to know that she had only gotten two things done during a YouTube Q&A, although she never admitted to what they were. It wasn't until she appeared on "Selling Sunset" that she confessed to a nose and boob job, per Page Six. But seeing photos of her past, fans weren't convinced that's the only work she has had, and their suspicions were right.
During an Instagram Q&A in 2023, Tiesi was asked what cosmetic procedures she's done, per People. The reality star joked, "What haven't I gotten done?" Tiesi then shared every single procedure she could think of, revealing she's "down to do anything." She said, "I have had my nose done. I have had my boobs done. I've done filler, I have done Botox. I've tried literally everything. Kybella, Morpheus, like I just did a CO2 laser. I've done a ton of lasers." Tiesi divulged it all, and fans now know the work that has been done to make her look the way she does.
Bre Tiesi got candid about her boob job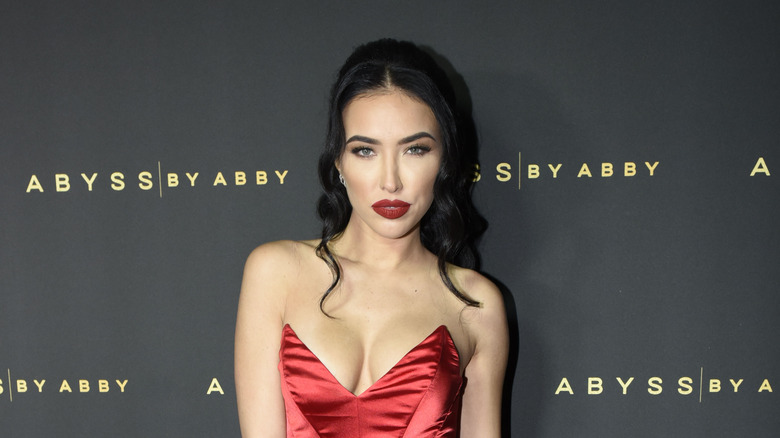 Vivien Killilea/Getty Images
Although it took some time for Bre Tiesi to confess to all the work she has gotten done, there has been one procedure she has been willing to share from the beginning — her boob job. In 2021, Tiesi got her boobs redone and documented the entire process with a vlog posted to YouTube. As to why the "Selling Sunset" star decided to have them redone, she says her body has changed since the first time she got the procedure. She shared, "I got my boobs done like ten years ago when I was like 18. So I'm going to redo my boobs. I'm going a little bit bigger. I'm a little thicker now." Tiesi took viewers through the entire process from start to finish, and that wasn't all.
After recovering from her boob job, the reality star recorded an entire video answering questions sent in by fans. From how to prep to even the price, Tiesi was willing to share everything with her fans. And if you're wondering how much she spent on her new boob job, the real estate agent shared, "His prices vary depending on what you're doing...but we're talking $10K plus, that type of deal. So, it's definitely an investment." It might be a little pricey for many, but clearly, the reality star is happy with the result and is more than willing to share just about anything when it comes to the procedures she gets.