The Reason Matthew Perry Doesn't Have A Hollywood Walk Of Fame Star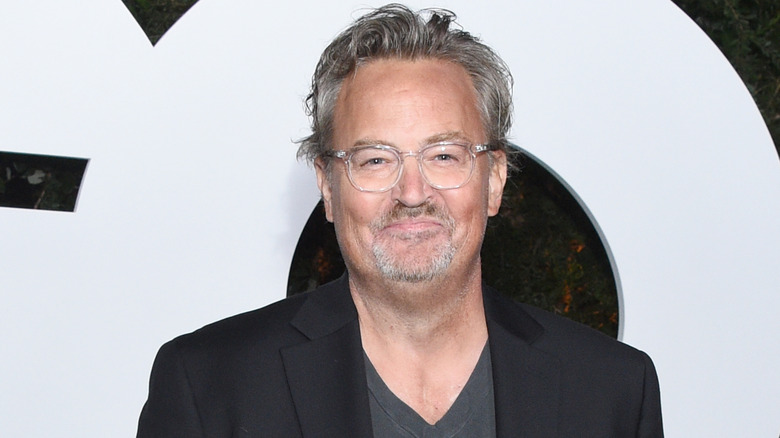 Gregg Deguire/Getty Images
The following article includes references to drug and alcohol addiction.
When taking a walk down Hollywood Boulevard, one will see stars with name after name of celebrities in all aspects of the entertainment world; however, one name that you won't come across is Matthew Perry.
According to the Hollywood Walk of Fame, to gain a nomination, an individual must meet certain criteria. Their website reports that a celebrity must have "professional achievement, longevity in the category of five years or more, contributions to the community, and the guarantee that the celebrity will attend the dedication ceremony if selected." Sounds like Matthew Perry fits the bill perfectly. His foray into the acting world began in the late '70s, but of course, it was his time on "Friends" that catapulted him into fame and solidified him as a great comedic actor. His career spanned years, so that seemed to check off the first and second criteria.
Perry would also have been able to cross off the "contributions to the community" requirement because he was heavily involved in making the world a better place through various foundations. It was no secret the "Friends" actor struggled with substance and alcohol abuse but used his experience to try and help others. In 2015, Perry was even honored with an award given by his fellow "Friends" castmate Lisa Kudrow for helping those dealing with addiction. Perry seemed like the perfect fit for a star on the Hollywood Walk of Fame, which makes many wonder why he never received one.
Matthew Perry's Hollywood Walk of Fame star never happened because of time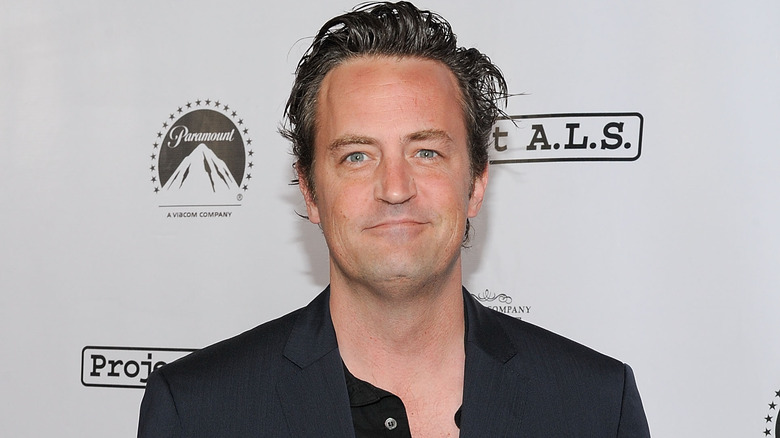 Michael Kovac/Getty Images
Not all of the cast of "Friends" have gotten a star on the Hollywood Walk of Fame, but there are two castmates' names that you'll see when walking down Hollywood Boulevard. Jennifer Aniston was the first of the "Friends" cast to earn her star in 2012, but none of her castmates were in attendance, per Reuters. More than 10 years later, the second person in the "Friends" ensemble landed their spot on the Hollywood Walk of Fame. Courteney Cox was honored at a ceremony in February 2023, and this time around, Lisa Kudrow and Aniston were there to celebrate their co-star's achievement, per CNN. As of 2023, Aniston and Cox are the only two cast members from "Friends" to have a star on the Hollywood Walk of Fame, but Matthew Perry almost joined them.
Time was the end all be all when it came down to Matthew Perry landing a star on the Hollywood Walk of Fame. The "Friends" actor fit the nomination criteria to a tee, so it seemed like an obvious choice, and it was! According to ET, the "17 Again" actor was chosen to receive a star back in 2013, just a year after Aniston earned her spot. Unfortunately, they never scheduled an official ceremony for Perry. Years passed, and as time went on, the award ended up expiring in 2018, so the "Friends" actor missed out on the opportunity to get his name cemented into history — literally.
Matthew Perry still might get a Hollywood Walk of Fame star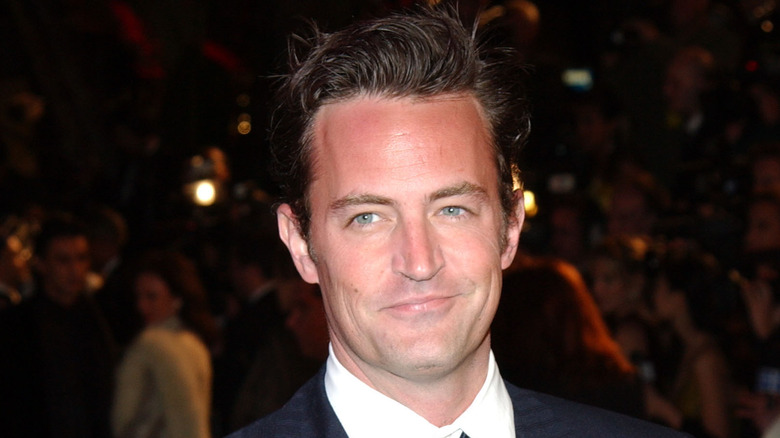 Jon Kopaloff/Getty Images
After many years, Matthew Perry may be getting a star on the Hollywood Walk of Fame after all, although now it would be an award given posthumously. In late October 2023, authorities were called for an issue of cardiac arrest at Perry's estate, per TMZ. When paramedics arrived, Perry was found deceased in his jacuzzi. 
Tributes poured in for the late actor, including from his "Friends" castmates, who shared a joint statement in the days following his death. "We are all so utterly devastated by the loss of Matthew. We were more than just cast mates. We are a family," they wrote. So many tributes were dedicated to Perry from people he knew dearly and even from those who only knew him from his time on-screen. It only seems fitting that the Hollywood Chamber of Commerce is considering honoring the late actor.
According to ET, the Hollywood Chamber of Commerce would like to honor Perry with a posthumous star. However, they are leaving it up to Perry's family as to whether they would like to move forward with the ceremony. The actor's family is still grieving the sudden loss, so the Hollywood Chamber of Commerce hasn't heard of any official decision regarding whether they will have a star dedicated to Perry. The organization did say that, if Perry's family does choose to continue the process of honoring the actor with a star, it will be a "beautiful thing."
If you or anyone you know needs help with addiction issues, help is available. Visit the Substance Abuse and Mental Health Services Administration website or contact SAMHSA's National Helpline at 1-800-662-HELP (4357).