All The Plastic Surgery Procedures Heidi Montag Admits To Getting
Jamie Mccarthy/Getty Images
Heidi Montag of "The Hills" fame maintained a constant presence in the headlines throughout the 2000s. Viewers eagerly anticipated the unfolding of her drama with former BFF Lauren Conrad, which unfortunately culminated in a tragic falling out. Her rollercoaster romance with Spencer Pratt was also a major subject of interest, with fans at the edge of their seats deciphering whether or not they would end up together (they did). 
Outside of TV, Montag gained notoriety for her penchant for plastic surgery, with the star electing to have a staggering 10 cosmetic procedures done in a single day at one point. Unlike most celebrities who are secretive about their experience under the knife, Montag was refreshingly open about her beauty journey, even if it meant being ridiculed by many.
Montag had her first set of surgeries in 2007 when she had both a breast augmentation and a nose job, but it was her marathon of surgeries three years later that stirred controversy. She infamously underwent nearly a dozen procedures done in a day, which included a chin reduction, liposuction in various parts of her body, botox, and a brow lift. Justifying her bold choice, she told People, "I would say the biggest reason is to feel better, to feel perfect ... I just wanted to feel more confident and look in the mirror and be like, 'Whoa! That's me!'"
While Montag is transparent about her experience with plastic surgery, it's not exactly something in which she takes pride. Over the years, she admitted to having some regrets and even made the shocking revelation that one particular surgery almost killed her.
Heidi says she 'died for a minute' while under the knife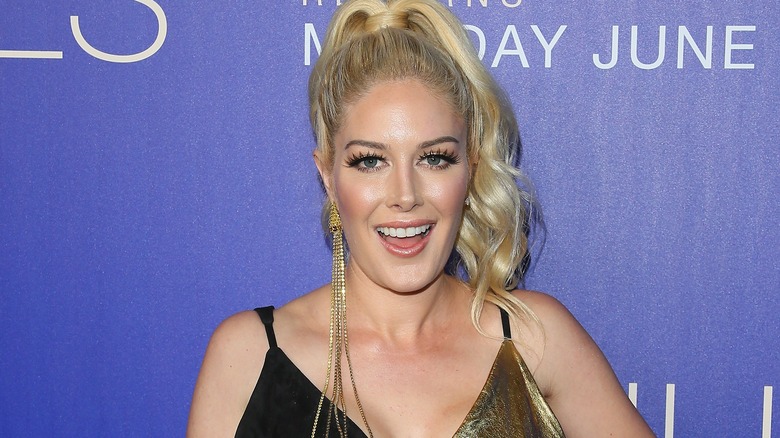 Jean Baptiste Lacroix/Getty Images
Part of the reason why Heidi Montag chose to have multiple procedures done all at once was because she didn't want to go through recovery repeatedly, especially since she was working on building a career in music at the time. But the decision proved almost fatal, with the reality star confessing to Paper Magazine that she nearly died then. "Spencer thought he lost me," she recalled. "I died for a minute ... My security guards called Spencer and told him, 'Heidi's heart stopped. She's not going to make it.' And I easily could've."
What's more, she was made to believe that she would bounce back in record time, but what happened was the complete opposite. "My surgeon was like, 'Oh, it will be a quick recovery, a few months.' And it took me over a year to heal, so I could barely talk [with] my jaw," she dished on Page Six's "Virtual Reali-Tea" podcast. "I just had part of my chin sawed off. It was really a lot just dealing with that."
Because of her experience, she urges everyone to think twice about their plans to go under the knife. "Let me just tell any ladies and gentlemen and gender nonconforming folks out there — just everyone: The phrase 'minor surgical procedure' does not exist," she told Cosmopolitan. "That's the hard lesson we learned. There's no such thing as one minor surgical procedure. And there's certainly no such thing as 10 minor surgical procedures."
Heidi Montag admits to regretting some of the procedures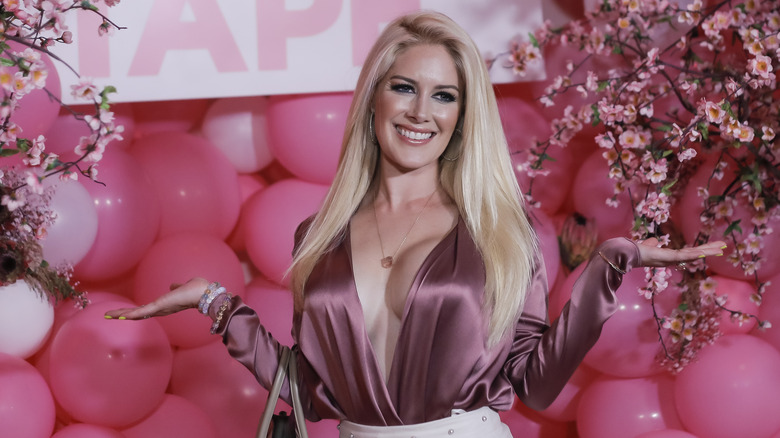 Tibrina Hobson/Getty Images
While Heidi Montag isn't denying that her plastic surgeries made her feel more beautiful and confident, she admits to harboring some regrets. In fact, in 2013, she opted for surgery once more, but only to have her F-sized implants taken out. "They were so heavy they were falling through the skin," she shared with People. "It was just too heavy for my body and I was in pain and uncomfortable all the time. I thought, 'What do I need this big of breasts for?'"
Through the years, she came to a sober realization that she probably didn't need all those cosmetic alterations and that she only agreed to most of them because they were free. She confessed in an episode of the "Broad Ideas with Rachel Bilson" podcast that she should have felt content with how she looked in the past instead of putting herself through all that pain. "I was beautiful before and it was fine. And I didn't need that," she said, adding that she no longer put so much weight behind her appearance.
"Would I pay for it and go through all that again and do that? I just don't want my value to be in my looks, no matter what," she said. "My suggestion for anyone is just like, 'OK, well, what? Why? Why do you want to do them? And what are you thinking about? And what is that going to change in your life?'"