How Jack Quaid's Famous Parents' Divorce Affected Him As A Child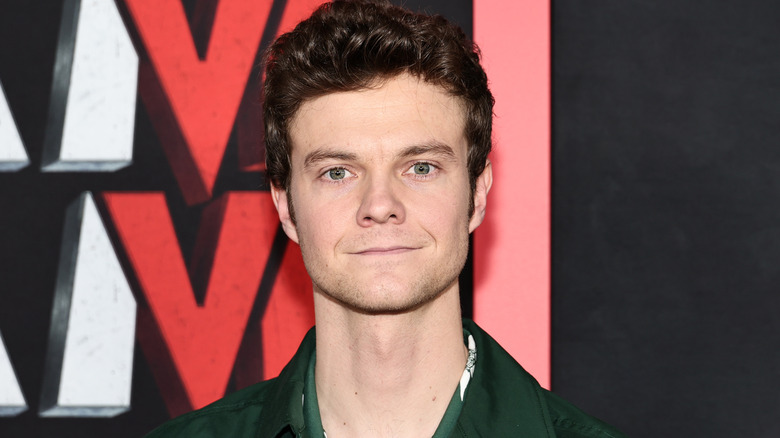 Jamie Mccarthy/Getty Images
As the son of Hollywood royalty Dennis Quaid and Meg Ryan, Jack Quaid was basically destined to be a movie star. But while he's open about the fact that his parents' names have opened doors, Jack is determined to make it on his own merit. As his dad Dennis explained on "The Kelly Clarkson Show" in 2020, "My agent wanted to represent [Jack] and he said, 'No, I want to do it on my own.'" 
Jack hasn't had any problem landing starring roles, either. A superhero satire? He's the lead in Amazon's "The Boys," which is airing its fourth season in 2024. Big screen thriller? Check him out in "Oppenheimer." A Martin Scorsese drama series? Maybe you should watch "Vinyl."
Jack is grateful that his parents have supported him throughout his acting journey. "I had the privilege and I was lucky to have people that understood what [an acting career] meant and supported me going into it," he told People. 
However, he's also been affected by the negative aspects of fame, as well as by his parents' high-profile divorce. Speaking to Spoiler Magazine, the actor recalled how he was always a bit wary about who his real friends were. Growing up in the spotlight meant that all the negative noise was amplified, including his parents' split. Being dragged into it as a five-year-old kid was a "hard deal," as Jack revealed on the "Allegedly with Theo Von & Matthew Cole Weiss" podcast.
Dennis Quaid and Meg Ryan's divorce made headlines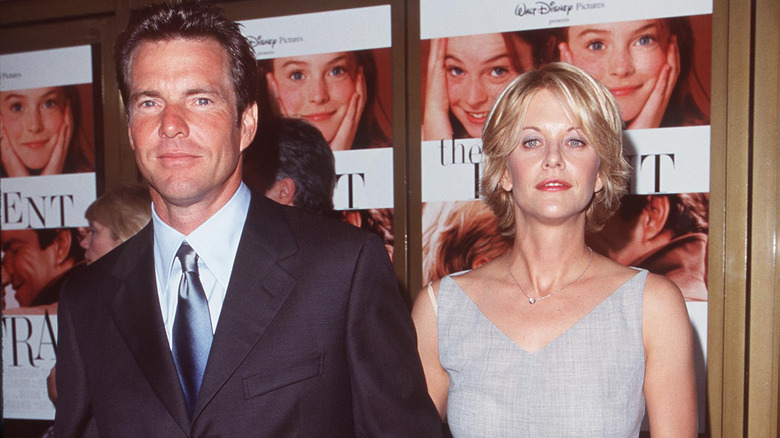 Steve Granitz/Getty Images
Divorce is a tough experience for any child, let alone one with famous parents. Being just five years old also meant that Jack Quaid wasn't totally aware of what was going on at the time. "It's one of those weird ages for your parents to get divorced," he explained on the "Allegedly with Theo Von & Matthew Cole Weiss" podcast. "You're old enough to know what's going on, but young enough to be kind of naïve about it." 
Maybe it would have been easier if Quaid's parents were John and Jane Doe, but they weren't. "It's hard to ignore when you're at a grocery store and you're checking out and you look at [magazines], and there's a photo of them with a little paper rip graphic between them," he said. "It's a hard deal." While acknowledging his parents' split was unique, Jack added that divorce is generally painful.
Ironically, it wasn't until Dennis Quaid and Meg Ryan's divorce that "The Boys" star truly became aware of his parents' fame. It sounds crazy, but it makes sense if you remember that he was just a little kid at the time. "It didn't really hit me, to be honest," Jack explained during the TCA Winter Press Tour (via Us Weekly). "[Once the news broke] I was like, 'Oh, OK, so everyone knows.' Then, yeah, I knew [they were famous], but it was just kind of normal to me. They were just my parents."
Jack Quaid has a good relationship with his parents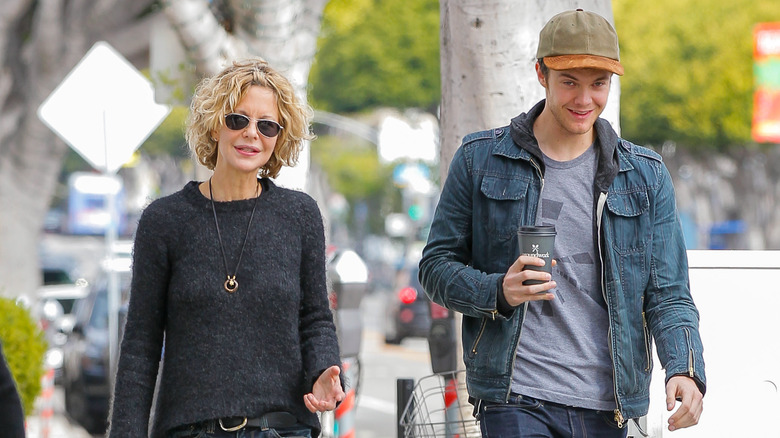 Bauer-griffin/Getty Images
Meg Ryan and Dennis Quaid lead separate lives now, but Jack Quaid has been intentional about maintaining close ties with both of them. Happily, acting provides a natural opportunity for everyone to connect. As Jack has grown up, he's developed a new appreciation for his parents' body of work, for example discovering Ryan's iconic rom-com "When Harry Met Sally." 
"I watched it, and then afterwards I cried for so long, because I was so proud of her, and I immediately called her, and I'm like, 'I'm so sorry I missed this movie,'" Jack recalled of the experience, via EW. "Anyway, that's my favorite of hers." Likewise, Jack's dad Dennis is one proud papa, as he shared on the set of "The Kelly Clarkson Show" in 2020. He recalled that Jack seemed destined for acting, as he was making his own videos even as a child.
Jack is also appreciative of the fact his parents have embraced his decision to go into acting. A career in the arts isn't the most conventional path, and he's well aware of his privilege. "It's lucky that I got to grow up saying, 'Hey I want to be an actor' and they understood that," he told People. "I didn't grow up in a house ... that would tell me, 'Oh that probably isn't the wisest choice [and] you should have a backup plan.'" Overall, it seems that he doesn't harbor any bitterness towards his parents post-divorce, and is grateful for their support.