Meg Ryan Said She Wasn't The Only One To Blame In Her Divorce From Dennis Quaid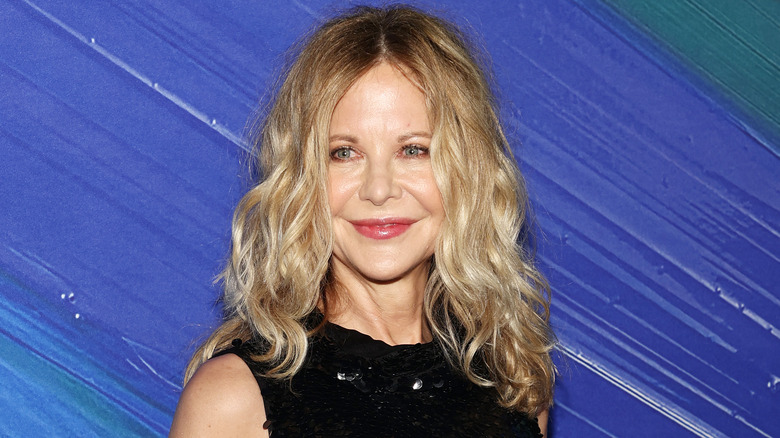 Matt Winkelmeyer/Getty Images
Meg Ryan was "America's Sweetheart" in the 1990s and although she may not have loved the title, she continued to be cast in a long slew of hit rom-coms. Then, almost out of the blue, her career was ruined. While being typecast certainly played a role in her eventual box office demise, plastic surgery also damaged her career, as did a headline-making affair which wrecked her bankability — and her marriage to Dennis Quaid. Surprisingly, she took it all in stride. As she told The Guardian in 2003, she didn't let the headlines get to her. "This thing that people are so afraid of all the time — public censure or disapproval — has no power if you know yourself," she mused.
Now, Ryan is making a comeback. In May 2022, Variety confirmed that the former rom-com queen was set to direct and star in a romantic comedy opposite David Duchovny titled "What Happens Later." Teasing the project with The New York Times Magazine in 2019, she gushed about getting back to her roots, saying she now approaches the genre differently. "I'm aware now that romantic comedies are confections, but they have construction," she mused. "It's not something I was aware of back then." But despite her return to work, some storylines simply won't stop following her around. For one, there's the endless talk about her alleged plastic surgery and for another, there's the infidelity which she's still talking about.
Tabloids had a field day over Meg Ryan's alleged infidelity
Steve Granitz/Getty Images
In July 2000, Dennis Quaid filed for divorce from Meg Ryan after nine years of marriage, right around the same time the New York Post confirmed Ryan was dating Russell Crowe. The pair had filmed 2000's "Proof of Life" together and, given the timing of events, many believed that Ryan and Crowe had an affair, which then resulted in her split with Quaid. However, Ryan was adamant that her co-star had nothing to do with her failed marriage. Speaking with W magazine (via E! News) that year, Ryan opened up about being, as she put it, the "Scarlet Woman." Although she proclaimed that neither she nor Quaid would ever reveal details about what really drove them apart, she assured that it had nothing to do with infidelity. "It dissolved before it became sport for the press," she told the mag. "My marriage was broken — nobody else broke it up." She also stated that Quaid never cheated and proclaimed, "We both behaved very honorably — in our marriage and in our breakup."
Jump to 2006 and Ryan was again quoted defending Crowe. "Russell was incredibly gracious to me during a really hard time and in the aftermath," she told Hello! (via the Daily Mail) and proclaimed to Oprah, "Russell wasn't a homewrecker." As for her claims that she and Quaid had both acted honorably, those would soon change.
Did Dennis Quaid cheat on Meg Ryan?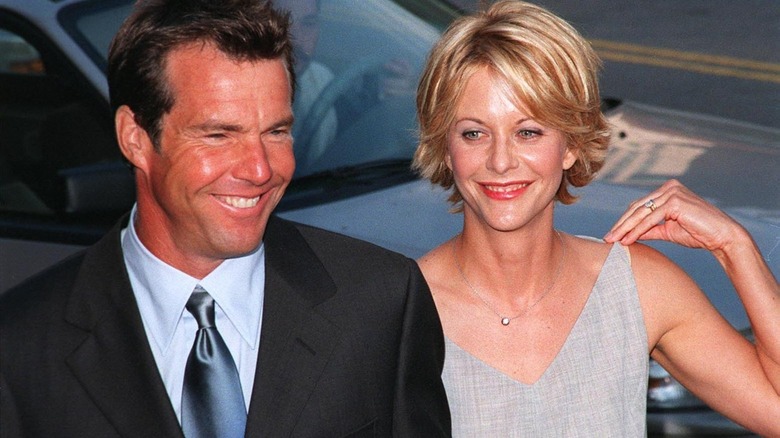 Featureflash Photo Agency/Shutterstock
Years after Meg Ryan and Dennis Quaid's divorce was finalized in 2001, the "Sleepless in Seattle" star rehashed her failed union and offered a very different take on what actually went wrong. Speaking with InStyle in 2008, she claimed that tabloids didn't present the entire picture. "Dennis was not faithful to me for a long time, and that was very painful," she alleged. "I found out more about that once I was divorced." Ryan also said that Russell Crowe wasn't to blame, reiterating, "Russell didn't break up the marriage." Rather, she was sorry for hurting him because their relationship ended shortly after their affair. However, she has no regrets. Despite the fact that the reported infidelity may well be the reason why we don't see much of Ryan anymore, she mused, "My time as a scarlet woman was really interesting — as painful as it was, it was also incredibly liberating."
Quaid wasn't impressed by his ex's comments. He quickly fired back, telling New York Daily News, "It was eight years ago, and I find it unbelievable that Meg continues publicly to rehash and rewrite the story of our relationship." The actor also said it's not fair to their son, Jack, to have to read about his parents' split in the media and concluded, "I, myself, moved on years ago."