Ocasio-Cortez Makes Bold Statement About College Admissions Scam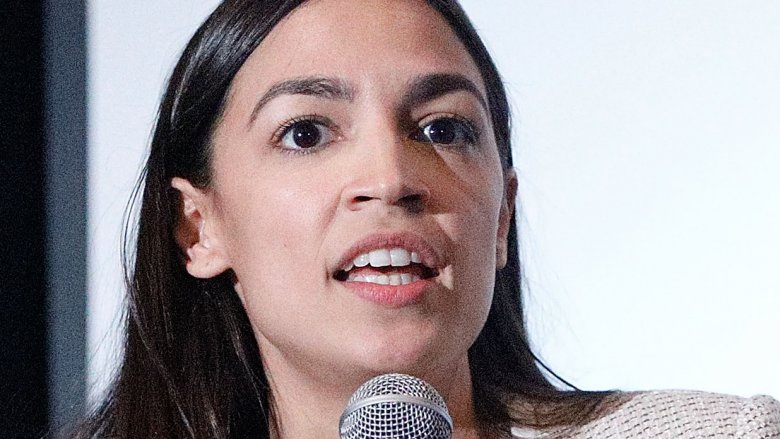 Getty Images
Alexandria Ocasio-Cortez is no stranger to speaking her mind, and she proved that once again when she commented on the college admissions scandal that first made headlines on March 12, 2019.
The New York congressional representative took to Twitter to liken the reported cheating scheme to the United States political system. "I guess college admissions isn't that different from elections, where lots of money can buy your spot too," Ocasio-Cortez tweeted out. "Also an enviro where those who make it despite the odds are suspected to not have 'earned' it, not truly belong, or assumed to not be able to perform at the same level."
Ocasio-Cortez's post came in response to B*tch Media's co-founder Andi Zeisler, who had tweeted about the scandal, writing, "Perhaps this is a good time to talk about all the perfectly legal ways the wealthy are both allowed and expected to manipulate college-admissions systems while teaching their children to disparage 'affirmative action.'"
At the time of this writing, over 63,000 people liked Ocasio-Cortez's tweet, while over 13,000 Twitter users retweeted it. Countless others left comments reacting to the politician's post. "All politicians buy their way into DC," one person wrote, crediting Ocasio-Cortez for accepting small donations during her campaign rather than payouts from large corporations. "They say 'pull yourself up by your bootstraps' and 'meritocracy' but then they pay someone to get their kids into college. That's not 'boot straps' that's putting their boot on the scale of equality," another tweet read.
As many may know by now, 50 people were reportedly indicted in a nationwide college admissions cheating scandal, including Full House actress Lori Loughlin, Loughlin's designer husband Mossimo Giannulli, and Desperate Housewives star Felicity Huffman, who were each accused of "conspiracy to commit mail fraud and honest services mail fraud." Others indicted included college sports team coaches and SAT/ACT officials, as well as the scam's alleged ringleader William Rick Singer, who'd allegedly used a fake nonprofit as a front for the apparent scheme.
Basically what's come out about the reported admissions scheme was that some wealthy parents would pay Singer, and thereby college employees and exam administrators, to guarantee that their children would get accepted to specific universities like Yale and Georgetown, as the US Attorney for Massachusetts, Andrew Lelling, explained in a press conference. Sometimes these bribes would reportedly facilitate someone impersonating a prospective college student to take their SAT or ACT exams for them, snagging them a higher score, or even correcting test answers before submitting the exams. Other times, people working with Singer would allegedly create fake profiles for clients' children, fabricating evidence that the students had participated in sports and designating them as recruits for schools' teams.
The scandal has highlighted the many privileges the wealthy elite have in society, as the parents involved allegedly bought their children's entrances into certain colleges, effectively taking the spots of other prospective students who may have been more qualified for admission. According to Lelling, the amounts Singer was paid for fraud ranged from $100,000 to $6.5 million, though he noted that many clients paid between $250,000 and $400,000 for each student. Regarding the celebrities involved in the scandal, Felicity Huffman is said to have allegedly paid $15,000, while Lori Loughlin and her husband reportedly paid about $500,000.
"The parents charged today — despite already being able to give their children every legitimate advantage in the college admissions game — instead chose to corrupt and illegally manipulate the system for their benefit," Lelling stated. "We're not talking about donating a building so that a school's more likely to take your son or daughter — we're talking about deception and fraud."
As noted by CNN, wealthy people using their hefty bank accounts to influence colleges is nothing new. Just like Lelling said, rich parents have donated huge sums of cash to colleges to help secure their children's spot at the schools. And this clearly unfair advantage is perfectly legal. Children of rich families also benefit from having the funds to be privately tutored and to attend college prep courses. Clearly, people from lower-income households have already been placed at an unfair disadvantage, but this recent cheating scandal took white, rich privilege to a whole other level.