Why John Stamos May Lose Millions After Lori Loughlin's Scam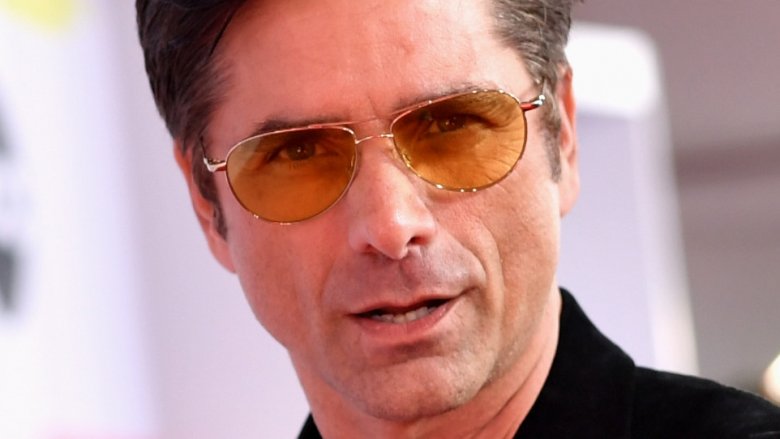 Getty Images
Will TV star John Stamos and his Fuller House co-stars' finances be impacted by Lori Loughlin's alleged involvement in the college admissions scam?
On Tuesday, March 26, 2019, Rob Shuter of Radar Online's podcast Straight Shuter revealed how the ongoing nationwide scandal could reportedly affect the big bucks coming in from Full House's longtime syndication.
According to a source cited by Shuter, "John Stamos, Jodie Sweetin, and Bob Saget fear they are going to lose millions in lost royalties as the TV stations decide what to do with Fuller House following the college application scandal surrounding Lori."
Readers are most likely aware that Stamos, 55, and Loughlin, 54, shot to stardom together as lovebirds Jesse Katsopolis and Rebecca Donaldson-Katsopolis — a.k.a. fan favorites Uncle Jesse and Aunt Becky — on Full House back in the '80s. Two decades after the hit ABC series went off the air in 1995, the duo reprised their roles in the Netflix reboot series, Fuller House. 
According to Inquisitr, the original hit series has since enjoyed a full life with re-runs playing on the likes of Nick At Nite, TBS, Hallmark, and even Hulu for years. However, the monetized fate of both shows now appears uncertain. 
"Who is going to want to watch her show anymore?" the insider rhetorically asked Shuter earlier this week. "And if the audience doesn't tune in, stations will drop it which will cost the cast millions in lost revenues. What folks don't understand is every time Full House airs anywhere in the world, John, Jodie, Bob, Lori and everyone else gets paid." The source went on to allege that Loughlin "has potentially ruined that for everyone and it's just not fair." Yikes.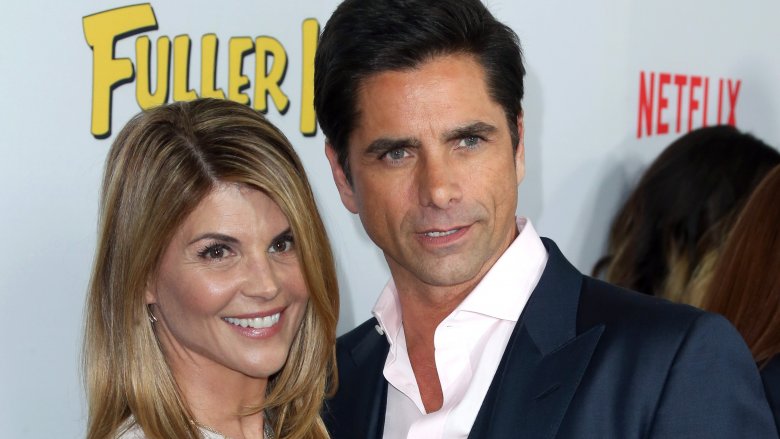 Getty Images
At the time of this writing, Stamos, Loughlin, and their fake family in the Full House sphere have yet to publicly comment on the ongoing college admissions bribery scheme. However, the actress and her family have continued to face severe backlash on social media, as well as financial consequences of their own, in the fallout. In addition to her continued legal trouble, Loughlin has already lost out on major, lucrative gigs with Hallmark and Netflix (via The Hollywood Reporter).
As Nicki Swift previously reported, Loughlin and her husband, clothing designer Mossimo Giannulli, were arrested in mid-March 2019 for allegedly paying $500,000 to bribe their daughters' way into being accepted as crew team recruits at the University of Southern California. The two are parents to Isabella Rose, 20, and Olivia Jade, 19. Loughlin, who posted $1 million bond, was later charged with conspiracy to commit mail fraud and honest services mail fraud, according to CNN. Meanwhile, Us Weekly reports that she will head back to court early next month in Boston, Mass.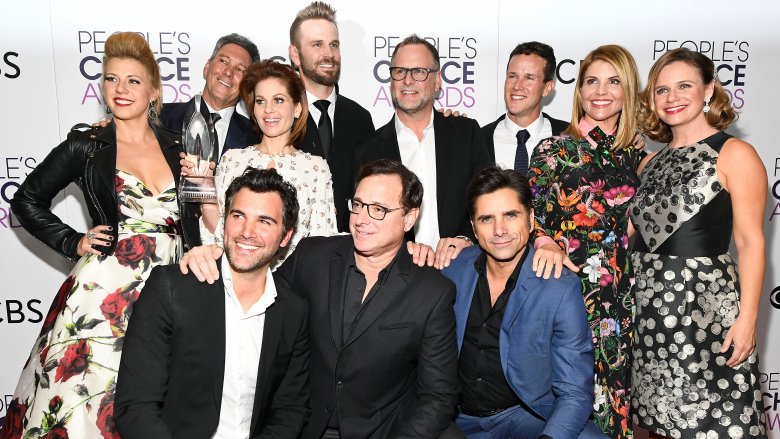 Getty Images
Just weeks before the Fuller House set was shrouded by its connection to the college admissions scandal, John Stamos was making headlines of his own for opening up about his battle with alcohol addiction. 
"It took me a long time, a long time disappointing everyone who cared about me, culminating in a terrible DUI where I could have killed somebody," he revealed in late February 2019 while presenting longtime co-star Jodie Sweetin, a.k.a. the Full House sphere's Stephanie Tanner, with the Writers in Treatment's Experience, Strength and Hope Award at Los Angeles' Skirball Cultural Center (via Variety). "I hit rock bottom. Jodie lovingly allowed me to walk my own path and when I finally humbled myself to ask for your help, I realized that the perky little blabbermouth had become the master of wisdom and was right by my side during some of the most difficult days of my life."
While concluding his emotional tribute, Stamos said, "Thank god, my wife and my new son will only know me as a sober husband and father. This is Jodie's legacy in my life." The 55-year-old actor welcomed son Billy in April 2018 after tying the knot with Caitlyn McHugh, 32, that February.
Sweetin, who'd opened up about her own journey toward sobriety following years of drug abuse in her Unsweetined memoir, has worked as a clinical logistics coordinator at a rehab center since getting sober in 2008, according to Sober Nation. While accepting the award, she said, "John, I'm so proud of you and it's been the greatest thing to watch someone that you love have the light come back on again."