Marcia Cross Opens Up On Fighting Anal Cancer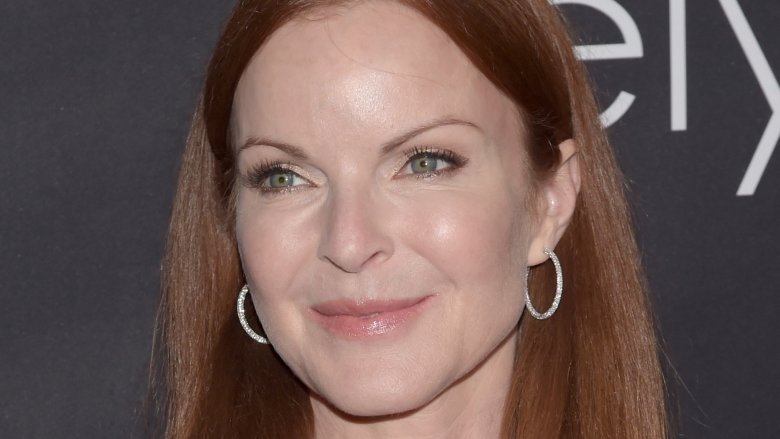 Getty Images
Actress Marcia Cross is sharing a major health update with the world.
During an exclusive interview with People magazine, published on Tuesday, March 26, 2019, the former Desperate Housewives star candidly opened up about her battle with anal cancer in an effort to raise awareness about the disease.
"I want to help put a dent in the stigma around anal cancer," Cross told the publication. "I've read a lot of cancer-survivor stories, and many people, women especially, were too embarrassed to say what kind of cancer they had. There is a lot of shame about it. I want that to stop."
According to the Mayo Clinic, "Most cases of anal cancer occur in people age 50 and older." With symptoms including pain, itching, and/or bleeding, those who "have many sexual partners over their lifetimes," smoke cigarettes, "engage in anal sex," or have a history of cancer or HPV infection may have an increased risk of getting this type of cancer. 
Cross, who is thankfully now nearly a year into remission, went on to advise, "If something doesn't feel right, listen to your body and talk to your doctor. Don't let it go. It's a very curable cancer if caught early, which mine was." The 57-year-old actress added, "If you or a loved one are diagnosed, the Anal Cancer Foundation is an amazing resource. And one I turned to often."
The Melrose Place alum also discussed her diagnosis with the life-threatening disease. Explaining that she underwent two biopsies following a routine digital rectal exam administered by her gynecologist in November 2017, Cross went on to complete six weeks of chemotherapy and radiation treatments. 
She explained to People, "Surgery wasn't recommended, which was a relief. You want to preserve sphincter muscles if possible." The actress added, "Having woken up to its importance, I am now a big fan of the anus!" Cross made sure to maintain a positive, humorous outlook throughout the difficult ordeal, and quipped, "In the beginning, I just sort of lay down for the parting of the cheeks and I would float away. Because what are you going to do?" 
Readers may remember that Cross previously made headlines in September 2018 when she first revealed her hidden health struggle on social media. "So grateful and happy to be alive but sad that my hair fell out and is about 1 inch long now and looks cra cra," she wrote to her 151,000 Instagram followers at the time, captioning a snapshot of herself. "Anyone else have #hairloss due to #cancer? Talk to me. I feel you." Alongside three red heart emojis, the TV star concluded her post with, "Xxoo m."
In a follow-up post, Cross clarified that she was indeed in recovery, writing in part, "I am so sorry my post wasn't clear. I am POST cancer. All good now. Hard journey, but I am HEALTHY, happy, and more present and grateful than ever."
"After posting a picture of myself here and uttering the words #cancer and #hairloss, I felt liberated, deliriously free and completely me," Cross wrote in another lengthy text-post. While identifying her exact diagnosis with anal cancer for the first time and thanking her followers for their support, she went on, "I certainly wasn't expecting the response of love and kindness that flowed to me ... I am ecstatically alive and what interests me post cancer is #AUTHENTICITY. #VULNERABILITY. #TRANSPARANCY. And of course #LOVE."
Having followed her adoring fan base's advice, Cross shared her new look weeks later. "I am rockin a #beanie and a #hairtopper and getting on with the glory of living!" she captioned a selfie. Alongside the hashtags, "#resurrection #cancer #gratitude," the actress concluded the post with, "ONWARD."
Marcia Cross isn't the only celeb to open up about their health in recent weeks. As Nicki Swift previously reported, beloved actor Michael J. Fox shared new insight into a number of health complications he faced over the last year, which stemmed in part from his longtime battle with Parkinson's disease. "I was having this recurring problem with my spinal cord," the Back to the Future star told The New York Times Magazine in early March 2019. "I was told it was benign but if it stayed static I would have diminished feeling in my legs and difficulty moving. Then all of a sudden I started falling — a lot. It was getting ridiculous." 
After undergoing spinal surgery in April 2018 and completing "an intense amount of physical therapy," Fox was meant to take on an acting gig that August, which was derailed by a fall at home. "I fractured the hell out of my arm," he explained. "I ended up getting 19 pins and a plate. It was such a blow." Despite these difficulties, the Spin City alum never lost his famous sense of optimism and acceptance of the disease. Fox added, "It makes me think, Can I just keep going in this adventure? Because if the worst I've had is as bad as it gets, it's been amazing."