Royal Fans Have Noticed Big Detail In Archie's Birth Certificate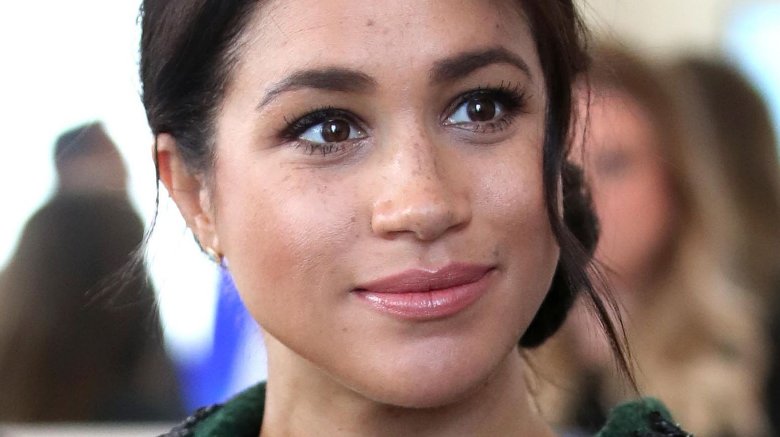 Chris Jackson/Getty Images
New details have come out about royal baby Archie's birth ... and his mother's official royal occupation.
According to Baby Sussex's birth certificate, which was publicly released via Rebecca English of the Daily Mail's Twitter account on Friday, May 17, 2019, Meghan Markle's royal occupation includes a surprising answer.
While listing the former Suits actress' name and title, as expected, as "Rachel Meghan Her Royal Highness The Duchess of Sussex," English noted that "Meghan is listed as a Princess of the United Kingdom – just like Kate [Middleton]" in the document. Wait, what? But before anyone starts calling her "Princess Meghan," it should be noted that neither she — nor Kate Middleton, for that matter — is technically a princess.
"William is HRH Prince William, Duke of Cambridge and so Kate, as his wife, is HRH The Duchess of Cambridge," royal commentator Richard Fitzwilliams told Yahoo! back in 2018, shortly after Prince William and Middleton welcomed their third child, son Prince Louis (via AOL). Readers may remember that his birth certificate similarly listed mom Kate Middleton as a princess. "If you marry a prince you become a princess. Louis' birth certificate would naturally reflect this."
According to AOL, then, both Duchess Meghan and Duchess Kate simply received the female versions of the titles long-held by their respective husbands, Prince Harry and Prince William, upon marrying into the British royal family. So, both will continue to go by the royal title of "duchess," thank you very much.
As Nicki Swift previously reported, Markle, 37, and Prince Harry, 34, welcomed baby Archie at 5:26 a.m. local time on May 6, 2019. Their newborn son, who weighed in at 7 lbs., 3 oz. at the time of his birth, made his public debut just two days later with his proud parents. 
Due to the royal couple's penchant for keeping their baby preparations largely under wraps following their pregnancy announcement last October, there had been been ongoing rumors of a home birth at Frogmore Cottage. Earlier this year, a source cited by Us Weekly claimed that the expecting parents were understandably hoping to avoid the media circus that surrounded the arrival Kate Middleton and Prince William's third child last year. The insider claimed, "It will be much less chaos and more of a private event than if she gives birth in London [at high-profile St. Mary's Hospital] like Kate did."
However, the recent release of little Archie's birth certificate dispelled this thread of speculation once and for all. According to the document, Meghan Markle and Prince Harry's first child was delivered at Portland Hospital in Westminster, England. 
Despite the happy arrival of Markle and Prince Harry's first born son, it apparently wouldn't be royal family news if there wasn't some type of drama attached to it. Following months of rumors surrounding an alleged feud between the Sussexes and the Cambridges, the latter couple reportedly didn't meet their newborn nephew until over a week after his birth. According to royal expert Dr. Anna Whitelock, the delay may have something to do with the Duke and Duchess of Sussex's surge in popularity over the last year and a half.
"Before very long Prince William and Kate will be Prince and Princess of Wales," she recently alleged in CBS News' Meghan and Harry Plus One special (via Express). "Harry and Meghan sort of undermining and challenging their popularity and status may just be a little bit too much."
While it's difficult to know whether there's any truth to this claim, there was another cause for celebration elsewhere in the British royal sphere. May 2019 didn't just mark the birth of Meghan Markle and Prince Harry's first child. The married pair also enjoyed their first wedding anniversary on Sunday, May 19. Readers will undoubtedly remember that they tied the knot at St. George's Chapel at Windsor Castle. To celebrate the happy occasion, the royal couple shared a number of new behind-the-scenes snapshots taken on their big day on Instagram. "Thank you for all of the love and support from so many of you around the world," Markle and Prince Harry captioned the slideshow of photos in a heartfelt message to their followers. "Each of you made this day even more meaningful."
Congratulations once again to Meghan Markle and Prince Harry on the arrival of baby Archie and their paper anniversary!