Here's Why Gloria Vanderbilt Didn't Leave An Inheritance For Her Son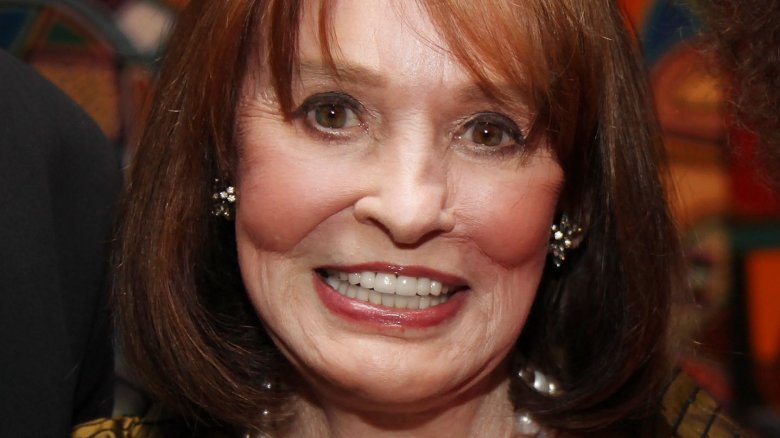 Astrid Stawiarz/Getty Images
The late socialite and fashion icon Gloria Vanderbilt had a reported net worth of $200 million prior to her passing earlier this week — leaving her son, CNN's own Anderson Cooper, an heir to a giant fortune ... well, sort of. 
At the time of this writing, it's uncertain what exactly will be happen with Vanderbilt's accumulated wealth. However, it seems more likely than not that the heiress didn't actually leave an inheritance behind for the famed reporter. But there's thankfully no drama or bad blood to see here between the famous mother-son duo, because inheriting a trust fund was never actually part of the plan.
Entertainment Tonight notes that while Vanderbilt herself had received an inheritance of $5 million from her late father back in 1925, she told The New York Times sixty years later, "I'm not knocking inherited money, but the money I've made has a reality to me that inherited money doesn't have."
This line of thinking had trickled its way down to Cooper himself, who opened up about the matter during his 2014 appearance on The Howard Stern Show, telling the shock jock, "My mom's made it clear to me that, like, there's no trust fund. There's none of that." The Anderson Cooper 360 host went on to claim that he didn't "believe in inheriting money." Calling the notion an "initiative-sucker" and a "curse," he said that he and his mother instead "believe in working." 
Cooper went on to explain, "Who's, like, inherited a lot of money that has gone on to do things in their own life? From the time I was growing up, if I felt that there was some like pot of gold waiting for me, I don't know that I would have been so motivated."
We suppose both mom and son make some pretty solid points. Plus, Celebrity Net Worth reports that Cooper apparently banks $12 million a year at CNN while boasting an alleged net worth of $110 million. So, if this lack of an inheritance proves to be true, we'd say he'll be just fine financially.
As Nicki Swift previously reported, Gloria Vanderbilt sadly passed away on Monday, June 17, 2019, following a battle with stomach cancer. She was 95 years old. While breaking the news of his mother's death on CNN, Cooper shared a touching tribute, saying in part, "Gloria Vanderbilt was an extraordinary woman, who loved life, and lived it on her own terms." 
"She was a painter, a writer and designer, but also a remarkable mother, wife, and friend. She was 95 years old, but ask anyone close to her, and they'd tell you: She was the youngest person they knew — the coolest and most modern," he continued. "If you were around in early 1980s it was pretty hard to miss the jeans she helped create, but that was her public face — the one she learned to hide behind as a child." Cooper added, "Her private self, her real self — that was more fascinating and more lovely than anything she showed the public. I always thought of her as a visitor from another world, a traveler stranded here who'd come from a distant star that burned out long ago. I always felt it my job to protect her ... What an extraordinary life. What an extraordinary mom. What an incredible woman."
Soon after Cooper shared this news, a number of fans and celebs alike took to social media to express their condolences — including longtime pal Andy Cohen.
"Gloria Vanderbilt was an amazing woman who lived a life filled with incredible peaks and impossible obstacles," the Watch What Happens Live host wrote on Instagram, captioning a snapshot of Vanderbilt during her younger years. "Through it all she remained eternally optimistic with a wicked sense of humor. In fact, Anderson's iconic and infectious giggle comes from his mom. Sending Anderson all my love, and may she Rest In Peace."
After receiving an outpouring of love and support, Cooper tweeted on Tuesday, June 18, "Thank you for all the lovely messages about my mom. I was lucky to have her for so long. She was the coolest lady i ever met, funny, loving, so talented, and modern." He added, "She joins my father, and brother, and i will carry their memories with me forever."
Our thoughts remain with Anderson Cooper and Gloria Vanderbilt's loved ones during this difficult time.