Twitter Reacts To Toni Morrison's Death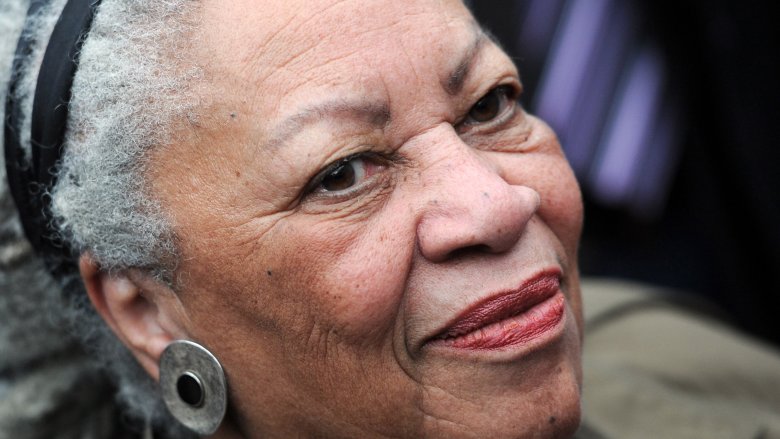 Franck Fife/Getty Images
Toni Morrison, the Nobel and Pulitzer prize-winning author who wrote of the black experience in America, has died. She was 88.
"It is with profound sadness we share that, following a short illness, our adored mother and grandmother, Toni Morrison, passed away peacefully last night surrounded by family and friends," the Morrison family said in a statement (via Vox). "She was an extremely devoted mother, grandmother, and aunt who reveled in being with her family and friends."
The trailblazing novelist published her first novel, The Bluest Eye, in 1970 at the age of 39. Eighteen years later (via The New York Times), Morrison won the Pulitzer Prize in Fiction for what is widely considered to be her masterwork, Beloved. That book would eventually be turned into a 1998 movie starring Oprah Winfrey and Danny Glover. 
In 1993, Morrison became the first black woman to be awarded the Nobel Prize in Literature. "I decided that ... winning the (Nobel) prize was fabulous," Morrison said at the time. "Nobody was going to take that and make it into something else. I felt representational. I felt American. I felt Ohioan. I felt blacker than ever. I felt more woman than ever. I felt all of that, and put all of that together and went out and had a good time."
Always pushing the envelope, Morrison's writings remained controversial throughout her career, as evidenced by three of her novels – The Bluest Eye, Beloved, and Song of Solomon – appearing on the American Library Association's 2000-2009 list of Top 100 Banned/Challenged Books.
Reactions to the death of the woman who transformed modern literature poured in on Twitter shortly after the news broke:
"Toni Morrison was a national treasure, as good a storyteller, as captivating, in person as she was on the page. Her writing was a beautiful, meaningful challenge to our conscience and our moral imagination. What a gift to breathe the same air as her, if only for a while," tweeted 44th President Barack Obama, who awarded Morrison the Presidential Medal of Freedom in 2012.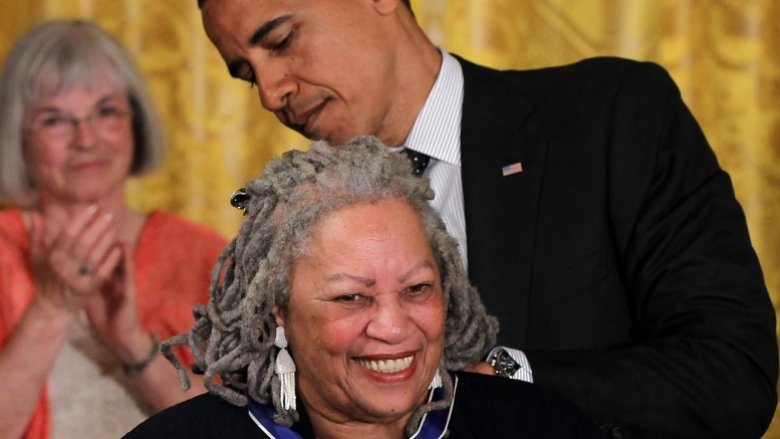 Getty Images
"Toni Morrison was a towering intellect, a brilliant scribe of our nation's complex stories, a heartbreaking journalist of our deepest desires, and a groundbreaking author who destroyed precepts, walls and those who dared underestimate her capacity. Rest well and in peace," expressed former Democratic candidate for Georgia governor, Stacey Abrams.
"If you are free, you need to free somebody else. If you have some power, then your job is to empower somebody else.' -Toni Morrison. Today we lost an American legend. May she rest in peace," Vermont senator Bernie Sanders tweeted.
New York Congresswoman Alexandria Ocasio-Cortez tweeted: "Toni Morrison will be remembered as one of the greatest thinkers and storytellers in our history. She gave us all so much, and her work continues to give throughout time. Thank you, Toni Morrison."
"Toni Morrison's powerful writing taught us all new ways to lead, new ways to fight, and reminds us of the humanity in others. As I think about her passing, her words fill me with hope. 'Your life is already a miracle of chance waiting for you to shape its destiny,'" Massachusetts senator Elizabeth Warren tweeted.
"In the passing of Toni Morrison, we lost one of our greatest voices & storytellers. Holding close those touched by her being & her gift. Her work gave us power, hope & freedom. While our world shines a little less bright today, we know 'something that is loved is never lost,'" tweeted California Senator Kamala Harris.
It wasn't just American politicians who expressed sadness over the loss of Morrison. Many people from the arts, from actors to writers to musicians, shared their own feelings as well.
"Her words were like mirrors to our collective souls. Like pillows to cushion the blows. Like mothers to wrap us in love. Like friends to hold our hands and see us through the darkness. [...] May we lift her up in the light of goodness and hold her there," actress Gabrielle Union tweeted.
"Toni Morrison. While you have left the physical realm, the many treasures you left us will bear fruit for generations and generations. Your work has cascaded through my life deeply and simply...rest in power to a beloved icon," tweeted Black-ish star Tracee Ellis Ross.
Grey's Anatomy creator Shonda Rhimes reflected on the profession she shared with Morrison, tweeting, "She made me understand 'writer' was a fine profession. I grew up wanting to be only her. Dinner with her was a night I will never forget. Rest, Queen." 
"'We die. That may be the meaning of life. But we do language. That may be the measure of our lives.' Toni Morrison. I'm deeply sadden[ed] to share that one of our greatest writers and minds in American History, Toni Morrison, passed away at the age of 88. May God Bless Her Soul," rapper Common tweeted.
According to her publisher (via Time), Morrison was working on a novel at the time of her death, though it's not known whether or not the manuscript will ever be released for public consumption. No other details were available at the time of this writing.
Toni Morrison was simply everything to me. She gave me the language to love myself, to understand this world and taught me to be brave in the face of anything and everything. I'm so devastated that she is gone and so grateful that she was here to teach this little black girl.

— Yamiche Alcindor (@Yamiche) August 6, 2019
Toni Morrison got her first New York publishing job at 36, published her first book at 39. She was a single working mom who woke up every morning at 4am to write. She wrote all those breathtaking books on stolen time, at the pace her life dictated.

— rachel syme (@rachsyme) August 6, 2019
A talent beyond measure. Thank you, Toni Morrison, for your honesty and humanity. Your words will continue to inspire us all.

— The Academy (@TheAcademy) August 6, 2019
"Anger is better. There is a sense of being in anger. A reality and presence. An awareness of worth. It is a lovely surging."

- The Bluest Eye

— jourdain searles (@jourdayen) August 6, 2019
I got in trouble for talking back a lot in middle school, and the in-school detention monitor let me spend time by myself in the library. That's where I found The Bluest Eye. It didn't make me want to be a writer, but it did make me want to read every other book in the library.

— Ashley C. Ford (@iSmashFizzle) August 6, 2019
Ages ago, I got to hear Toni Morrison speak. During the Q&A *that guy* stood up...

"The first line of BELOVEDâ€"'124 was spiteful'â€"isn't it true that the number 1-2-4 symbolizes theâ€""

"No," she said.

"What?" he said.

"I was living in apartment 124 at the time. Next question."

— Ally Carter (@OfficiallyAlly) August 6, 2019
Thank you Toni Morrison. Beloved is indispensable to my understanding of America. We are grateful.

— rob delaney (@robdelaney) August 6, 2019