What's Emma Watson's Net Worth? How Much Did She Earn From Harry Potter?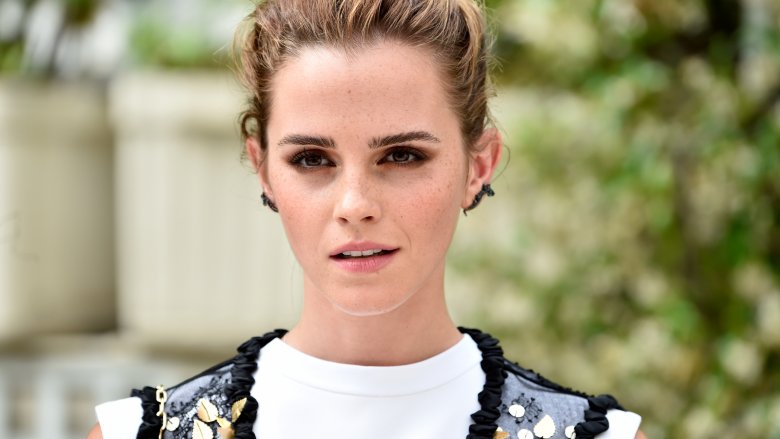 Pascal Le Segretain/Getty Images
Not many actors break the bank with their first role, but Emma Watson managed to do just that as a child star thanks to the massive success of the Harry Potter film franchise. Cast as the titular wizard's brainiac friend Hermione Granger at just 9 years old in 1999, Watson is now reportedly worth a staggering $80 million before her 30th birthday, according to the estimates of Celebrity Net Worth. That site estimated that she earned between $15 and $20 million per year for acting in film roles.
In 2010, Watson was worth a "paltry" $32 million around the time of the seventh and second-to-last Harry Potter film's release. In an interview with British Vogue (via People) that year, she revealed that she had no idea that she was millionaire until she had the "money conversation" with her father when she was 17. Prior to the sit-down with her dad, Watson had an allowance of $75 a week. 
But when she finally learned that every time she waved her wand, her bank account was magically getting bigger, Watson almost had an existential crisis. "By the third or fourth film, the money was starting to get serious," she explained. "I had no idea. I felt sick, very emotional."
Another magic money trick Watson performed was raking in millions for playing her dream role — Belle in Disney's 2017 live-action remake of Beauty and the Beast. "I didn't have to learn a single lyric because I already knew the songs by heart," Watson told CNN at the Los Angeles premiere. "I've always loved singing, and it's something I've always wanted to do."
According to The Hollywood Reporter, Watson pocketed $3 million up front for the role. However, a deal with the studio raised that payday to $15 million since the film outperformed Disney's earlier live-action fairy tale flick, 2014's Maleficent, which earned $759 million in worldwide gross. SPOILER: Beauty and the Beast grossed $1.2 billion worldwide. It's safe to say that Watson can afford to buy real talking candles and teacups now. Forbes reports that the British star banked $14 million in 2017 alone.
While Emma Watson's career might not see the payday that she enjoyed with Harry Potter ever again, but does that really matter? She's set for life. That's the real magic, friends.