Danny Trejo Saves A Child Trapped In An Overturned Car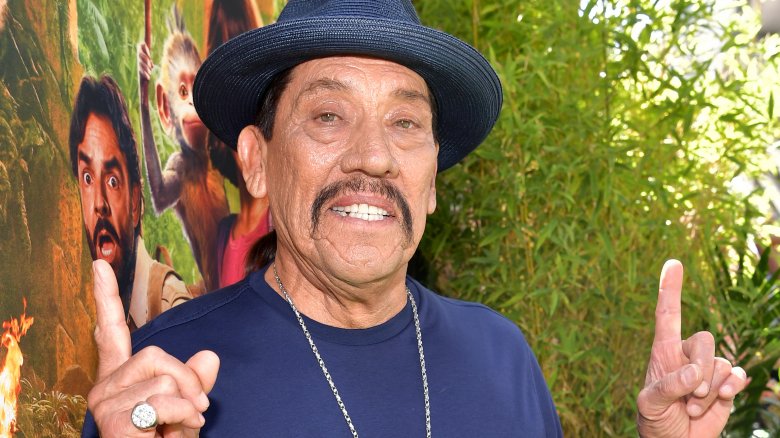 Emma Mcintyre/Getty Images
Machete star Danny Trejo is best known for playing the heavy on the big screen, but in real life, he's a hero.
On Aug. 7, 2019, the actor and another bystander helped rescue a special needs child trapped in an overturned car in Sylmar, California (via ABC7). The car accident occurred when a driver allegedly ran a red light, smashing into another car that flipped over with the child and his grandmother trapped inside.
Trejo then raced to the wreckage, but was unable to unbuckle the child's car seat from his angle. That's when a young woman "crawled in from the other side" to undo the buckle, allowing Trejo to pull the child from the wreckage.
Trejo revealed his work with special needs children helped him keep the child calm while rescue workers attempted to free his grandmother from the driver's seat. "He was panicked," the 75-year-old actor explained. "I said "OK, we have to use our superpowers.' So he screamed 'superpowers' and we started yelling 'superpowers.' I said do this, with the muscles. He said 'muscles.'" He added,  "We got kind of a bond. I kept facing him away from the accident."  
Fortunately, the Los Angeles Fire Department reported that "no life-threatening injuries" were sustained in the accident.
In a video posted to his official Instagram, Trejo stood at the scene and described the accident and the help he received from the other bystander, who at the time of this writing has only been identified as a young woman. "I couldn't get the baby out," Trejo explained. "I couldn't unbuckle the seatbelt so she got in and undid the seatbelt. I pulled the baby out of the other outside." He added that what really saved the child's life "was his car seat."
When asked if he considered himself a hero, Trejo answered the only way a national treasure could. "Everything good that has happened to me, has happened as a direct result from helping someone else," Trejo said.
America, it should go without saying that Trejo's next movie should be called Machete Saves. You know you'd go see it.