Liam Hemsworth Would Reportedly 'Lash Out' At Miley Cyrus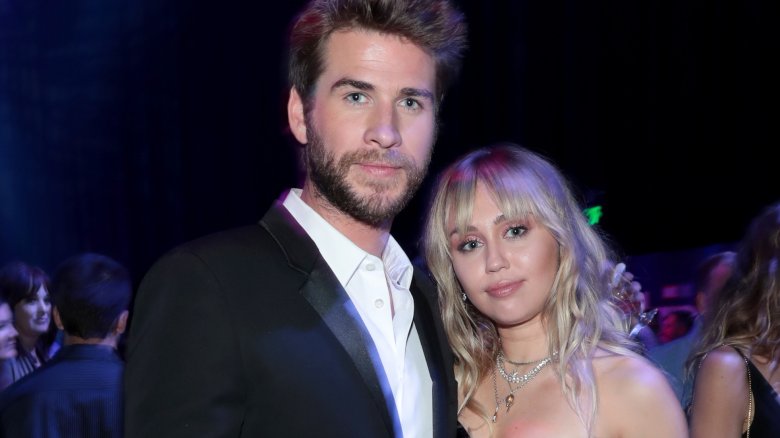 Rich Polk/Getty Images
When we think of Liam Hemsworth and Miley Cyrus, we generally think of a laid back Australian dude and a twerking, pot-smoking American party girl. However, according to an anonymous friend of the couple who spoke with People for an August 14 article, that narrative is reportedly not the case. 
"Everyone always thinks Miley is problematic and immature and a hardcore partier while he's this chill surfer dude, but that's actually [not accurate]," the friend claimed. "Liam parties with his friends, and Miley thinks he should've grown out of that by now."
A second anonymous source told the publication that Liam's "super easygoing" public persona masks a "moody" side that can "get dark" on occasion. "That's something that has weighed on Miley and their relationship," the source continued. "He can also lash out at her, and he hates the attention their ups and downs bring."
According to yet another source quoted in a People article from August 12, the couple's decision to split up didn't happen overnight. They reportedly had been "separated for several months" prior to their press statement confirming the breakup on Aug. 10, 2019. The source goes on to claim that Miley "really fought to make it work," and even suggested the pair go to therapy, but their rocky relationship finally became too much for the "Wrecking Ball" singer to bear any longer. "She just wants to be in a healthy and focused place," the source explained.
That "focused and happy place" appears to come in the form of Brody Jenner's ex-wife, Kaitlynn Carter – and the new couple found solace with each other very quickly. Less than a week after Kaitlynn's split with Brody, and a day before Miley confirmed her split from Liam, the ladies were cuddling up in Italy.
And although Radar Online reports that Liam was "heartbroken" over their Instagram PDA — and his family thinks Miley is "a disgrace" — it's all good with Brody Jenner.
According to Page Six, Kaitlynn and Miley have been engaging in serious PDA without cameras around for "a couple of months" and Brody is "totally okay with" that. The source says "there is no drama" between the three as Brody is "still friends with them."
In fact, the insider explains, Brody and Miley have "known each other for years," and he was the one who introduced them. Sounds very L.A.
A few fans thought there was some bad blood between Brody and Miley when she replied "go take a nap in your truck and cool off #HotGirlSummer" after Jenner wrote, "watch out! Pics of Liam and I holding hands on the beach coming soon," on Kaitlynn and Miley's Italy Instagram post.
"Brody wants his ex to be happy and he's friends with Miley," the source explained. "Miley's comment was in jest. She was joking about him sleeping in his car because they're friends. She knew about that episode. There are no issues."
So why did Miley move on with Kaitlynn, anyway? According to Radar Online, it was all about what she was missing in the bedroom. "She was bored in her marriage, and she was bored in bed with Liam," the insider alleged of the pansexual star. According to this unnamed source, Miley supposedly broached this subject with Liam "many times," and while he was "willing to change things up by bringing in another partner," Miley reportedly "needed more than that." Didn't you listen to the song, Liam? She can't be tamed. 
In any event, is any of this true? Or even true-ish? After all, some of these insiders are pegging Liam Hemsworth as the party-dude, while other unnamed sources say that Miley Cyrus is the one who couldn't be tamed or satisfied. It's safe to assume that yet more wild stories about the aftermath of Liam and Miley's split will be coming in hot for the foreseeable future. However, the Independence Day: Resurgence star wants you to know they won't be coming from him.
"Just a quick note to say that Miley and I have recently separated and I wish her nothing but health and happiness going forward," the actor wrote in an Aug. 13, 2019, Instagram post. "This is a private matter and I have not made, nor will I be making, any comments to any journalists or media outlets. Any reported quotes attributed to me are false. Peace and Love."
So, wait, does that mean the quote we just attributed to Liam Hemsworth is false, too? Whoa.