Miley Cyrus Seen Kissing Brody Jenner's Ex Kaitlynn Carter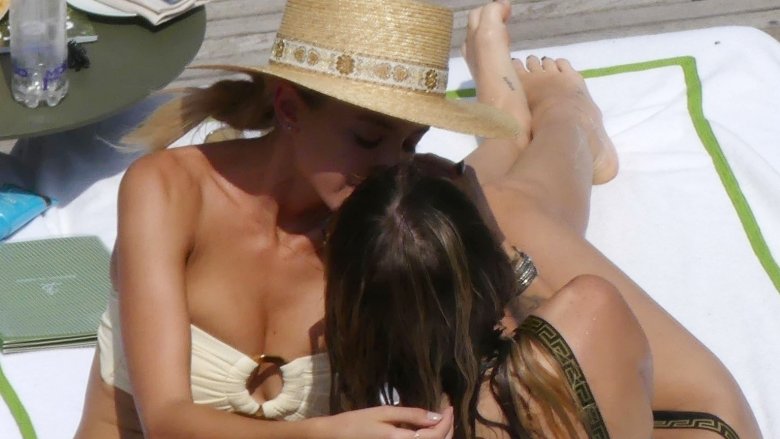 Cobra Team / BACKGRID
Pop quiz: your high profile celebrity marriage to Miley Cyrus falls apart in the public eye. What's the worst thing that can happen? If your answer is "photos of my ex-wife making out with Brody Jenner's ex-wife on a boat hit the Internet," you might be Liam Hemsworth. Let's start at the beginning.
After barely a year of wedded bliss, Miley Cyrus and Liam Hemsworth decided to go their separate ways. The news of the split came on Aug. 10, 2019, when a rep for Cyrus released a statement to People. "Liam and Miley have agreed to separate at this time," it read. "Ever-evolving, changing as partners and individuals, they have decided this is what's best while they both focus on themselves and careers. They still remain dedicated parents to all of their animals they share while lovingly taking this time apart. Please respect their process and privacy." Indeed, this is going to be a tough time for their many animals.
While Liam and Miley's split shocked fans, an insider told People that it wasn't "shocking to people who are actually with them every day." 
The source continued: "After they reunited, everyone thought they were this 'perfect' couple, but they still had a lot of issues. They're not on the same page when it comes to a lot of fundamental things that make a relationship work."
However, while Miley Cyrus' statement about their breakup seemed like it was a mutual decision, Hemsworth is having a hard time processing the dissolution of his marriage to the pop princess. In his first public appearance after the news broke, Liam Hemsworth grabbed some frozen yogurt with his older brother, Chris Hemsworth, in Byron Bay, Australia, where the Daily Mail Australia caught up with the Hunger Games actor. "You don't understand what it's like," Liam told the publication (via Daily Mail) when asked about the split. "I don't want to talk about it, mate."
On the other hand, Cyrus was spotted without her wedding ring making out with Brody Jenner's ex, Kaitlynn Carter in Italy a day before the breakup announcement was made. While a source told People the pair were "just having fun," an eyewitness told Entertainment Tonight they "were not trying to hide" their PDA love fest at all. 
"They were fully on a date, getting drinks, just the two of them," the eyewitness explained. "They even got a couple of massages at the hotel."
A source told Radar Online that Hemsworth is "heartbroken" over Cyrus' photos with Carter, adding that his family "cannot believe she is flaunting" the apparent rebound in Hemsworth's face. "They think she's a disgrace." Ouch.
Although we have no official reason why Liam Hemsworth and Miley Cyrus decided to split as of this writing, the clues were all there. Were there trust issues? Us Weekly alleged that, after Cyrus and Hemsworth called off their engagement in 2013, Hemsworth and Mad Men's January Jones were sexting each other. Meanwhile, the actor's rep told E! News the report was work of "tabloid fiction."
That same year, Us Weekly reported that Hemsworth's famous brothers "staged an intervention" to convince him to break it off with Cyrus. "They want him to end the romance for good," the source said. We assume Liam and Chris had a lot to talk about over that frozen yogurt.
In an interview with Elle for their August 2019 issue, Miley Cyrus revealed that she doesn't "fit into a stereotypical wife role," and remains "very sexually attracted to women." She added, "I think it's very confusing to people that I'm married." As you might recall, Cyrus came out as pansexual in 2016.
According to Radar Online, Cyrus "was the one to end" the relationship over her fears of being tied down. "She said she wanted an open relationship. She wasn't ready for just one person for forever," the source said. The subject of children also allegedly proved a point of contention with the famous couple. "He wanted babies, and she just didn't anymore," the source explained.
On Aug. 11, 2019, Cyrus spoke out on Instagram with a post about the nature change. "Don't fight evolution, because you will never win. Like the mountain I am standing on top of, which was once under water, connected with Africa, change is inevitable," she wrote. "The Dolomites were not created over night, it was over millions of years that this magnificent beauty was formed. My dad always told me 'Nature never hurries but it is always on time'.... it fills my heart with peace and hope KNOWING that is true. I was taught to respect the planet and its process and I am committed to doing the same with my own ..."
While we're not exactly sure what that means, we hope Liam Hemsworth and Miley Cyrus are able to move on and live their best lives. Hopefully the pair's lawyers will be able to hammer out a fair joint custody agreement for them to continue parenting their many animal children. Won't someone think of the animals?