The Truth About Tobey Maguire's Illegal Gambling Past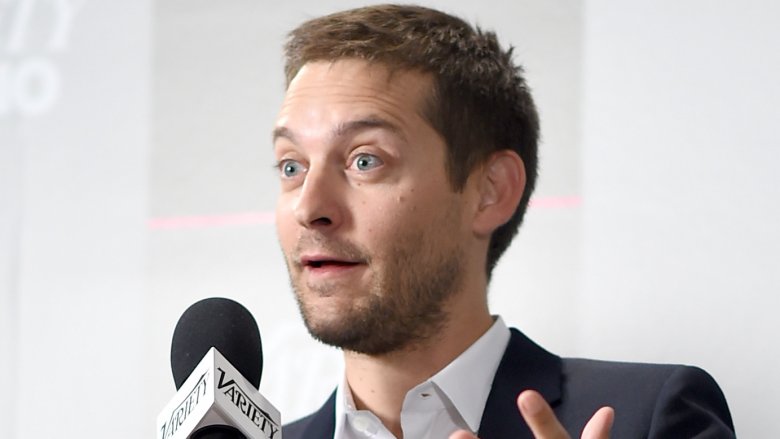 Michael Buckner/Getty Images
Tobey Maguire may be known as arguably the worst Spider-Man, but he was a great poker player — until he won money that had been obtained through a Ponzi scheme. In 2011, CNN reported that Maguire agreed to settle a lawsuit with a bankruptcy trustee seeking $311,000 he allegedly won from Bradley Ruderman between 2007 and 2008. At the time, Ruderman was serving a 10-year prison sentence for tax, wire and investor advice fraud, meaning Maguire's big pot was full of illegal and ill-gotten gains. Maguire settled out of court for $80,000 to get himself removed from litigation in the case. Other stars, including Ben Affleck, Matt Damon, and Maguire pal Leonardo DiCaprio, were reportedly involved with the illegal poker games as well.
Of course, there was more to Tobey Maguire's table troubles than just the Ponzi-fueled poker pot. His alleged behavior during the games, hosted by Molly Bloom, earned him a reputation as one of the biggest jerks in Hollywood. In her book, Molly's Game, Bloom described a "Player X" — who readers and the press quickly figured out was Tobey Maguire — who tried to force her to bark like a seal in order to secure a $1,000 tip. "He was bullying me a little bit," Blooom later said on Good Day New York. "It was humiliating. But I didn't do it."
But wait! There's more. Maguire also reportedly loaned fellow player Houston Curtis $600,000 to repay a $1 million gambling debt, but with a deal that was very difficult for Curtis uphold. Curtis told The Observer, "I would pay him 50 percent of my wins until he was paid back and then he'd also get 50 percent of my wins for a year after. He knew that long-term I was gonna win in that game 'cause that's what him and I did in that game—we won."
Curtis says he paid Maguire's $600,000 back within two months, but couldn't keep up with the rest of the deal, explaining, "I play one night and win $100,000—$50,000 goes to Tobey. I play the next night and win $100,000—$50,000 goes to Tobey. I play a third night and lose $100,000. That's on me. So I win two of three nights but I end up with nothing and Tobey gets $100,000."
Curtis said he had to quit playing after he owed Maguire $300,000 from the deal—not from the loan. "He told me, 'Listen, I was never going to keep all those wins anyway,'" Curtis recalled. "I think for Tobey, it was more the thrill of knowing he'd made a good deal."
While Tobey Maguire may have been the lamest Peter Parker ever, the rest of the cast wasn't so bad. For proof, take a look at what the rest of the original cast of 2002's Spider-Man looks like today.