What Will Kate Middleton's Title Be When William Is King?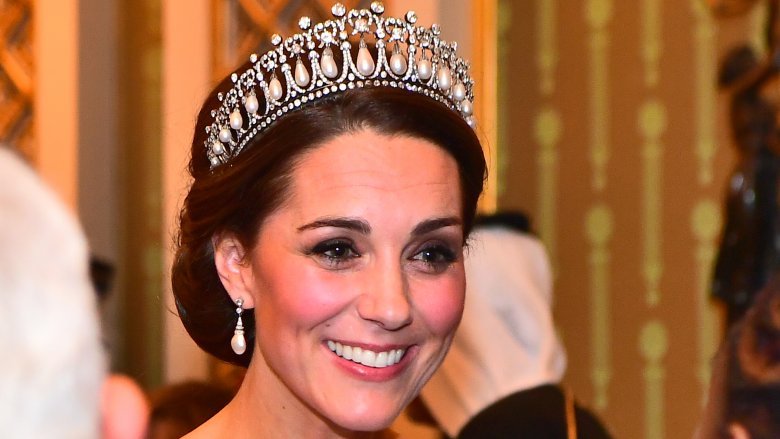 Wpa Pool/Getty Images
Kate Middleton grew up a "commoner" and married into the royal family in April 2011 when she and Prince William tied the knot in Westminster Abbey in London. Upon marrying, Prince William and Kate's titles became "His and Her Royal Highness, the Duke and Duchess of Cambridge," with "Kate" formally going by "Catherine." Interestingly, Southern Living reports, she has two other titles depending on where she is within the United Kingdom: When Duchess Kate is in Scotland, she's referred to as Countess of Strathearn; when she visits Northern Ireland her title is — wait for it — Lady Carrickfergus. Really. Additionally, because Kate married into royalty instead of being born into it like William, her title will always come after her name, i.e., "Catherine, Duchess of Cambridge" as opposed to "Duchess Catherine."
The royal line of succession is clearly defined: After Queen Elizabeth II retires from royal life, Prince Charles will become King. Prince William is next in line (followed by his and Kate's sons, then Prince Harry). When Prince William becomes King, however, what does it all mean for Kate Middleton?
Once Wills ascends to the throne, that doesn't mean Kate will automatically become Queen. Her official title will be, according to The Independent, "Queen Consort;" Good Housekeeping reports that her full title in its entirety will be "Her Royal Majesty Queen Consort Catherine VI." This "Consort" designation is given to the wife of a ruling male sovereign, as opposed to a woman born into royalty. As with many Draconian royal traditions, this does not usually apply to men who marry sovereign female monarchs (like Queen Elizabeth II, who is technically a "Queen Regnant"), as their titles usually remain the same (as Prince Philip, Duke of Edinburgh's did). The single exception was when Prince Albert was named Prince Consort in 1857 after Queen Victoria had reigned for two decades. If Kate outlives William, she may also be eligible for the title of "Her Majesty, Queen Catherine, the Queen Mother."
Before Prince William and Kate become King and Queen consort, however, Good Housekeeping reports that Prince Charles will likely bestow his title onto William, making William the new Prince of Wales; Kate would likely then become Catherine, Princess of Wales — though she may decline the title, much like Duchess Camilla of Cornwall, chooses to do out of respect for the late Princess Diana. Royal expert Robert Jobson explained to The Daily Star, "If William is given the title by his dad when Charles is king, Kate will be Princess of Wales ... simple as that. The reason Camilla didn't take the title is exceptional, she was Charles' mistress. Camilla chose to use one of Charles' other titles hence she is '[Her Royal Highness] The Duchess of Cornwall' in England and Wales. Should Camilla want to be styled '[Her Royal Highness] The Princess of Wales,' she could be."
In terms of Kate's title, nothing will really change in terms of her royal duties. Southern Living reports that her workload, such as it is, will remain much the same: She'll be a patron for charities of her and William's choosing, make public appearances, and support William in his own endeavors. One of Kate's jobs, bestowed upon her by the current Queen herself, is patron of the Royal Photographic Society, which was announced in June 2019. Queen Elizabeth II held the role, which promotes the "art and science of photography," for 67 years before passing the baton to her granddaughter-in-law. The Duchess of Cambridge (and soon to be Queen Consort) places a special focus on charities for early childhood education and mental health, as well as athletics and outdoor activities for kids.
Jobson explained that literally no matter what poor Kate does, her title is entirely dependent on her husband William and father-in-law Prince Charles' actions, noting that William will only become Prince of Wales if Charles bestows the title upon him. "There is nothing automatic about it. Just 21 men have held that coveted rank in history. Charles is the latest having been made it at 10. The title 'Prince of Wales' is one of the great continuities of English and Welsh and, latterly, British, history." He added that the title is "not heritable" and is seen as a "great honor."
Despite all of that, chances are Kate will be known as "Kate Middleton," especially stateside, for a very long time. Boston University professor Arianne Chernock explained to Vanity Fair, "It doesn't hurt her that the American press especially refers to her as Kate Middleton. It's precisely her middle-class origins, and that name, which won her over to so many people in the first place. So that reminder can only help her."
While you're here, did you ever wonder how the heck Kate Middleton gets out of the hospital so quickly after giving birth? You're not alone. Find out the real reason why here.