Who Is RuPaul's Husband And How Did They Meet?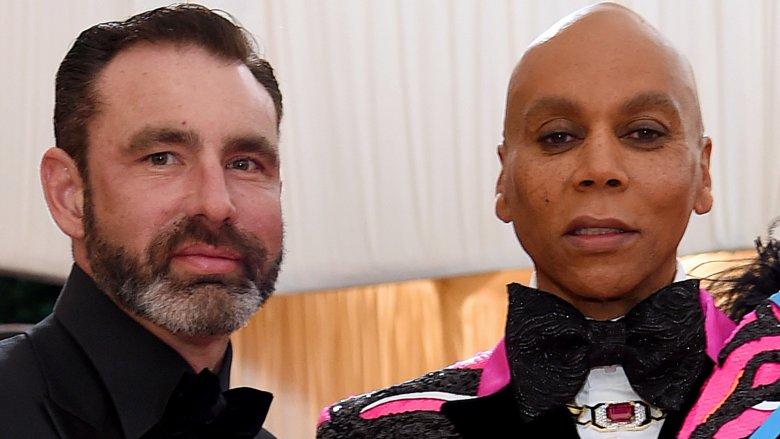 Jamie Mccarthy/Getty Images
RuPaul (born RuPaul Andre Charles) has been with his husband Georges LeBar for over 20 years — essentially a lifetime in Hollywood. The RuPaul's Drag Race host's relationship isn't a conventional one, however. He told Vogue that he and LeBar are in an open marriage, explaining, "I love him too much to try to put shackles on him. Love is free. It's not that sort of romantic surface thing we all bought into. He is my most favorite person that I've met."
He added with his signature flair, "Gore Vidal said you should never pass up an opportunity to have sex or be on television."
In March 2017, RuPaul revealed on Hollywood Today Live (via Marie Claire) that he was officially off the market. "I've never said this television before — we are married," he said. "I met him on the dance floor at Limelight in 1994 on his birthday. We got married this year on the anniversary of when we met." He told Entertainment Tonight that he and LeBar finally tied the knot because of "what's currently happening in the world today [and] what's going on in Washington," obliquely referring to the election of President Donald Trump.
One of the things RuPaul loves most about LeBar is his complete and utter lack of pretension. "He doesn't care about show business at all. He could care less," RuPaul said of his longtime love. "Most of the time, he's on the ranch in Wyoming. He has a 60,000-acre ranch — it's in two states, it's in South Dakota, too. When I go there, I dress up in Western wear and nobody cares."
As for whether they'd start a family someday, however, RuPaul isn't so sure. "Georges loves kids, but I know what a child needs to prosper and grow, and I don't have the time to do that," he told The Guardian. "If I were going to do it, I would devote my time to that kid." He added that he adores kids, but doesn't necessarily want "to deal with the other parents ... But who knows? It could still happen, sure. It could happen tomorrow, you know. If he wanted to do it tomorrow, I would do it."
While you're here, check out RuPaul's Drag Race's most dramatic transformations!