The Cars' Ric Ocasek Dies At 75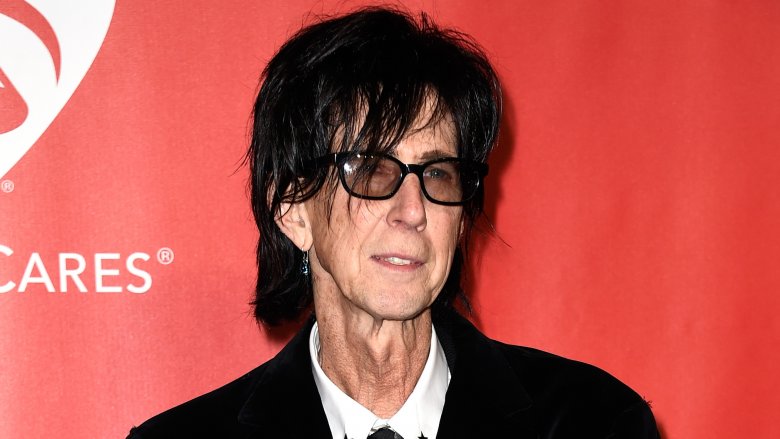 Frazer Harrison/Getty Images
Ric Ocasek, frontman for the Rock & Roll Hall of Fame inductee The Cars, died on Sunday, Sept. 15, 2019, in his New York City townhouse, TMZ reports. The New Wave rock maestro was found in bed and unresponsive by his estranged wife, model Paulina Porizkova. According to Yahoo!, the New York City medical examiner's office listed the prolific songwriter's death as hypertensive and atherosclerotic cardiovascular disease that was made worse by pulmonary emphysema. Ocasek is survived by his six children from his three marriages.
Along with his highly influential rock back that formed in late-60s Ohio, Ocasek released five platinum albums from 1978 to 1984, per The New York Times. Some of their smash hits included "Just What I Needed," "Shake It Up," "You Might Think," and "Drive," along with several others. In a 1979 interview with Rolling Stone, Ocasek said he "started immediately writing" songs after he dropped out of college, and started a band for the most pragmatic reason: "Sometimes I'd put together a band just to hear my songs," he said. "If a person couldn't play that well, there'd be fewer outside ideas to incorporate."
The Cars earned six Grammy nominations, including Best New Artist in 1978. Although the band broke up before alternative took over the 1990s, its influence was felt by countless other acts that followed: Nirvana even played The Cars' hit "My Best Friend's Girl" during their final live performance in 1994. After the group disbanded in 1988, Ocasek continued to make solo albums and produced music for a diverse group of musical acts like Bad Brains, Weezer, Suicide, Bad Religion, and No Doubt.
Fellow musicians react to Ric Ocasek's death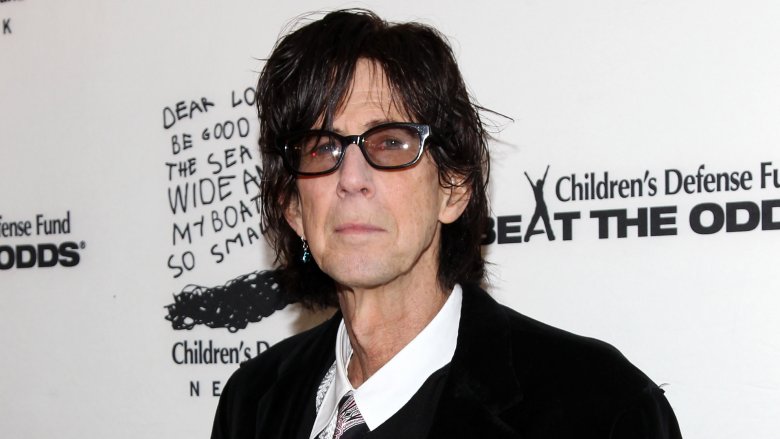 Bennett Raglin/Getty Images
In a post on Twitter, Weezer wrote that the band was "devastated" over the news of Ocasek's death. "We will miss him forever, & will forever cherish the precious times we got to work and hang out with him. Rest in Peace & rock on Ric, we love you," the statement continued. 
Other rock luminaries and celebrities took to social media to share their thoughts and condolences on the passing of the legendary songwriter and producer. "Devastated to hear of the passing on this man, Ric Ocasek. It has brightened my spirit to see how many have posted about Ric, praising his originality, flair, and brilliance," Smashing Pumpkins frontman Billy Corgan wrote, in part, on Instagram. "I was blessed to have known him."
The Killers' Brandon Flowers tweeted an email he wrote to Ocasek, thanking him for The Cars' "contribution" to his life, and how the band's greatest hits album directly influenced him to become a rock musician. "My first king," he wrote. "Thank you, thank you, thank you."
"The first Cars album is literally perfect; there might not be a better debut ever," The Best Show's Tom Scharpling tweeted. "The rest of the catalog is untouchable. Ric Ocasek was the architect. Nobody could combine pop hits with straight up weirdness like he could. What a body of work, what a cool guy. Rest in power."
Stephen Colbert reminisced about Ocasek's past appearance The Colbert Report, and explained that The Cars' music "was the soundtrack" of his high school years. "I couldn't believe it when Ric Ocasek came on," Colbert said on The Late Show. "I got to meet one of my greatest musical heroes, and then he started doing bits on the show. We would send him out to do like commando raids for us."
Rick Ocasek's family speaks out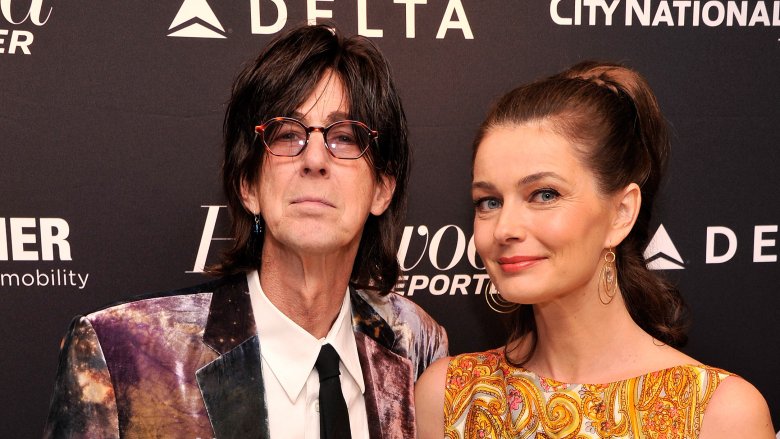 Stephen Lovekin/Getty Images
Paulina Porizkova, who split from Ocasek in 2018 after 28 years of marriage, took to Instagram to give fans insight into Ocasek's final days.
"Ric was at home recuperating very well after surgery. Our two sons, Jonathan and Oliver, and I were making sure he was comfortable, ordering food and watching TV together," the former SI Swimsuit model wrote. "I found him still asleep when bringing him his Sunday morning coffee. I touched his cheek to rouse him. It was then I realized that during the night he had peacefully passed on. We appreciate the great outpouring of love. We, his family and friends, are completely and utterly devastated by his untimely and unexpected death and would appreciate the privacy to mourn in private."
Jonathan and Oliver, tweeting from The Cars' official account, shared their father's final drawing. "Our dad was a prolific doodler," they wrote. "His passing was sudden, unexpected, and beyond heartbreaking. Yesterday, we found this last doodle on his armchair. He couldn't have known what it would end up meaning to us. We love him so much."