Aubrey O'Day Flaunts Unrecognizable Instagram Pics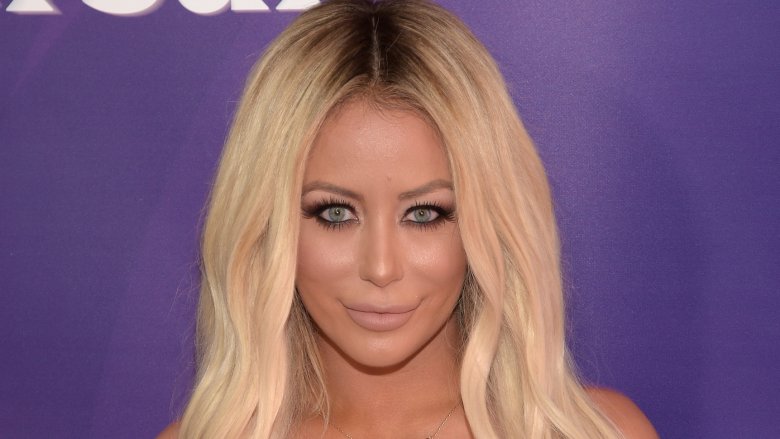 Jason Kempin/Getty Images
Uh, Aubrey O'Day, is that you? The Danity Kane singer posted several new selfies on Instagram (via Pop Crave) on Sept. 13, 2019, in which she looks nothing like the fresh-faced Making The Band bombshell we once knew.
Singer Aubrey O'Day is turning heads with these new Instagram selfies. pic.twitter.com/RQhCpiHkne

— Pop Crave (@PopCrave) September 15, 2019
Some of her shocking new appearance could possibly be attributed to cosmetics, as it appears O'Day is rocking a whole lot of highlighter and contouring, especially on her nose. Pauly D's ex's lips are huge and pouty, to the point that it looks like she may not even be able to close them entirely. Her eye makeup is also dramatically done up, which can trick the eye into thinking her facial proportions have been altered. Her center part makes even her hairline look smaller than it once was. It's also highly possible that O'Day rocked some serious filters and/or Photoshop in her snaps, which were posted to her Instagram Stories and preserved in screenshots. In fact, almost all of O'Day's other recent Instagram photos are so heavily edited that they may as well be paintings.
What was the reaction to Aubrey Oday's unrecognizable Instagram pics?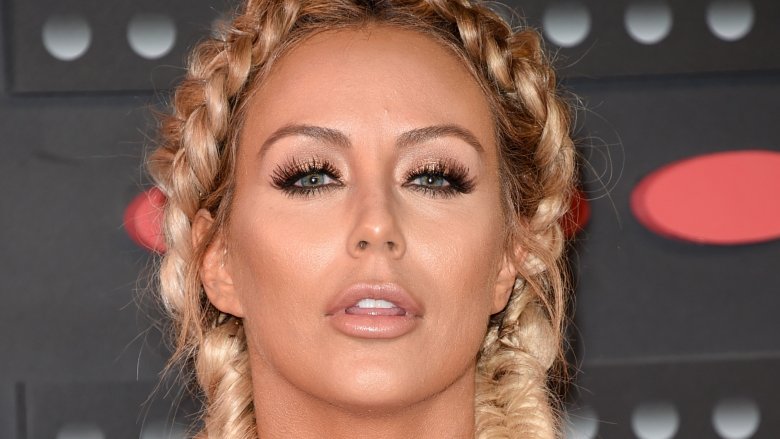 Jason Merritt/Getty Images
Fans went wild over the uncanny valley nature of the photos, with one commenting, "This is a good representation of how the standard of beauty drastically changed between the late 00s n late 10s." Another tweeted, "This process makes me so sad, especially when they're young and doing this to themselves. When body dysmorphia and beauty trends collide the result isn't pretty, no pun intended." A third cracked that O'Day in 2019 "looks like a photomanip for a fetish I'm too scared to learn about."
O'Day hasn't appeared to respond to any of her critics, as of this writing, but she may not stay silent for long. In July 2019, Wendy Williams said of O'Day (who had previously appeared on and is a friend of The Wendy Williams Show), "She's really young. You don't start doing that kind of stuff until you get a particular age. Now, she's going to have to keep up all this filler and work and stuff." O'Day didn't take kindly to Williams' comments, tweeting to the talk show hostess, "ma, u got so much to say when I'm not sitting in front of you, why don't you be a real one and run your mouth like this face to face. I dare you. I'll clear my f**king calendar."
While O'Day has never gone on the record to say she's actually had work done (except for a few seemingly shameless plugs for "Air Sculpting" in summer 2019), In Touch Weekly speculated that she's had a nose job, lip injections, fillers, and possibly breast implants, along with other work on her body to attain her seemingly otherwise unattainable curves.
Is there a deeper issue going on with Aubrey O'Day's appearance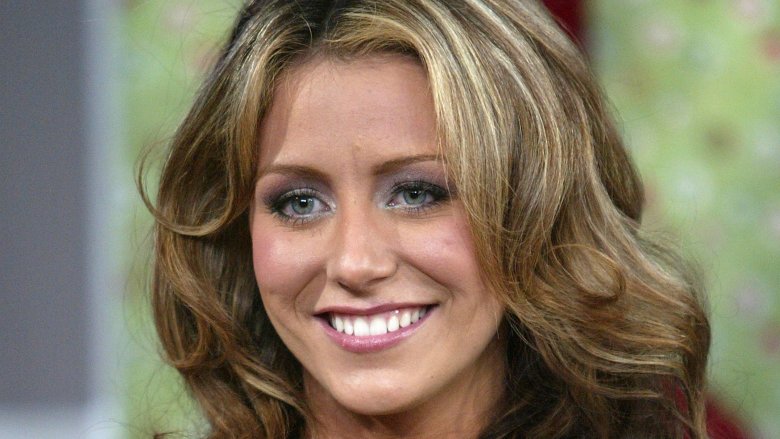 Peter Kramer/Getty Images
Self-esteem may be an issue for the singer and Ex On The Beach star. O'Day told Andy Cohen (via Page Six) in 2017 that when she was on The Apprentice in 2012 (and perhaps hooking up with Donald Trump, Jr.) that two producers told her she was doing a fantastic job as a businesswoman, but that they needed her to up her sex appeal. She recalled them telling her, "'Bottom line, Trump doesn't think you're pretty. If you want to stay in the game, you need to follow these simple rules.' And the rules were: Start parting my hair down the center, wearing it straight and pushing my t*ts up in tight outfits."
O'Day admitted to Celebuzz in 2011 (via Life & Style) that she looked, even then, vastly different from when she made her MTV debut in 2004 (for comparison, the above photo is from December 2005). "My makeup — how much or how little I have on — is constantly affecting the way people see me in regards to everybody thinking I've had plastic surgery," she said, adding, "Sometimes I'll look at pictures and think that maybe I don't look like myself there. My eyes [do] look different or my lips look really big ... It could've been a lip plumper, or a bad makeup artist, too much makeup, too little makeup; whatever it may be." She also admitted that accepting her own appearance and self-love didn't necessarily come easily to her, explaining, "Everybody at some point and to some degree wants to be appreciated and accepted by others. It's an ongoing process. I don't think that there's ever a quick fix to completely loving yourself in any phase."
While you're here and wracking your brain for any Danity Kane song you might recognize, why not take a gander at these stars who don't recognize that they're not actually famous anymore?