Meghan McCain Walks Off The View After Fiery Attack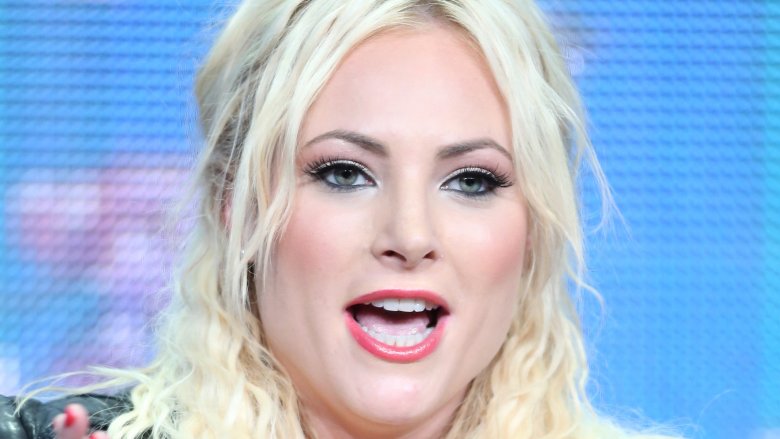 Frederick M. Brown/Getty Images
Another day at The View, another explosive debate gone viral starring co-host Meghan McCain. 
With Ana Navarro returning to grab a seat at the table as guest co-host, AOL reports that things got pretty heated between the ladies of the popular daytime talk show at the top of the episode on Friday, Sept. 20, 2019. Why, you may ask? She and fellow conservative panelist, McCain, clashed while discussing how both major political parties react to whistleblowers, such as Wikileaks founder Julian Assange. The discussion came in the wake of recent complaints made by an intelligence official in the U.S. involving President Donald Trump and matters in Ukraine.
"There's a lot of liberals who are OK with Julian Assange releasing Hillary [Clinton]'s emails," McCain began (via Entertainment Tonight), adding, "And now at the same time, those same people are screaming bloody murder about this whistleblower." Noting that "all interference from a foreign country ... is bad," McCain continued, "You can't play party politics with this."
However, things quickly came to a head when Navarro and the rest of the panel attempted to either chime in or simply ask McCain to clarify her meaning, leading McCain to yell: "Excuse me! Maybe I was clumsy in the way that I said it."
In response, Navarro told McCain, "Don't scream at me, I'm two feet away." Just as fellow co-host Joy Behar began to toss the show to commercial, McCain appeared to roll her eyes at Navarro and could be heard saying, "You know what? That's so rude, Ana. Welcome back." As the camera panned away for the break, McCain was spotted walking off set. Yikes.
Twitter has some thoughts on Meghan McCain vs. Ana Navarro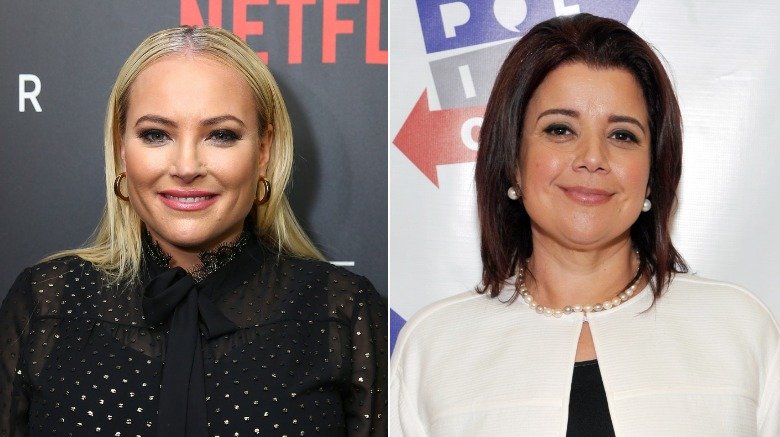 Tasos Katopodis, John Sciulli/Getty Images
Fans of The View probably aren't too shocked by Meghan McCain's latest on-air display due to her history of generating controversy both on and off the show. Even those who don't tune in every weekday may recall that McCain went head-to-head on the topic of whistleblowing with another famous co-host just earlier this month. As Nicki Swift previously reported, she and Pamela Anderson made headlines over a related argument regarding the model-actress' pal, Julian Assange. 
Of course, since the Internet is the Internet, the Twittersphere was equally abuzz this time around — and many social media users were quick to share their thoughts on the matter of Meghan McCain vs. Ana Navarro.
One person who appeared to be on #TeamMcCain tweeted out, "But Anna [sic] screams all the time in CNN & is extremely rude. Meghan wasn't even screaming. Give me a break." However, there were also many Twitter users who backed Navarro. 
"Thank God for Ana to finally put the Princess of Arizona in her place," one fan tweeted in part, while another wrote, "Can't take the shrieking Meghan. She's gotten away with her bratty nonsense way too long. Constantly yelling over everyone, wants to always be the center of attention. Blasts people, then goes for the quick coffee sip. Babyish."
Meghan McCain speaks out after The View drama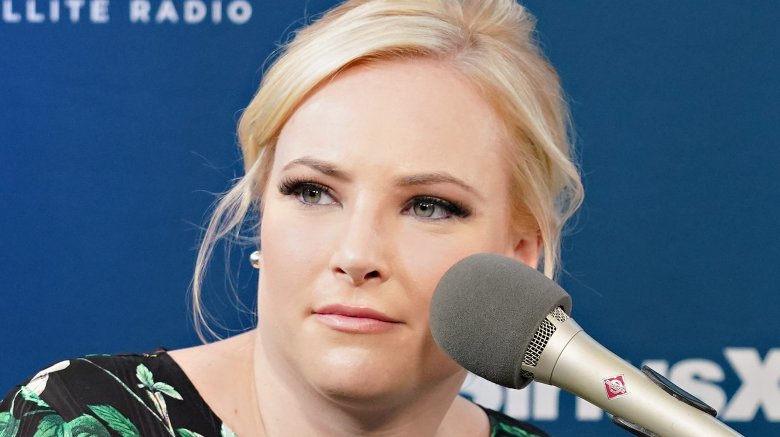 Cindy Ord/Getty Images
Considering the media frenzy surrounding the latest morning drama courtesy of The View – and the fact that it's literally the co-hosts' job to share their differing opinions — both Meghan McCain and Ana Navarro have since taken to social media to address the matter ... well, sort of.
For her part, Navarro has made no official mention of the news, as of this writing. However, she did document her return to The View with an Instagram snap of herself surrounded by a group of close friends on set. "Dear friends from Miami stopped by @theviewabc today," Navarro wrote to her followers, captioning the pic. "I [heart] that this a group of lifelong friends who take a girls-trip to NYC every year to have fun and celebrate their friendship."
As for McCain? The daughter of the late Senator John McCain kept things nearly as light when she took to Twitter herself to share a message with fans: Captioning a GIF which stated, "I'm good. It's okay. We're good," the television personality simply wrote, "Another day, another drama." Indeed.
For all the on-air controversies we get to see on Barbara Walters' daytime talk show creation, do you ever wonder what might go on backstage? Here's the behind-the-scenes drama you didn't see on The View.