Aaron Carter's Face Tattoo Artist Has Something To Say
In case you missed it: Aaron Carter has a brand-new face tattoo and the Internet has some thoughts on it ... as does the tattoo artist in question.
But let's back up just a bit. On Saturday, Sept. 28, 2019, the "Fool's Gold" singer took to Instagram to share multiple mirror selfies showing off the ink. Resembling Medusa from Greek mythology and including the word "love," the new tat was reportedly inspired by Rihanna's infamous 2013 British GQ cover and runs along one side of Carter's face, including just under his eye.
No matter your feelings on Carter's recent face tattoo, there's no denying the thing is massive (hey, if you're going to tattoo your face, you might as well go big or go home, uh, right?). But according to the tattoo artist in question, RockRollG (real name Herchell Carrasco), the singer-songwriter reportedly wanted to go even bigger.
While speaking with TMZ on Tuesday, Oct. 1, Carrasco revealed that the $5,000 tattoo session took place at Carter's home on Friday, Sept. 27. "Before I tattoo anyone, I take into consideration their mental state," the tattoo artist told the gossip rag. Noting that Carter had only been smoking cigarettes and marijuana that day, he added, "In Aaron's case, I assessed the situation and I genuinely felt he was in a good place mentally to get tattooed."
While Carrasco reluctantly agreed to do the previously unplanned face tattoo (the original plan was to add ink to Carter's chest), he explained that he eventually had to cut the pop star off. Carrasco claimed, "[Carter] wanted to keep going and I had to stop him. I couldn't cover his whole face in a tattoo. I just couldn't."
Fans react to Aaron Carter's face tattoo
"I'M THE BIGGEST THING IN MUSIC RIGHT NOW," Aaron Carter wrote in the caption of one of his face tattoo Instagram snaps (via People). "I CANT BE DENIED. FACT CHECK ME."
Rather than quibble with this admittedly bold statement, fans of the former child star quickly took to the comments section to make their thoughts — and concerns — heard on the "Sooner or Later" singer's new ink. "Oh, honey," one person commented, complete with a face-palm emoji, while another wrote, "WTF happened to your face" (via In Touch Weekly).
According to Hollywood Life, another fan posted in the comments section, "You'll regret it later Aaron ... I'm sorry. I supported everything. But this is much." In response, Carter wrote, "My identity. Not yours." Fair enough. Luckily for the "Aaron's Party (Come Get It)" hitmaker, the response wasn't entirely negative, as one supporter commented: "It really Looks good On you! Your much braver then me I'd be terrified lol."
It should be noted that Carter has since set his Instagram account to private. However, he doesn't seem to have any regrets about his latest ink. "I understand people a right to their opinions, but they really need to keep them to themselves," he tweeted amid the social media frenzy surrounding his face tattoo. Carter, who later showed off his ink during an errands run, also wrote, "I've truly learned to love myself again. That's why this is all happening. I'm not afraid of who I am."
Aaron Carter debuted his face tattoo amid family feud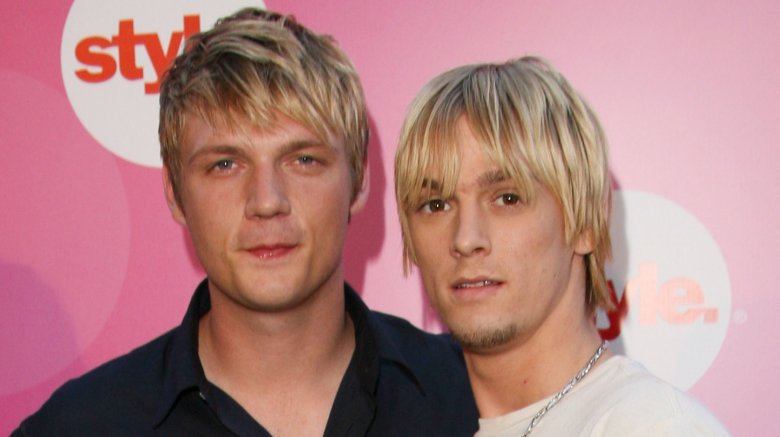 Chad Buchanan/Getty Images
It may break our hearts, but it's true: the once adorable brotherly team of Nick and Aaron Carter are on the outs. While the Carter family unfortunately isn't immune to its fair share of showbiz drama, it's worth noting that the younger Carter bro's face tattoo was debuted amid a recent resurgence in his nasty — albeit ongoing — feud with Backstreet Boy brother Nick.
In mid-September 2019, the older boy band member took to Twitter to reveal: "After careful consideration, my sister Angel and I regret that we were required to seek a restraining order against our brother Aaron today. In light of Aaron's increasingly alarming behavior and his recent confession that he harbors thoughts and intentions of killing my pregnant wife and unborn child, we were left with no choice but to take every measure possible to protect ourselves and our family. We love our brother and truly hope he gets the proper treatment he needs before any harm comes to himself or anyone else."
In response, Aaron unleashed a series of tweets in which he shared shocking claims about the sexual assault allegations multiple women previously made against Nick, and included the message: "Take care. @nickcarter we're done for life." Nick later reportedly increased security.
Despite all of this, Aaron Carter has claimed to be "doing just fine." Around the time of his face tattoo reveal, the "That's How I Beat Shaq" rapper tweeted out, "I ask you to respect me & leave me alone. I already have to move and I don't need to be under scrutiny with every decision I make. I will take the necessary precautions to protect myself, and when I move no one will know where I live! #MissingMyMom right now."