What Do All Of Kylie Jenner's Tattoos Mean?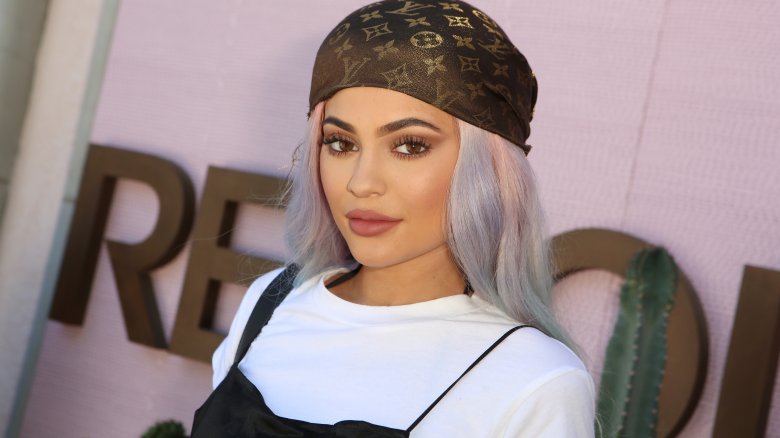 Ari Perilstein/Getty Images
Back in 2015, Kylie Jenner turned 18 years old. To celebrate, she debuted her first tattoo — a small, red heart located on the back of her upper arm. Since then, she's gotten at least six additional tattoos (and has changed two of them in significant ways — more on that in a sec). The red heart most likely represents love, of course, but what do all of Jenner's other tattoos mean?
A few months after her eighteenth birthday, Jenner revealed another tattoo. This one is the word "sanity" spelled out in the International Phonetic Alphabet, also in red ink. But it wasn't until July 2019 that the world got an explanation for the tattoo's meaning. Jenner took to Instagram and wrote about the tattoo in an uncharacteristically long caption, saying, in part, that she got the "sanity" tattoo "to remind myself everyday [sic] to keep it. I've struggled with anxiety my whole young adult life and after my baby [I] dealt with all the internal ups and downs."
This is one of the tattoos that Jenner later updated. In July 2017, TMZ reported that Jenner had gotten the word "before" tattooed just to the left of the word "sanity." Also in red ink. Sensing a pattern?
Jenner revealed yet another red-ink tattoo in February 2016. In the Instagram caption, Jenner says that the tattoo is of her grandmother's name (Mary Jo) written in her grandfather's handwriting. What a lovely tribute!
Later that year, TMZ reported that Kylie got a lowercase "t" tattooed on her ankle, presumably in reference to her then-boyfriend Tyga. This tattoo was also updated — People reported in July 2017 that Jenner got the "t" changed into "LA" after the couple broke up, most likely turning the former tribute to love into a shout-out to her hometown.
Kylie Jenner has gotten matching tattoos with people several times
The only thing better than getting a meaningful tattoo is sharing the experience with another person. At least, that seems to be Kylie Jenner's philosophy. While Jenner can certainly be said to march to the beat of her own drum (anyone else remember when she co-wrote that dystopian sci-fi novel with big-sister Kendall?), a few of her tattoos aren't unique — because they're shared with someone else.
For instance, back in 2017, UsWeekly reported that Jenner and boyfriend Travis Scott got matching butterfly tattoos. Jenner's is located just above her ankle on the back of her right leg, while Scott's is in the same spot on his left leg. The general opinion seems to be that the butterflies are in reference to Scott's single "Butterfly Effect."
In May 2019, Page Six reported that Kylie Jenner got her daughter Stormi's name tattooed on the back of her arm at Scott's over-the-top birthday party (where tattoo artist JonBoy was present). Jenner's friend Anastasia Karanikolaou got a Stormi tattoo over her very own, too — in fact, JonBoy uploaded a picture of Karanikolaou's ink to his Instagram page before Jenner revealed her own matching tattoo in an Instagram story.
Finally, Jenner and former best friend Jordyn Woods got matching tattoos on their pinkies — they're lowercase letter M's in red ink. Obviously, this was well before their friendship came to an end when Woods allegedly had an affair with Tristan Thompson, former boyfriend and father of sister Kourtney Kardashian's daughter True. Tattoos may be forever, but friendship doesn't always stand the test of time.