What's Really Going On Between Kylie Jenner And Tyga?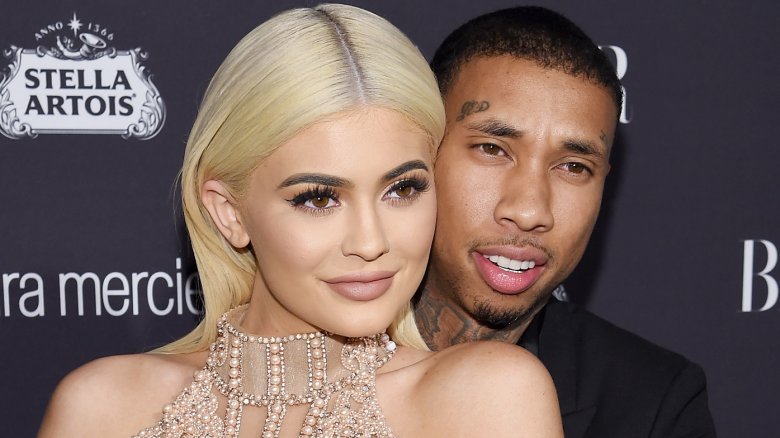 Dimitrios Kambouris/Getty Images
Kylie Jenner is not letting her recent split from rapper Travis Scott stop her from living her best life. It's a life that apparently includes hanging out with ex-boyfriend and rapper Tyga. 
Since news of the split emerged, Jenner has been spotted out with Tyga not once, but twice over the course of a few days. On Tuesday, Oct. 1, 2019, the 22-year-old headed to Hollywood for a girls' night with Anastasia "Stassie" Karanikolaou and Kelsey Calemine, according to E! News. A night that was more than likely intended to keep Jenner's mind off of her love life, or lack thereof, ended with the makeup mogul reuniting with her former on-again, off-again boyfriend. E! News reports that in the early morning hours of Wednesday, Oct. 2, 2019, Jenner and her friends found themselves at a recording studio inside the Sunset Marquis thanks to an invitation from Tyga. The billionaire took to Twitter to slam reports that she went on a "2 a.m. date" with her ex saying, "The internet makes everything 100 times more dramatic than what it really is. There was no '2am date with Tyga.' You see me drop two of my friends off at a studio that he happened to be at." 
Kylie's defense of their first public run-in was all well and good until the pair once again found themselves together on the evening of Sunday, Oct. 6, 2019. According to Entertainment Tonight, the two both took to Hyde Lounge in West Hollywood, Calif. to party Sunday night. Tyga left about an hour after Jenner's crew arrived, the outlet reports. 
Fool us once, shame on you; fool us twice, shame on we. Listen, Hollywood is a big place. There's no way that these two are running into each completely by accident when they haven't been spotted anywhere near each other for about two years. So what's really going on between the exes? 
Is Kylie Jenner missing Tyga?
Jamie Mccarthy/Getty Images
For the better part of three years, when the pair's relationship wasn't on the rocks, Jenner and Tyga formed "Kyga," a couple that wasn't necessarily fully embraced by Hollywood. The reality star and rapper were first linked as a couple in 2014, but their first public interaction dates all the way back to 2011 when Tyga performed at big sis Kendall Jenner's Sweet Sixteen. When the two started dating, the youngest Jenner was the ripe old age of 17 to Tyga's 24. Despite the age gap, the then-couple seemed super into each other — maybe too into each other. 
From Tyga's creepy lyrics allegedly about an underaged Kylie to racy photoshoots, they were pretty much all over each other all the time. After making up and breaking up several times, the pair finally called it quits in 2017. At the time, Jenner opened up about the split on an episode of her reality show Life of Kylie. "There was absolutely not one thing wrong with me and T. He and I will always, always have a bond," the 20-year-old revealed (via People). "There was no crazy fight, we just decided...Well, I decided that I'm really young."
She went on to say, "I don't want to look back in five years from now and feel like he took something from me when he's really not that type of person." Well, it's only been two years, but Kylie has definitely had to mature beyond her years since becoming a mom to Stormi Webster (who recently stole the show at the Bieber-Baldwin wedding). Absence makes the heart grow fonder, and maybe the time apart is just what the former couple needed to grow and find their way back to each other. 
Is Kylie Jenner trying to get back at Travis Scott for his infidelity?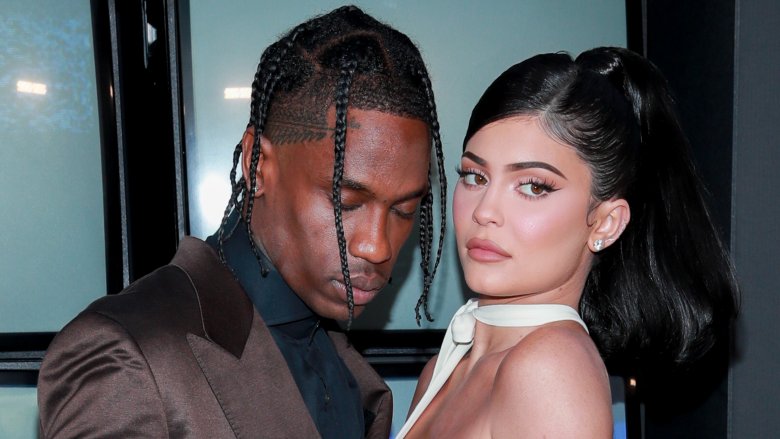 Rich Fury/Getty Images
On Tuesday, Oct. 2, 2019, Stormi's mom took to Twitter to tell the world her and Travis Scott are on "great terms" and that their priority right now is their daughter. However, things might not be as good as Jenner would lead us to believe, as rumors of Scott being disloyal to his leading lady have been circulating. Days after the news of the couple' split broke, Scott's alleged mistress, Instagram model Rojean Kar — also known as YungSweetRo —  spoke out via her Instagram Story to clear her name. "None of these rumors are true, it's just the internet creating a false narrative," she wrote in an Instagram Story (via E! News). "Please stop spreading lies & leave him, her & I alone because it's affecting real lives. Thank you." 
But this isn't the first time Scott has been in hot water amid cheating speculations. According to TMZ, Jenner also accused Scott of cheating in March 2019. Maybe this time she's done keeping up with the drama and is turning to her ex because she knows it will get her rapper beau riled up. What better revenge than to be plastered across every media outlet with reports that you might be back with your ex? Kylie Jenner, 1. Travis Scott, 0. 
While we wait for the next inevitable "Kyga" spotting, find out why Kylie Jenner and Travis Scott called it quits in the first place.