What Is Elizabeth Banks' Net Worth And How Did She Become Famous?
Erik Voake/Getty Images
If you haven't heard of Elizabeth Banks by now, then you've probably been living under a rock. The actress is a force to be reckoned with in Hollywood, and she has been for a long time. She is an actress, writer, producer, director, and owns her own production company alongside her husband, Max Handelman. But with so much high profile success, you might not realize where the Massachusetts-native got her start: a role in a random film in 1998 called Surrender Dorthy.
After graduating from University of Pennsylvania, Banks landed the Surrender Dorthy role, but it wasn't actually the first gig she was ever offered. In fact, the blonde beauty admitted that over the years she has often passed on roles that would've only helped her in the short term and not made an impact on her career long term.
"I was offered a two-year contract on a soap opera right after I graduated," she told Marie Claire in 2013. "It would have paid off all of my student loans, and it was in New York where I wanted to live. I didn't even have an agent at the time, but I signed with a guy who said to me, 'You got a soap opera on your first day, let's see what else you can get.'"
When it comes to what TV role she did end up taking first, it was a one-off episode for the late-1990s NBC drama Third Watch,  followed by appearances on shows like All My Children and Sex and the City. "I think I played a prostitute, I've played a couple in my time," Banks revealed at SXSW (via The Daily Texan) in 2019 when talking about her first TV role that she did while she was still in college. "Those roles were always great for women."
Elizabeth Banks has always brought comedy chops to her roles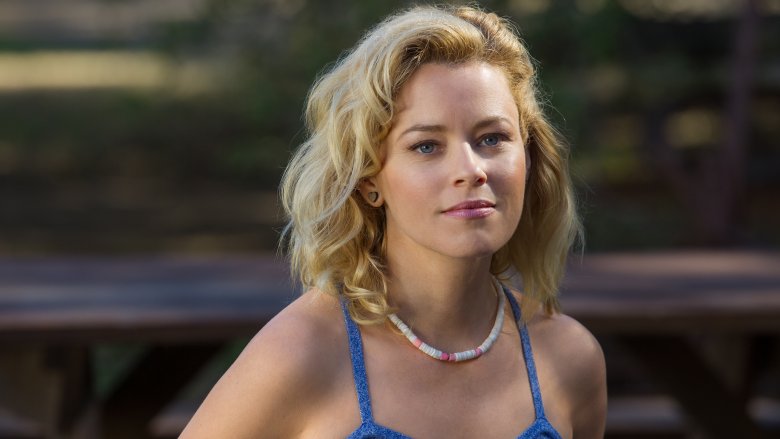 Netflix
If these early Elizabeth Banks' credits aren't ringing a bell, don't worry — her big break and the role that she considers the real start of her career was 2001's Wet Hot American Summer. Although the film wasn't a massive success at the time, it's become a cult classic, with a couple of Netflix spinoffs. In the original film, Banks played the hot girl Lindsay, one of the counselors who hooks up with Andy (Paul Rudd), but she actually auditioned for the lead role.
"That was a real theme in my life back then. I auditioned for a lot of lead roles and got a lot of directors who said, 'You're really interesting, but—," she told The Wall Street Journal when talking about her career pattern. "With Spider-Man they said, 'You're too old to play Mary Jane Watson' —I was 26 at the time—'but here's Betty Brant. You can play that instead.' I auditioned for Catch Me if You Can to play Amy Adams's role. They said, 'Well, we're going to give it to Amy Adams, but you can play the bank teller.' That was the sort of the theme of my life for about six years—and still kind of is the theme of my life. I'm very much the bridesmaid, not often the bride."
Since making a splash in Wet Hot American Summer and taking a second place role in the original Spider-Man trilogy, Banks has gone on to star in movies including Seabiscuit, Fred Clause, Power Rangers, The Hunger Games franchise and the Pitch Perfect franchise, which she produced with her husband, Max Handelman. On the small screen, her career has also blown up with recurring roles on Scrubs, 30 Rock, Modern Family, and, of course, Wet Hot American Summer: First Day of Camp.
The actress is more than a triple threat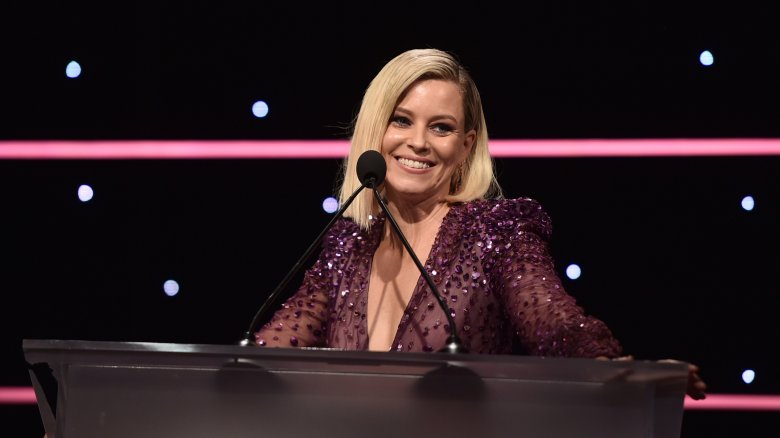 Alberto E. Rodriguez/Getty Images
With so much on-screen success, you'd think Elizabeth Banks would be busy enough, but she actually has a lot more on her plate than just acting these days. In addition to producing the Pitch Perfect franchise,she also took on directing duties, with Pitch Perfect 2 being her debut. She's also added "writer" to her resume, as the screenplay for 2019's Charlie's Angels reboot has her name on it (and she's directing that one, too). Banks' entire world is wrapped up in the entertainment industry, including she and her husband's production company, Brownstone Productions, which they started back in 2002. 
Together, in addition to Pitch Perfect, they've produced films like Surrogates and most recently a TV pilot for ABC. Thanks to Banks' continuous career hits both in front of and behind the camera, she's now making some serious money — which according to her is something women shouldn't be scared of wanting.
"There just became a moment where I was like, I need more control over all of this," Banks told The New York Times about her decision to start her production company and go behind the scenes more often. "I also like money, and that is O.K.," she added. "It's actually O.K. to want money in the way that your male colleagues want money."
According to Celebrity Net Worth, Banks is worth an estimated $30 million. Not too shabby for a girl from Massachusetts, who added more to her plate because she was "a frustrated actress."