Did Emma Watson And Rupert Grint Stay Close After Harry Potter?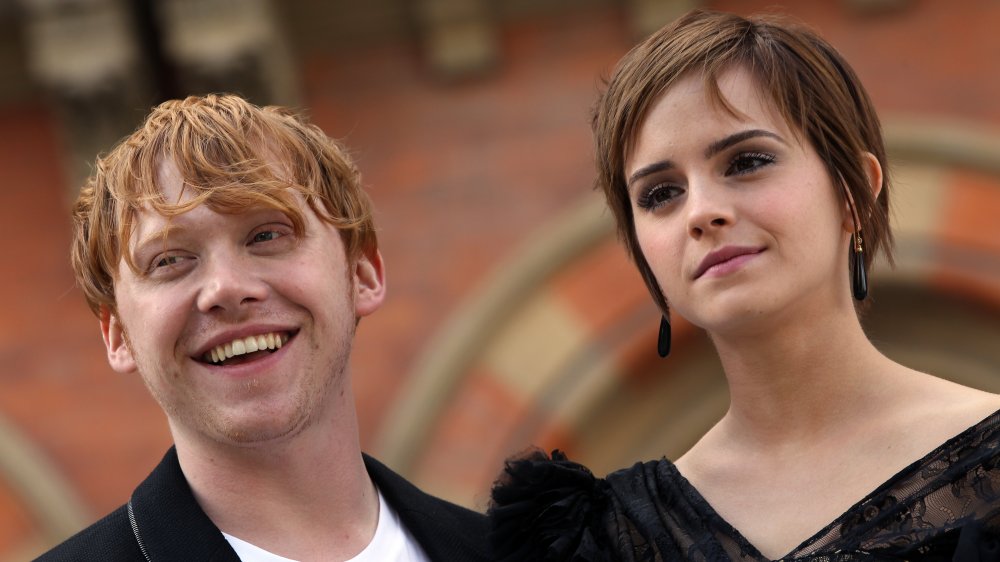 Adrian Dennis/Getty Images
As fans of Harry Potter know, you don't outgrow the books or the movies. But when it comes to the actors who played the beloved characters in the films, do they outgrow each other? The simplest answer is: no! Even though the final Harry Potter film premiered in 2011, most of the cast has remained close, including Emma Watson and Rupert Grint who play Hermione Granger and Ron Weasley, respectively, in all eight films.
The co-stars, whose characters (spoiler alert) fall in love and end up married with their own little wizard, might not have loved kissing one another on camera, but off-screen their friendship has remained strong.
"We actually have a group WhatsApp, which I invited everyone really from the main cast from Harry Potter to come to the screenings [of Beauty and the Beast]," Watson told Entertainment Tonight ahead of her Beauty and the Beast premiere about her continued friendships with all of the original Harry Potter cast. "We're all spread all over the globe. It's a case of trying to, like, get people into the right places, but yeah, I feel very supported by my old co-stars."
The Hogwarts crew sticks together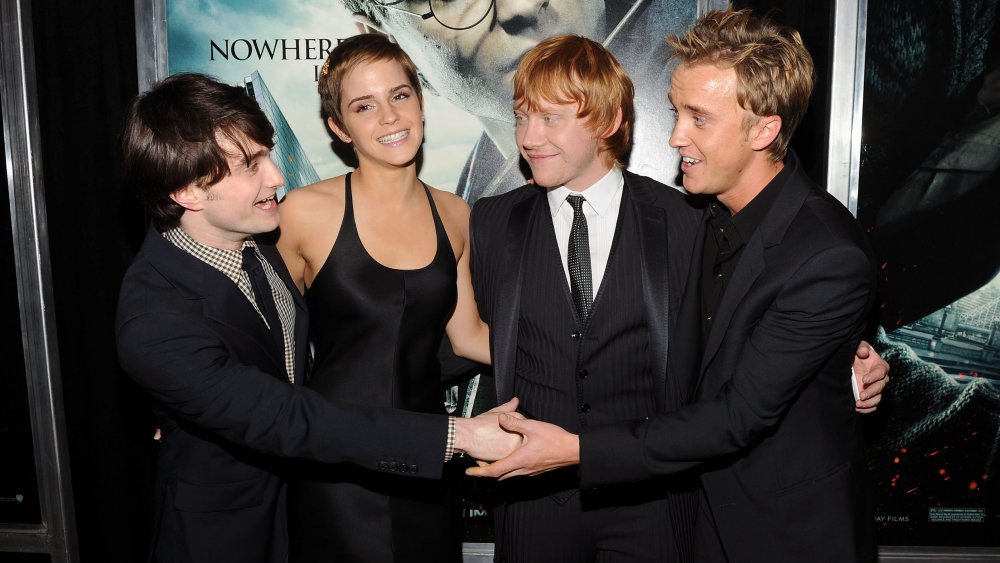 Stephen Lovekin/Getty Images
Both Matthew Lewis and Tom Felton — who played Neville Longbottom and Draco Malfoy in the Harry Potter films, respectively — came to support Emma Watson at the Beauty and the Beast Los Angeles premiere in 2017, but Rupert Grint was also very excited to see his former co-star and friend play a Disney princess. "Yeah, it's amazing," Grint told USA Today when speaking about Watson's role as Belle, adding that he was looking forward to seeing it at the time. 
Over the years, the whole cast, including Daniel Radcliffe (who played Harry Potter, of course), Watson, Grint, Felton and Lewis have proven that growing up together from a young age on the Harry Potter film set has bonded them for life. In fact, their random reunions frequently get fans buzzing. Whether it's Watson and Felton hanging out at the beach, or it's Grint wearing an "I love Tom Felton" tee to a premiere, these actors clearly have a soft spot for one another. Plus, no matter how often they see each other, or how frequent they text, the Harry Potter kids are aware of how special their friendships are.
"We got on, me, Rupert, and Emma, and all the young cast got on really, really well on the films," Radcliffe revealed during a 2019 episode of Wired's The Web's Most Searched Questions. "I think there is a thing where kind of everyone wants us to be best friends outside of the franchise. There's always going to be a recognition that only really the three of us have been through that very specific thing and I think that's gonna join us forever."