Peter Weber's Bachelor Promo References His Wild Windmill Fantasy Suite
ABC
Peter Weber is apparently the kind of man who is always ready to face (what he surely hopes is) a romance-filled future while also embracing his sizzling hot past. In a promo released by ABC on November 13, 2019, the man who left season 15 of The Bachelorette without getting a chance to propose to Hannah Brown is seen exiting a windmill — a very clear reference to the wild fantasy suite night he spent with Brown.
For anyone who needs a reminder, Weber and Brown not only chose to spend their night together in a windmill while getting up close and personal, but she later revealed that they had been intimate multiple times. Although Weber grinned at Brown's public confession, he didn't (and still doesn't) seem to be overly embarrassed by the steamy private situation which was made (very!) public. In fact, the promo for his season sees him emerge from a windmill that looks similar to the one where he spent his time with Brown. And since he's holding a rose — ready to give to the lady (or ladies) who win his heart — and flashes a sultry (or at least a serious) look at the camera, he seems to be ready for the action.
However, the season's accompanying poster, which came out the day after the promo, also proves that it won't be all smooth sailing (or soaring?) for this slick pilot.
Pilot Peter Weber tempts turbulence on The Bachelor poster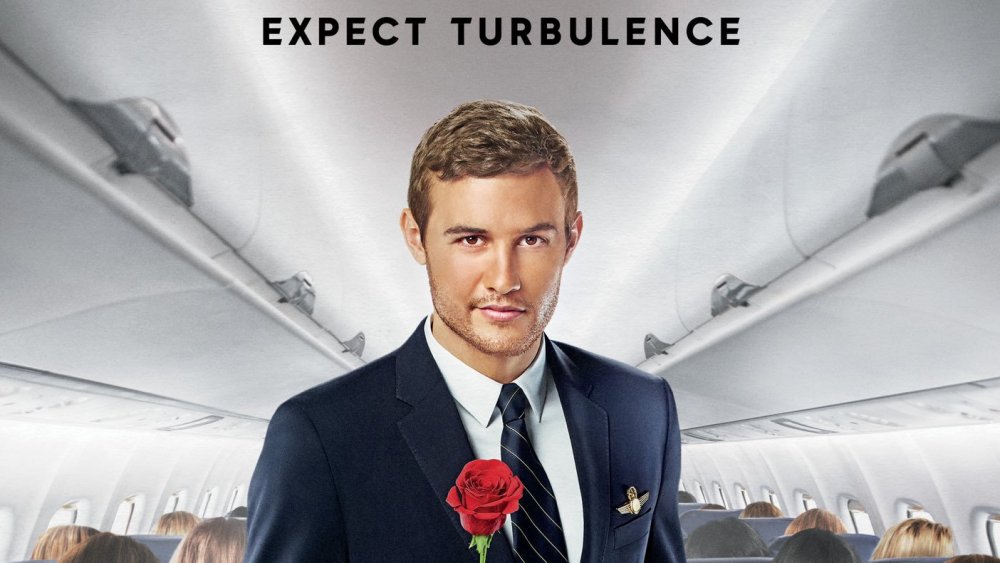 ABC
Peter Weber may be making his name in the world of reality TV these days, but before he appeared on screens in an effort to find his special someone, he spent his time in the clouds as a pilot for Delta Air Lines. And while he may keep the journey as smooth as possible while cruising through the skies, the poster for his season of The Bachelor (which appeared on Instagram on November 14, 2019), warns fans to "expect turbulence" during his romance-related ride on TV. Fans were thrilled by the tease, leaving comments like, "MY SEATBELT IS ON AND MY TRAY IS IN THE UPRIGHT POSITION! I am READY!"
However, it wasn't turbulence that Weber needed to worry about while filming his season. According to Radar Online, the Bachelor had to get 22 stitches after "splitting his head open" during a game of golf on October 7. And yet it wasn't a ball or club that got him in the noggin. A source explained, "He went to step on the cart but fell and split his face open on two cocktail glasses he was carrying."
The show's host Chris Harrison released a statement to The Hollywood Reporter about the incident, saying, "Peter suffered a freak accident. He got a cut on his head, he did get stitches but he's 100 percent OK and production is already back underway. He's still the dashing, handsome pilot we've all dreamed of."
Hopefully his starring season of The Bachelor can keep him out of the ER, turbulence or no.