The Best Talk Show Bloopers Of The Past Decade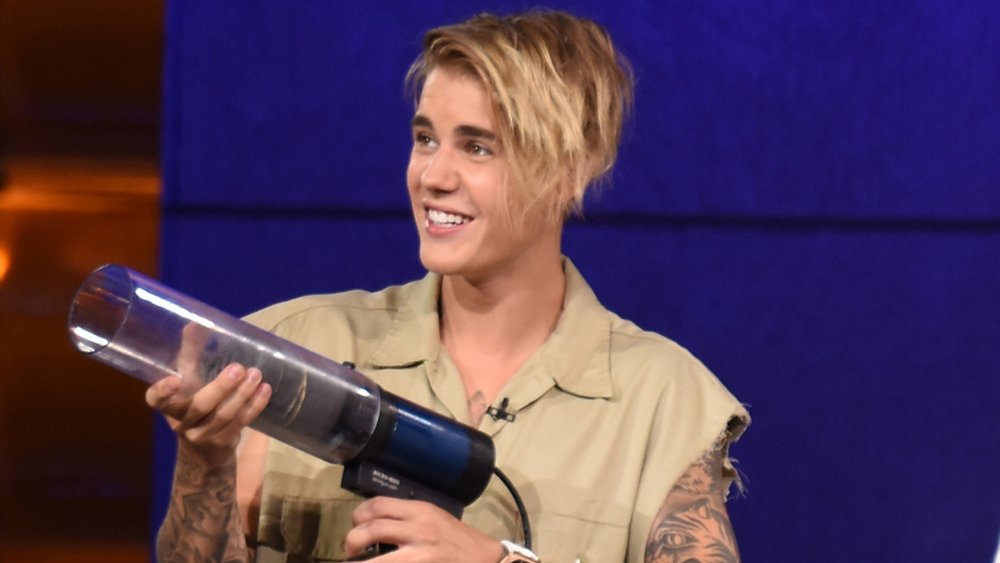 Dave Kotinsky/Getty Images
Many talk shows have come and gone, proving how hard it is to make a good one. After all, how do you make a show stand out when they all have a similar format and even the same guests rotating through the PR circuit? It's gotta be pretty tough.
Obviously, star power counts for a lot, as does talent. Yet sometimes the best talk show moments are when the hosts (or the guests, for that matter) just toss their cue cards and let things fly. Unexpected televised falls, bouts of laughter, and even harrowing mishaps or mistakes can pump a much-needed shot of adrenaline into an otherwise predictable segment, making us either spit out our coffee or simply clutch our pearls in disbelief.
This past decade was filled with such moments. Sit back and enjoy this collection of some of the best of 'em — because honestly, a good talk show blooper never gets old!
Bill Maher shut down a gang of hecklers like a boss
Comedian Bill Maher never holds back his opinions, but nothing showed his wild side more than the time when he shut down a bunch of hecklers during an episode of Real Time with Bill Maher in 2009. When an audience member started screaming from his seat and interrupted the show, Maher first made a joke, then got more visibly irritated. Finally, he threw up his hands and demanded, "Do we have some f**kin' security in this building? Or do I have to come over and kick this guy's a**?" Maher stormed into the audience, looking like he was ready to throw down ... but thankfully security beat him to the punch. 
Strangely (okay, maybe we shouldn't be so surprised), it happened again in 2019 when a salty Donald Trump supporter started yelling from the audience about the panelists "trashing our great president." Guest Buck Sexton, a former CIA officer, joked, "I do not know him by the way," to which Maher responded, "I see you brought a guest." As the heckler continued, Maher was a lot calmer this time — more like Brando in The Godfather — as he simply stood up. "This is not the first time I've had to go in the audience," he quipped, "but we gotta get faster-moving security people, I'm telling you."
Wendy Williams' fainting spell was more serious than we thought
In one of the decade's most dramatic moments, Wendy Williams ended up fainting on stage during a Halloween segment for The Wendy Williams Show in 2017. Dressed in a green Statue of Liberty costume, she seemed to be laboring hard as she introduced the show's costume contest. Her eyes then got wide, and as Williams struggled to regain her composure, she tumbled to the floor. Production crew surrounded the TV star as they cut to a commercial break.
Miraculously, Williams continued the show right afterward. "That was not a stunt," she said in the next segment. "I'm overheated in my costume and I did pass out. But you know what? I'm a champ, and I'm back." The audience cheered. In a later show, however, Williams announced to her audience that she had been struggling with complications stemming from her hyperthyroidism and Graves' disease. Because of that, her doctor prescribed three weeks of vacation, meaning the show was forced to run repeats during that time. "I was pissed," Williams continued, adding, "I'm not an heiress. Who's going to pay my bills?"
After returning to the show in March 2018, the former shock jock admitted to People that before the fainting incident, she "had a storm going in [her] body." The star said she had missed an endocrinology appointment in order to attend a business meeting, but since learned that she needs to take care of herself first: "I love doing the show, but I love me more."
Whoever put Ellen DeGeneres on a scooter made a huge mistake
Rule number one of hosting a show: Don't run over your audience! After Ellen DeGeneres and actor Zach Braff had some fun racing Jazzy scooters outside the set of The Ellen DeGeneres Show in 2017, the titular how decided to ride hers all the way back inside — with nearly disastrous results.
According to DeGeneres, she didn't think the show was still taping, so she zipped right back onto the set in her Jazzy at full speed. At that point, she had a brilliant idea. "I thought it would be fun to pretend to run over [producer] Andy ... in a nice, loving way," she quipped. Unfortunately, like a lot of things on live TV, it didn't go as planned. DeGeneres explained, "There's a little thing that you hook your finger in, and I had forgotten that that's what makes it go ... My finger was hooked in, so I was at full speed at like two miles an hour."
As the crowd of people lurched out of the way, DeGeneres said she didn't understand at first what was going wrong. "My knee got caught ... and I was trying to get off of it, but I was still kind of going," she said. Yikes. Luckily, she came away from the incident with nothing but a sore knee.
Meghan Trainor took an epic talk show tumble
Getting the chance to sing on The Tonight Show is nothing to sneeze at — and neither is the debut performance of your new single. So, it's pretty safe to say that when Meghan Trainor was asked to perform her new song, "Me Too," on the legendary nighttime show in 2016, a lot was riding on it. Sadly, it ended not-so-gracefully.
"I was so excited. That was the first time ever performing that, like live," Trainor later told Hoda Kotb on Today. "That was the first time. And so when I got to the end, I was like, 'Give it to me, band, come on!' And I was like, 'I killed it!' And I turned around too quickly."
At that point, her ankles buckled before she spiraled to the floor. In an even more dramatic fashion, she didn't get up right away, either. "I was like yo, this is comfy, I'm just gonna lay here," she added. Host Jimmy Fallon then rushed up to Trainor, yelling "Safe!" as if it were a baseball game and laid down next to her on the ground. Trainor said she told Fallon, "I was this close!" Fallon responded while helping her up off the floor, "Almost, almost. Every single dance move. Grabbing the mic is the toughest." Regardless of the on-air blooper, the crowd gave Trainor a standing ovation.
That time Holly Willoughby and Phillip Schofield completely lost it
Sometimes the funniest on-air moments are the simplest ones. When British talk show host Holly Willoughby of ITV's This Morning made an odd noise during a segment in 2016, her co-host, Phillip Schofield, was genuinely confused and then burst into laughter. Willoughby couldn't help but join in and the two hysterically broke down into a full-on giggling fit that lasted almost three whole minutes. Literally nothing else happened, but their laughing was so profoundly intense that it's hard to watch it without cracking up yourself.
Funny thing is (see what we did there?), the quirky morning show duo are kind of known for moments like this. There was the holiday segment where a stuffed toy dog made an unexpected sound that thoroughly surprised Schofield, who then told Willoughby: "I swear to God, it just went 'brrrrr' and I thought, I thought it was you!" Or, the time when they were introducing a segment about texting the wrong person and busted into laughter over an inside joke. As the two couldn't contain themselves, Willoughby sat down to collect herself and Schofield commented, "Oh, we haven't done this for a long time!" Between giggles, Willoughby responded, "You've got to stop ... I'm going to cry my eyelashes off!"
Questlove definitely wasn't ready for his talk show close-up
Questlove, the beloved drummer from The Roots, got caught by cameras in a slightly unflattering moment in a 2014 episode of The Tonight Show Starring Jimmy Fallon that the titular host still won't let him live down. During an interview with comedic duo Keegan-Michael Key and Jordan Peele, the two made a reference to Questlove, who was clearly wasn't prepared at all. As soon as the camera cut to him, he spit out his drink in a pretty ugly way. As he tried to cover his mouth — presumably to save the nationwide audience from the spectacle — the audience roared and he started laughing, too.
Two years later, Fallon interviewed Questlove about his new book and decided to roll the clip ... just for anyone who happened to miss it the first time. "You did an actual spit take on the show and it's one of my favorite things I've ever seen," Fallon told him. "I call it, 'I Was Choking,'" Questlove quipped.
Justin Bieber's appearance on The Ellen Degeneres Show was a huge miss
Justin Bieber stopped by The Ellen Degeneres Show in 2015, dressed for the segment in a gardener's shirt with cut-off sleeves. That apparently was too much for a few of the Beliebers in the audience, one of whom looked like she was going to practically stroke out with excitement. So, imagine how thrilled they must have been later, when Bieber started firing t-shirts into the audience with a t-shirt gun. Problem was, he couldn't aim: At one point, the Biebs shot a t-shirt straight at the camera and broke it. Oops.
Of course, accidents happen, but it's kind of weird that he would mess around like that on this particular talk show, since earlier that same year, Bieber admitted to DeGeneres that he'd "done some things that might not have been the greatest." Around that time, he also put out a video on Facebook (via E! News), apologizing for his "arrogant" and "conceited" behavior in the previous year. Perhaps Bieber spoke too soon — or, perhaps more likely, the t-shirt gun blooper was a simple on-air mistake.
Jennifer Hudson's talk show wardrobe malfunction
Everything seemed normal when Jennifer Hudson walked out on stage for an interview on Chelsea Handler's now-defunct talk show, Chelsea Lately, in 2013. However, the two definitely weren't prepared for Hudson's quickly widening zipper, which became obvious once she tried to sit down. The zipper actually went across her whole skirt, so when it started coming undone, the entire thing almost broke open.
"Oh my GOD," gawked Handler, as Hudson tried to cross her legs away from the audience after noticing it herself. "Zip me back up," Hudson told Handler, as the two stood up and turned away from the camera. Handler struggled to help her, as Hudson begged, "Don't break the zipper!" The two spent a good 20 seconds on-air trying to zip the skirt back up, as Handler continued to freak out dramatically (and hilariously). Hudson then sat back down in her chair at an angle to avoid a repeat of the unexpected wardrobe malfunction. Hey, you live, you learn.
Andrew Rochford pretty much made the worst intro in talk show history
You'd think a professional talk show host would be pretty smooth at introducing guests once they land a national TV gig, but Andrew Rochford of the Australian talk show The Project managed to mess it up in an unforgettable way in 2013. During a segment about self-diagnosing medical apps (a decidedly unfunny topic, to be sure), Rochford made a hilarious blunder when he introduced comedian Kitty Flanagan to the show as "Clitty Flanagan" As you might imagine, the panel of hosts went awkwardly silent.
"Now Clitty ... Kitty," Rochford said, correcting himself, "Should I be worried about my job?" (He was referring to the fact that he is a physician in the age of medical apps.)
"Well, uh, if you keep calling me Clitty, you should, yeah," Flanagan retorted, as the entire studio erupted in laughter and applause. Rochford lowered his head in what looked like admitted defeat — or perhaps just an attempt to cover up that he was cracking up himself.
Could anything be funnier than this Stephen Colbert blooper?
Fans of The Colbert Report, the parody conservative news/talk show on Comedy Central, will remember this one: Back in 2011, Stephen Colbert did a bit where he "boasted" about a supposed Arab viewer who contributed to his presidential campaign named Suq Madiq. (You'll have to say that out loud to get it ... or even better, just view the clip.)
As the crowd roared with laughter, Colbert covered his mouth to hide his own giggles. But as always with Colbert, there was more. As the news graphic switched to a photo of an Arab man, Colbert continued, "You've made your parents proud — your father, Liqa Madiq, and your mother" — the graphic changed to woman's photo — "Munchma Quchi."
The crowd was in hysterics as Colbert put his forehead to the desk, unable to remain in character because he was laughing so hard. Fans speculated afterward that the woman's photo was actually Colbert's real-life mother-in-law, which might explain his uncontrollable reaction — but the claim has been hotly debated.
The Ellen Degeneres Show: "I need a ho!"
Of course, every self-respecting daytime talk show needs a good prank call segment, but this one on The Ellen DeGeneres Show in 2010 took an unexpected turn. When DeGeneres decided to randomly call an accountant at H&R Block for tax advice in front of her audience, the conversation completely unraveled.
Since it was April 14, just one day before tax day, the accountant sounded understandably stressed — and DeGeneres wasn't having much luck loosening him up. As she asked him tax questions and tried to crack jokes in between, he simply wasn't on board. So, at the end of the call, she asked him to yell out that he was the greatest accountant in the world. After some reluctance, he did it softly, gaining applause from the audience. Then came his shining moment: DeGeneres asked him to yell out, "I need a hug!" Finally, in a moment of long-awaited enthusiasm, he shouted, "I need a ho!" The audience started cracking up and clapping as DeGeneres' eyes bugged out. "No. No. No NO! Not a ho!" she exclaimed. "A hug!"
Obviously, that moment will live forever, and most likely it inspired this hilarious bit four years later, when DeGeneres put a hidden camera on another H&R Block accountant and had him agree to repeat anything she said through an earpiece.
Holly Willoughby cracked herself up during a cooking segment blooper
Holly Willoughby of ITV's This Morning often gets the giggles on camera, and for some reason, it's completely infectious every time. She also has a lot of "oops" moments where she'll make an unexpected double entendre. When you combine those two things ... well, let's just say the result is hilariously over the top.
In this gem of a clip, Willoughby took a bite of food during a cooking segment. When offered another bite by co-host Phillip Schofield, the British talk show host said, "Not a big one. I'm not eating a big one ... Oh, that's a big one. I can't. I can't — it's daytime. It breaks my rule."
"Oh, will you shut your eyes and do it? This is lovely," prodded the guest chef. Willoughby then agreed to take a bigger bite. As the camera closed in on her face, she said, "Once it's in, I love it!" The audience immediately started laughing. She and her co-host, of course, totally lost it too and the moment made viral history.