Inside Katey Sagal's Marriage To Kurt Sutter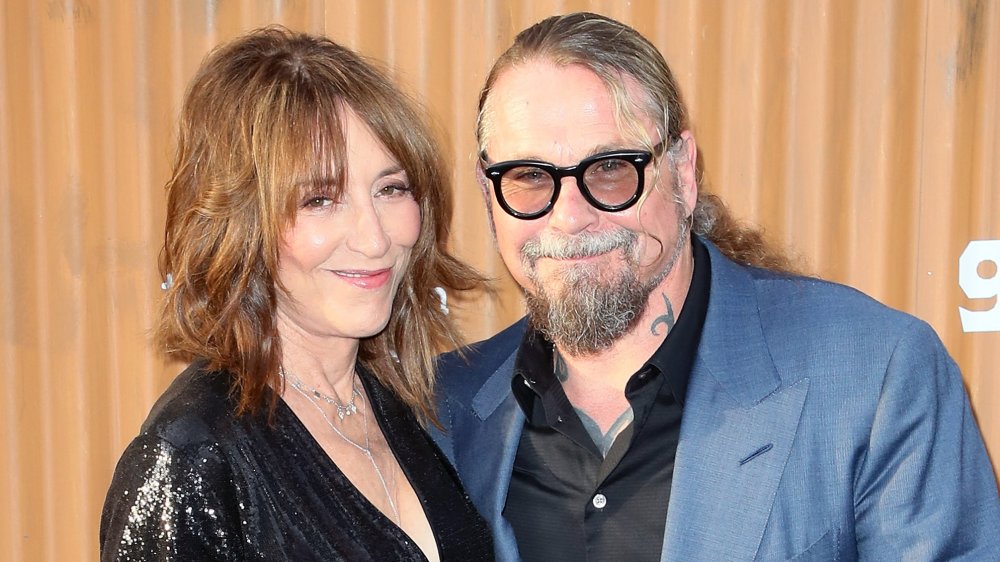 David Livingston/Getty Images
Television actor Katey Sagal is best known for her breakout role on Married With Children, as well as her roles on Futurama, Shameless, Brooklyn Nine-Nine, and even a Disney Channel movie called Smart House. But while she's had plenty of success on the small screen, Sagal's personal life has been anything but easy, having gone through three failed marriages — though, she's not the only celeb to have bad luck in love. Fortunately, Sagal finally tied the knot with writer and producer Kurt Sutter in 2004. The pair made their love official in a private ceremony in their Los Feliz home that year, and, a decade-and-a-half later, it seems like this could finally be lasting love. 
Sutter, meanwhile, is no stranger to fame himself. He's the brains behind the hit FX show Sons of Anarchy and worked on The Shield as a writer, producer, director, and actor.
You might wonder if it's tricky to keep a marriage together while both parties are so busy, but Sagal and Sutter seem to do it seamlessly. In fact, Sagal even starred on Sons of Anarchy as Gemma. So what's the secret to their 15-year-plus marriage? Turns out it's simple: sharing a lot of love.
Katey Sagal and Kurt Sutter had their daughter via surrogate
When Katey Sagal married Kurt Sutter, she was 50 years old, and already had two kids from a previous marriage. At first the pair was reluctant to have a child. Sagal told People in 2017, "When Kurt and I first got together, he wasn't interested in having any more children. He was happy being the stepparent to Sarah and Jackson. But he'd never had his own biological children, so about five years into the relationship we started toying with the idea of maybe we should raise a child together."
Sagal — whose first pregnancy resulted in a stillborn daughter via C-section in 1991 — was 55 by the time she and Sutter were ready to try and have a kid of their own. "At this point I was too old to carry a child," she's quoted in People.
The couple ultimately decided to use a surrogate mother to have their daughter. They weren't sure how viable their embryos would be, but they say they left it up to chance. Sagal told People they thought, "Let's give it a shot and if it's meant to be, it's meant to be." 
Turns out it was meant to be: in 2007, Esme Louise was born. Esme is now 12. "That's why we call her our little miracle, our beautiful miracle," Sagal told People.
Katey Sagal and Kurt Sutter love animals and motorcycles
In addition to their shared love for their daughter, Katey Sagal and Kurt Sutter also aren't shy about sharing their love of animals and of motorcycles.
On Sagal's Instagram, there are no shortage of pics of Sagal, Sutter, and daughter Esme cuddling with the family's four dogs. The pups, named Lumpy, Lola, Nate, and Django, coexist with an African gray parrot named Ike.
Sagal and Sutter's love of animals doesn't stop there. According to The Hollywood Reporter, Sagal once bought Sutter a duo of diamond doves for Father's Day. The doves were eventually set free at Esme's urging, though we're sure they had quite the adventure while they were in that mini-menagerie!
When the couple isn't tending to their brood of animals, they're out riding Sutter's motorcycle. The Sons of Anarchy creator appropriately loves to ride and has even posed with their dog Nate while on the bike.
Does Sagal ride? She posted an Instagram picture of an article in which she dishes that hasn't driven a motorcycle since she quit drinking 30 years ago, but she does like to hop on the back of Kurt's bike.