Celebs That Got Into Fights On Live TV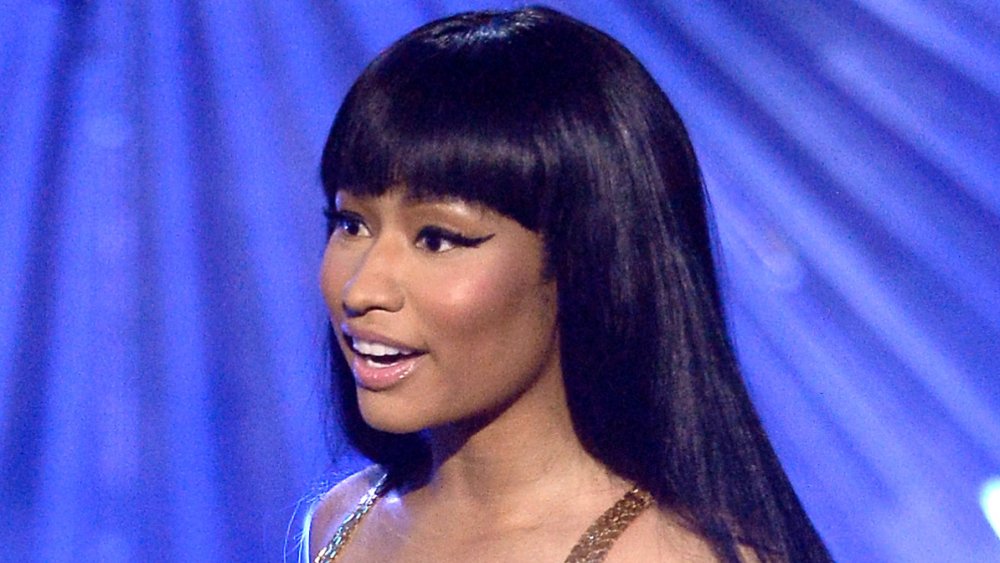 Kevork Djansezian/Getty Images
Part of being a celebrity means learning to always be in cordial interview mode. This sometimes gets drilled into an A-lister's head so intensely, they can't even shut it off. "I'll catch myself in a conversation with someone, acting like I'm in an interview," singer Billie Eilish once explained to Vanity Fair. "In interviews, you're trained to talk about yourself ... I think some artists and celebrities haven't even learned that."
What happens, however, when it's the complete opposite and stars become a PR nightmare? Celeb beef is always juicy to read about, and when fights happen on live TV, we can't help but stare. While some celebrities take to throwing shade on Twitter and hiding behind their social media channels, others decide to air out their grievances in public — with audiences present. 
Ranging from the utterly shocking and cringe-worthy to the outright hilarious, here are some celebs that have gotten into fights on live TV.
Be sure to duck if Cardi B is in the room
Cardi B's meteoric rise to the top seemingly came out of nowhere. From stripper to Vine queen, the future "Bodak Yellow" rapper used her online fame to transition into reality TV, starring in VH1's Love & Hip Hop. Finally leaving the show after two seasons to pursue her music career, Cardi definitely hasn't looked back.
There is one moment in the series, however, that will forever live on for fans of the Invasion of Privacy rapper. During a 2017 reunion special episode, Cardi B and her co-star, Asia Davies, were about to discuss their love triangle with Davies' ex, music producer Swift. Before her castmate had a chance to say anything, Cardi leaned forward, took off her stiletto, and hurled it straight at Davies' chest. As a loud thud was heard and the audience gasped, while the girls almost found themselves in a full-fledged brawl.
While the moment itself was iconic, it wouldn't be the last time the "Money" starlet would find herself flinging heels in public. According to TMZ, her long-lasting feud with fellow female rap icon Nicki Minaj would turn violent at a New York Fashion Week Harper's Bazaar party in 2018, with Cardi B taking off her shoe yet again and hurling it at the "Anaconda" celeb. This time she missed and didn't get her heel back immediately, reportedly leaving the starlet to hobble out of the bash sans one piece of her footwear. Nice.
TV's first 'viral' hoax
Saturday Night Live jokester Andy Kaufman found himself in the middle of a Late Night with David Letterman episode that essentially went viral — back in 1982. As CNN notes, way before the rise of buzz-worthy clips circulating their way online, this iconic moment had "the country clamoring for bootlegged VHS and Beta tapes of the incident."
So, what happened? According to the Los Angeles Times, Kaufman started a "side career" in the early '80s only wrestling women. He caught the eye of pro-wrestler, Jerry Lawler, who even fought him in a headline-making match. Finally, in July 1982, the two decided to go on Letterman's show to "air their differences." However, as both parties got progressively lippy with one another, Lawler slapped Kaufman across the face, knocking him to the ground right before a commercial break. Once they were on air again, the comedian launched into a stream of profanities aimed at Lawler and stormed off. The spat was all over the country, with The New York Times even reporting that it wasn't staged.
As it turned out, it was planned, and as CNN explained, it essentially paved the way for performance art gimmicks, such as Borat years later. Bob Thompson, a professor of pop culture at Syracuse University, told the outlet, "One of the reasons it's stood the test of time is it seemed like one of those moments where something has gone terribly wrong."
A celeb spat that resulted in a verbal resume reading
Chanel West Coast is an MTV reality television darling, known for her rise to fame on Rob Dyrdek's Fantasy Factory, her close friendship with Dyrdek himself, and their TV show, Ridiculousness, which sees West Coast as co-host.
The starlet, who's also recognized by some as a rapper and singer, quickly became a favorite on Ridiculousness due to her bubbly personality and infectious laugh. During one episode in 2017, however, she decided to ditch her fun temperament for a full-on verbal brawl with radio personality Charlamagne Tha God. The fight started after Charlamagne called the "Anchors" crooner a "wack rapper," causing her to fire back immediately. "You can have opinions, but it doesn't mean they're right," West Coast dished, before getting up and listing her entire musical career to date.
West Coast later spoke to TooFab, explaining the difficulties she faces of being a female rapper. "It's actually less about race and more about being a woman," she revealed. As for her fight with Charlamagne? "I knew he was stating I was a wack rapper on a platform where all my fans were watching and millions of viewers were watching. The last thing I was gonna do was let somebody call me a wack rapper and not use that time right there to state the facts and set things straight." We have to say, kudos to West Coast for staying true to her passions.
The time Miley Cyrus unknowingly started a feud
Miley Cyrus is no stranger to controversy. Her career has been filled with provocative moments, from twerking alongside Robin Thicke to dumping hubby Liam Hemsworth on social media and moving on to now-ex girlfriend, Kaitlynn Carter. The "Malibu" crooner is also known to speak her mind — something that's certainly gotten her in trouble in the past. Case in point? Cyrus gave an interview to The New York Times in August 2015, giving her two cents on a short-lived Twitter feud between Taylor Swift and Nicki Minaj. Implying that Minaj was "not too kind," she unknowingly set off a red alarm.
Fast forward to the 2015 MTV VMAs, where Minaj won the best hip-hop video award for her single, "Anaconda." As she got on stage, she told Cyrus (who hosted the event), "Back to this b**ch that had a lot to say about me the other day in the press; Miley, what's good?" The audience remained stunned as Cyrus fired back with, "Nicki, congratu-f**king-lations," while Minaj could be seen mouthing, "Don't play with me, b**ch!"
The whole incident was totally uncomfortable, and it prompted Minaj to explain to The New York Times why she decided to confront Cyrus: "The fact that you feel upset about me speaking on something that affects black women makes me feel like you have some big balls."
The time Omarosa definitely turned on her iconic switch
Rising to fame as the iconic albeit terrifying villain on NBC's first season of The Apprentice, Omarosé Onée Manigault-Newman — a.k.a. Omarosa — became a reality TV darling. Although she never won, she still had fans tuning in only to see what drama she would create.
In 2008, Omarosa decided to take her drama-inducing antics to a live television audience when she appeared on Wendy Williams' eponymous talk show to promote her book, The B**ch Switch. The two women immediately started sparring when Omarosa came on stage and sat down, unhappy that Williams allegedly told the audience she was going to "straighten [her] out." As they started throwing sly jabs at one another, the reality TV alum suddenly requested they move on to talking about her book. As Williams took the book to explain it to the audience, Omarosa snatched it away, refusing to let Williams hold it. Things then just got pettier and pettier, with the host telling her guest that the public may perceive her as "a typical angry black woman." Of course, this led to a full-on argument and ended in both parties making plastic surgery blows.
"I wanted to throw her off the set," Williams later told The Associated Press (via Fox News). "Omarosa wished her career was my career. Omarosa is a delusional, D-list, pathetic woman." Although the two have since made up, the whole exchange was totally cringe-worthy.
A snide political debate on live TV
Former Fox News anchor Megyn Kelly has been known to be involved in controversial moments. After leaving Fox to host Megyn Kelly Today on NBC in 2017, she made such a large on-air error where she questioned dressing up in "blackface" for Halloween, that it actually caused her show to get canceled.
However, before her notorious blunders, Kelly found herself interviewing then-presidential candidate Donald Trump at a Republican Primary Debate in 2015. As The Apprentice alum took the stage, Kelly asked him bluntly, "You've called women you don't like 'fat pigs, dogs, slobs, and disgusting animals.' Your Twitter account..." She was then cut off by Trump, who quipped, "Only Rosie O'Donnell." Although the audience cheered, Kelly wasn't amused: "Your Twitter account has several disparaging comments about women's looks. You once told a contestant on Celebrity Apprentice it would be a pretty picture to see her on her knees. Does that sound to you like the temperament of a man we should elect as president?" Getting defensive, Trump then threw shade at Kelly while the crowd laughed, saying, "Honestly, Megyn, if you don't like it, I'm sorry. I've been very nice to you, although I could probably maybe not be based on the way you have treated me."
The whole thing was totally petty, and of course, Trump being Trump, immediately took to his Twitter afterward to pour salt in the wound.
Don't ask Gene Simmons about his back
It's common knowledge that Gene Simmons isn't a saint. The KISS bassist has found himself in the center of the tabs many times, including sexual assault allegations and his own claims that he's been with around 5,000 women.
Throughout it all, his wife, Shannon Tweed, remained a pillar of strength, standing by her man. But, as reports of Simmons' infidelity ran rampant, even the actress couldn't hide her disdain. During a 2011 interview that the couple gave on The Joy Behar Show, it appeared that the two were already in the middle of their own personal spat. "He's a pig, and I don't like it," Tweed bluntly told Behar while her then-boyfriend sat next to her. Instead of migrating to a different line of questioning, Behar then decided to get involved, and drilled the rocker about the number of women he's supposedly slept with, with the following quip: "How's your back, Gene?" Uh-oh. His response? "My back is good, my schmeckle, not so much." While it was enough to induce giggles, Tweed definitely didn't find it funny, getting up, slapping Simmons' back, and muttering, "F**k off," before leaving the stage.
While you'd think that would be the end of their relationship, Tweed and Simmons actually ended up getting married only months after going on the talk show and, at the time of this writing, are still going strong.
The original VMA call out between these two celebs on live TV
Before Nicki Minaj and Miley Cyrus' epic 2015 VMA call out, there were two other celebs embroiled in a verbal spat, all while accepting the iconic MTV Moonman award. Cue Eminem and Moby. As it turns out, the feud between the two stars dates back to 2001, and as Entertainment Weekly revealed, began when Moby called the rapper "a misogynist, a homophobe, a racist, and an anti-Semite." Enough to certainly annoy Eminem, he responded by dedicating a line in his track, "Without Me," to dissing the singer. Well played.
Fast forward to the 2002 MTV VMAs, when Eminem went on stage to accept one of his awards for the evening. As he thanked people on his list, you could hear what was allegedly Moby booing in the audience. The rapper then suddenly stopped reading his notes and announced, "Keep booing. Keep booing, little girl. I will hit a man with glasses."
The "Porcelain" hitmaker would later write on his website (via MTV News), "The truth is that I honestly, in all sincerity, thought that the whole Eminem thing was done in some semblance of humor until Eminem called me a p**sy (that was off-camera) and then threatened to beat me up." Perhaps next time, Moby should know a bit better who he's joking around with.
Burt Reynolds will make sure you're not a 'neatness freak'
1994 was a rough year for Burt Reynolds. The legendary actor had just served his wife, Loni Anderson, divorce papers. Per Capital Gazette, their breakup was a messy one, with Reynolds going on televised interviews to talk about the duo's deteriorating intimate life and cheating allegations made against the starlet.
Of course, the divorce was a sore subject for the Deliverance actor, so when he came on Jay Leno's Tonight Show that same year, you can imagine he wasn't expecting it to become a punchline of the evening. As Esquire dished, Reynolds was in a touchy mood from the get-go, as Leno made the mistake of making a joke about his recent breakup. The host then invited his next guest, Nickelodeon host Marc Summers.
As Summers came on stage, he sat between Leno and Reynolds, yet turned his back to the iconic star to talk to Leno about some children's segments he did on his show. He then told Leno he's a "neatness freak," causing Reynolds to ask him, "Who told you that you were a neatness freak?" Explaining to Summers that he couldn't understand because his back was turned to him, Summers decided to make the following joke: "My wife tells me that often. I'm still married." Big mistake, as Reynolds proceeded to dump his mug onto Summers' lap, followed by what's probably the funniest comeback: "You're not a neatness freak anymore."
Kenya Moore probably doesn't wish she's Michael Rapaport
It's no secret that Andy Cohen is somewhat of a shady late show host. The Watch What Happens Live entertainer regularly stirs the pot, and his show has been home to some iconic moments, such as egging Paris Hilton on to trash-talk her former noughties pal, Lindsay Lohan, or the time he started a feud with NeNe Leakes by making fun of her fashion choices.
Another moment where Cohen "unknowingly" started drama? When he invited "mortal enemies" Kenya Moore and Michael Rapaport to the same episode in 2018. Immediately, Cohen decided to address the elephant in the room, with The Real Housewives of Atlanta starlet calling him out for knowing what he'd done. Cohen then turned to Rapaport and told him he's been "trash-talking Kenya for a while on Twitter." As the comedian quipped, "Just on Twitter? Not in real life?" Cohen had already moved on to his next target, asking Moore if she had anything she'd like to "get off her chest." Smiling, Moore threw the following shade: "I mean, you know, peasants can't summon queens."
Of course, the whole thing escalated from there, with name-calling coming from both parties, until Rapaport declared, "You wish you were me, Kenya." As the audience gasped, the RHOA celeb went right for the jugular: "A middle-aged, fat white guy? Not really." Ouch, way to go, Andy.