Best And Worst Super Bowl LIV Commercials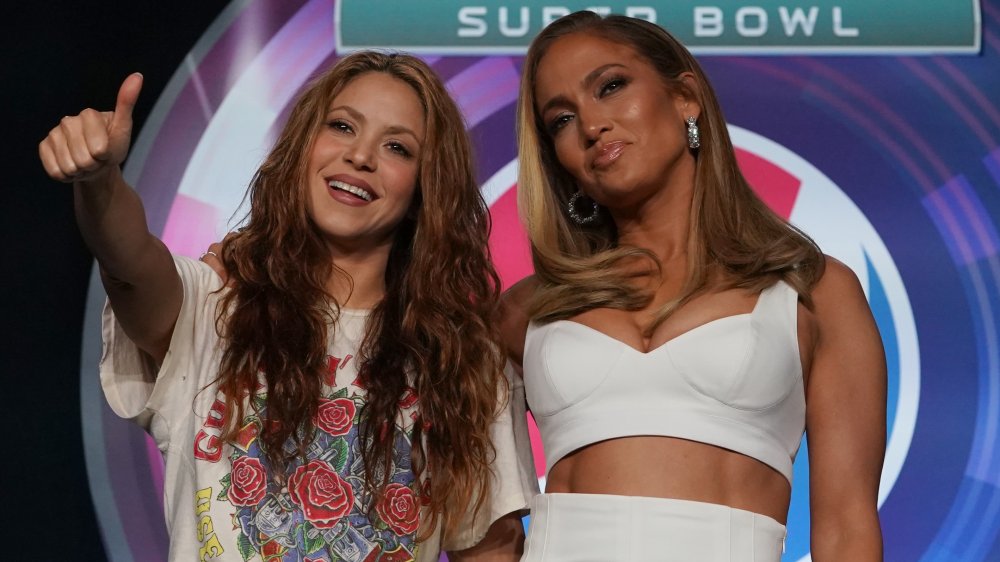 Timothy A. Clary/Getty Images
The Super Bowl always has a little bit of something for everyone. For football fans, obviously there's a pretty big game going on. For entertainment lovers, the half-time shows are certainly a big draw (here's looking at you, Jennifer Lopez and Shakira). But in between all the tackling and pyrotechnics, there are the Super Bowl commercials. Whether you care about the game or not, the commercials are not to be missed — especially if you want to have any clue as to what people are talking about at work the next morning.
While brands have a relatively captive audience over the course of the 3-hour-plus game, they also having to compete with the likes of wings, pizza, and nachos — just to name a few common Super Bowl party treats. Some brands tend to rope in major stars in hopes that their commercial will shine brighter, while others gravitate toward creating an emotional connection to grab the attention of viewers. Still, other brands opt to put out something so ridiculous people can't help but remember it. Some mega names are even rolling out their big Super Bowl spots days before kickoff.
Just like the game — there are advertising winners and losers. We're breaking down the touchdowns and fumbles of the Super Bowl LIV commercials.
Best: Lil Nas X is one cool (ranch) dude
Thanks to the massive hit that is "Old Town Road," 2019 was totally Lil Nas X's year, and with a stellar Grammys performance and now a Super Bowl commercial, 2020 isn't shaping up to be too shabby either.
In the spot for Doritos, Lil Nas and Sam Elliot, who you'll recognize from the latest iteration of A Star is Born, show up on a dude ranch called the "Cool Ranch" and battle it out for some Cool Ranch Doritos — as if we expected anything less. The two engage in a dancing duel, and despite the fact that Elliot puts up a pretty good fight, Lil Nas ultimately wins, riding off into the sunset with a bag of Cool Ranch Doritos.
And not to exclude his buddy from the narrative, country singer Billy Ray Cyrus also makes a quick cameo in the commercial. We're not entirely sure if this makes us crave Doritos, but this Super Bowl ad is definitely the epic showdown that we never knew we needed.
Worst: Hyundai's commercial wasn't a "smaht" idea
For its commercial Super Bowl commercial, Hyundai snagged actors Chris Evans, John Krasinski, and Rachel Dratch. While the choice in celebrities might seem a bit random, all three actually share one common connection: They were all born in or near Boston. Why is that important for this big spot? Because, for some reason, they're all speaking with very strong Boston accents as they push Hyundai's new "Smaht Park" feature. The premise of the feature is that the car is able to park itself because, according to alternate-universe Krasinski, it's "wicked smaht."
While the car is demonstrating its ability, the three stars engage in a back and forth about all the places in the Boston-area that Krasinksi was able to park thanks to the feature. Because Hyundai was clearly going for quantity of famous faces rather than the quality of the commercial, legendary Red Sox player David "Big Papi" Ortiz also makes a quick appearance. Overall, the ad just seems random — especially if you don't hail from New England and have absolutely no idea why Evans, Krasinski and Dratch would have Boston accents, let alone be driving a Hyundai.
Best: Cheetos just gave everyone the ultimate excuse
If you've ever been in a position where someone asks you to do something you really don't want to do, Cheetos has now crafted the perfect excuse to get out of just about anything.
The commercial begins with a guy sitting at his desk and talking to a coworker while eating a bag of Cheetos Popcorn. His boss appears and starts to ask him if he can do something until he notices a huge red flag (or, rather, an orange flag) — he's got Cheetos fingers! The boss ultimately tells him "never mind," which is when the guy realizes he now has the upperhand — a hand that just so happens to be covered in Cheetos dust.
And just wait, it gets better. As he's having his epiphany, MC Hammer (where has he been?) pops up to sing his iconic song, "U Can't Touch This." Throughout the rest of the commercial, the guy is absolutely no help to anyone, allowing MC Hammer to do all the explaining. At the end of the ad, MC Hammer pops out of a picnic basket that somehow turns into hammer pants and dances off with the Cheetos. We're starting to sense a pattern here with celebs running off with snack products.
Worst: Snickers' commercial didn't make us snicker at all
While Coca-Cola's 1971 "Hilltop" spot (that Don Draper may or may not have come up with) is undoubtedly one of the most iconic commercials in history, the Snickers 2020 knock-off version isn't quite so appealing.
The commercial, which features singing throughout, muses on the "pitfalls" of the modern world, including people "texting dirty pics," "babies named after produce," and "demented" autocorrect. Snickers' solution to fixing the world? Well, a Snickers bars, of course. Millions gather around a huge hole in the middle of a Coca-Cola commercial-esque hillside to watch a helicopter drop a giant Snickers bar inside the crater.
At one point in the spot, a young boy asks if the Snickers bar will really fix everything, to which an adult responds with a non-committal shoulder shrug — yeah, we're not too sure either. Rather than taking the leap of being able to fix the world's problems, Snickers should probably just stick to turning people back to normal when they're hungry.
Best: Chrissy Teigen doing what she does best, blaming John Legend
John Legend and Chrissy Teigen are a somewhat polarizing couple — you either love them or hate them. Part of the reason some people can't stand Teigen is the fact that she's always a little shady — especially when it comes to her husband. However, in Genesis' Super Bowl spot, they capitalize on Chrissy Teigen being, well, Chrissy Teigen.
The commercial opens with Teigen asking Legend why he brought her to a mansion party, to which the Grammy-winner replies, "I think it's time we throw old luxury a going away party." Once inside the party, Teigen proceeds to call out various people at the event — as only she can — before bidding adieu to old luxury and raising a toast to new luxury. However, when she goes to introduce the new luxury Genesis SUV, Legend misses his cue to drive the vehicle up the driveway. Tiegen complains to Legend about messing up the moment only to be locked out of the car until she utters the magic word: Sexiest Man Alive (wow, Legend is really milking his new title.)
Basically, the commercial is Teigen's Instagram and Twitter energy brought to the silver screen, and we love every second of it.
Worst: Planters' spot strikes a nerve following Kobe Bryant helicopter crash
Planters opted for a 30-second spot this year, and for many, it was 30 seconds too long. In the commercial, Mr. Peanut and two friends are driving down the road when they get into a fiery car accident that results in the death of the iconic Planters mascot. The company went so far as to announce the death of the legume on Twitter: "It is with heavy hearts that we confirm that Mr. Peanut has died at 104. In the ultimate selfless act, he sacrificed himself to save his friends when they needed him most. Please pay your respects with #RIPeanut." What exactly was the brand hoping to accomplish with all that death and destruction?
According to NBC News, the company suspended its social media marketing in the wake of the tragic helicopter crash that killed Kobe Bryant, his daughter, Gianna, and seven others a week before the Super Bowl. "We are saddened by this weekend's news and Planters has paused all campaign activities, including paid media, and will evaluate next steps through a lens of sensitivity to those impacted by this tragedy," Planters representatives said in a statement (via The Washington Post).
However, despite the marketing pause out of respect for Bryant's passing, the Super Bowl ad featuring Mr. Peanut's funeral — and hasty rebirth as Baby Peanut — still aired during the Big Game. After all, passing up a chance to advertise your brand after spending all that money would've been...well, nuts.
Best: Jason Momoa does 'Moa with less
If there's one thing a lending company understands, it's how to grab your interest. Usually that comes in the form of monthly payments, but Rocket Mortgage decided to break out the big guns, specifically the bulging biceps of Jason Momoa – who then proceeded to "disarm" in comically alarming fashion.
Momoa starts off looking like his charmingly feral self. As he drives by the blaring cameras of swarming paparazzi, he turns his attention to camera representing the home viewer and thoughtfully asks, "What does home mean to me?" It's his "sanctuary," the one place where he can be himself. At home he strips away the facade, yanking away false muscles and bulging abs like a less traumatic remake of Robbie Williams' "Rock DJ" video. Even his luxurious hair was an act of follicle fraud.
It's actually the perfect metaphor for taking out a mortgage: you're pretending to own a home that's just as much yours as Momoa's CGI biceps.
Worst: Quibi's bank heist stole 30 seconds of your life
As reported by AdAge, the mobile video streaming service Quibi made its Super Bowl debut with this ad about a bank heist that gets delayed by the getaway driver, leaving the crooks to chill in front of the bank for "a Quibi." The driver explains that it's a duration of less than 10 minutes, which is an eternity in a scenario where there's no time to waste.
While the crooks stand stupidly in white outfits and animal masks waiting for what will undoubtedly be their arrest, they have just enough time to get teased by Chance the Rapper via Quibi. Much like the commercial itself, it takes just long enough to start to feel like a bad idea.
Best: Bryan Cranston shines as Jack Torrance
If you think there will ever be a better Jack Torrance than Jack Nicholson, well, then you don't know Jack. But as remakes of The Shining go, this commercial for Mountain Dew Zero Sugar hit the sweet spot with Bryan Cranston assuming the role of your favorite axe-swinging maniac in a recreation of one of the film's most iconic scenes. It was certainly more satisfying than watching Stephen Webber wield a croquet mallet in the Shining miniseries and probably more satisfying than the taste of actual Mountain Dew.
The commercial seems to agree, as Cranston has to demolish a door with his axe just to get Tracee Ellis Ross to accept the soda. In another scene, the green fluid takes the place of blood flooding a hallway of the hotel. But if you overlook the grim implication, Mountain Dew Zero Sugar comes out looking bloody cool, thanks to this ad.
Worst: Loretta's not young
Leave it to Google to try and convince you that documenting the fading memories of a man who has clearly lost the love of his life makes Google Assistant heartwarming and not an emotional manipulation by a company that profits off of using your personal data to display targeted ads. In this 90-second tear-jerker you, can almost hear a tearful quiver in the speaker's voice as he looks to Google to be his digital hippocampus.
As the man commits a slew of images and descriptions of Loretta to Google's memory, it becomes painfully apparent that the beauty here lies in experiences that this man will never get back. They are no longer a series of years, but grains of sand slipping away in a one-way hourglass. Thanks for bringing us all down, Google!