The Truth About JoJo Siwa's Brother Jayden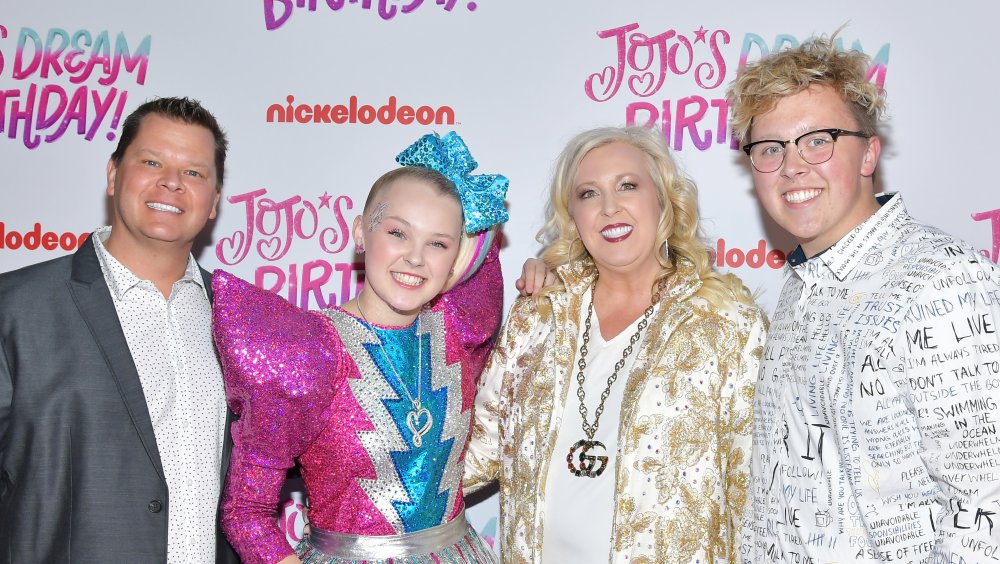 Amy Sussman/Getty Images
From her gigantic, colorful bows to her Dance Moms' stint, JoJo Siwa has made a name for herself in pop culture. The Omaha, Neb. native has toured the country performing her own music and created a line of merchandise featuring everything from her signature bows to stuffed animals of her dog. Given her meteoric rise to fame (and her estimated $12 million net worth), Siwa's family members have also found themselves in the spotlight. The 16-year-old is often accompanied in public by her mom Jessalynn Siwa and her dad Tom Siwa. The YouTube personality's brother, Jayden, has become bit of a celebrity in his own right, too.
Nineteen-year-old Jayden has amassed more than 130,000 followers on Instagram, where he frequently posts pics with his famous sister. Seriously, these two seemingly couldn't be any closer. That being said, while fans have gotten to know him through his association with JoJo, Jayden has built a YouTube career of his own, sharing new videos multiple times a week. So let's learn more about this celeb sibling, shall we?
Jayden Siwa is following in his famous sister's footsteps
If your sister was one of the biggest YouTube stars of the moment, it would make sense that you'd want to get in on the action. While JoJo Siwa's channel has a whopping 10.6 million followers, Jayden Siwa's YouTube has 77,200 subscribers and he shares a range of fun, food-related videos, including taste-testing all the Girl Scout cookie flavors and making a rainbow grilled cheese sandwich for his little sis. In one food challenge video, Jayden tried to time how long it'd take him to eat 100 Burger King chicken nuggets, which honestly sounds pretty impressive (spoiler alert: he got full after 5 minutes and 13 seconds, eating only 31 nuggets before calling it quits.) For another challenge, JoJo joined him in eating food off the McDonald's Dollar Menu.
If you want to know even more about Jayden, just watch his 73 Questions video (a parody of the Vogue video series). In the clip, he revealed his love of video games (specifically Fortnite), indoor skydiving, and traveling to New York City. In other words, he sounds like your average teenage guy who just so happens to have an above-average online following.
Jayden and JoJo Siwa faced a mini controversy
Back in July 2017, JoJo Siwa and her brother, Jayden, sparked backlash when they did a YouTube prank, pretending their dad was hit by a car and in the hospital, per The Sun. In the since-deleted video, she reportedly said, "We're just messing with you, we just wanted the views so we made up a story about a near-death experience." JoJo later apologized in a follow-up video, saying, "I'm very sorry for yesterday's video... I know it was a lot of clickbait, and I know some of you are mad at me, but you know what? It wouldn't be a YouTube video if there wasn't clickbait." The whole situation was very yikes.
Since then, the siblings' careers have been pretty scandal-free (aside from an incident in 2019 where asbestos was found in one of JoJo's makeup products at Claire's). At the end of the day, they have each other's backs through any rough patches. For instance, in May 2019, JoJo referred to Jayden as "one of my actual favorite humans ever" on his birthday. She wrote, "Thank you Jayden for always being so supportive of me and being the best big brother I could ever ask for! [You're] awesome!!" And based on his posts about his sister, it's obvious Jayden thinks just as highly of JoJo.