Post Malone Responds To Fans Worried About His Health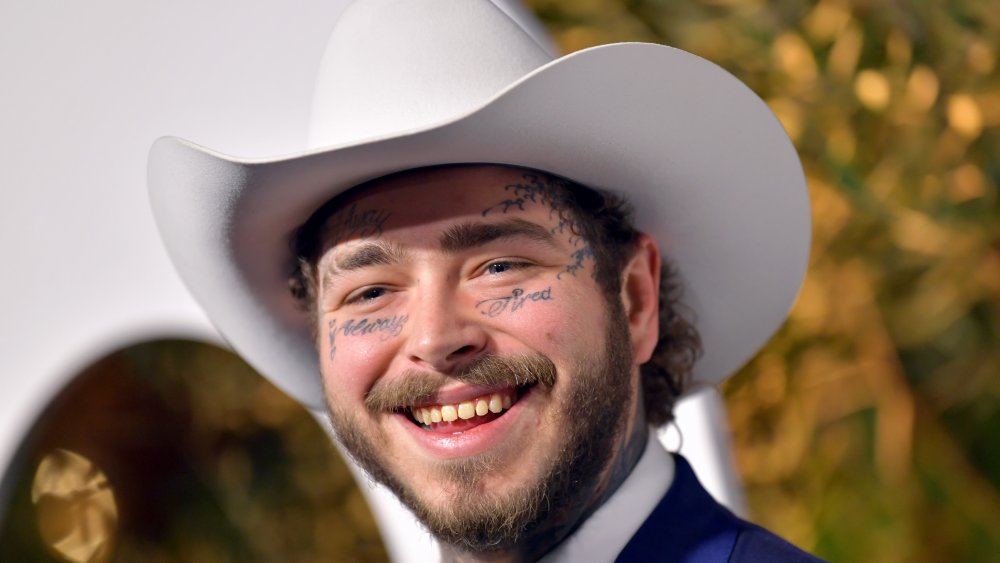 Amy Sussman/Getty Images
Post Malone (real name Austin Richard Post) has gained the reputation of being "pop's kind of heartbreak." Following the release of his song "White Iverson" in 2015, Malone has quickly risen through the ranks, becoming one of the most popular artists on the radio today. However, Malone's meteoric rise hasn't been easy. In recent years, Malone has struggled with fame. The rapper's even admitted to drinking before and during shows in order to cope with his nerves. "I can't get on stage if I ain't feeling funky," he told Highsnobiety. "I'm just nervous. It helps me out, it helps me get lit with my fans."
Now, those same fans are worried about the artist's well-being. The singer caught the attention of fans in early March 2020 when videos from his tour surfaced, showing Malone acting out of the ordinary. In a since-deleted compilation video posted to Twitter by a fan, the singer appeared to be slurring words while interacting with attendees at his events. The video also showed Malone falling on stage while performing. "You can't sit there and tell me that this is normal behavior from Post, it's not and the man needs help before something bad happens to him," the fan wrote on Twitter (via Complex). "Whether it's alcohol or drugs, he's not using them for fun anymore, he's abusing them. it's too much now, people are worried."
However, despite fans' concern, the singer claims there's nothing to be worried about. 
Post Malone says he's 'not on drugs'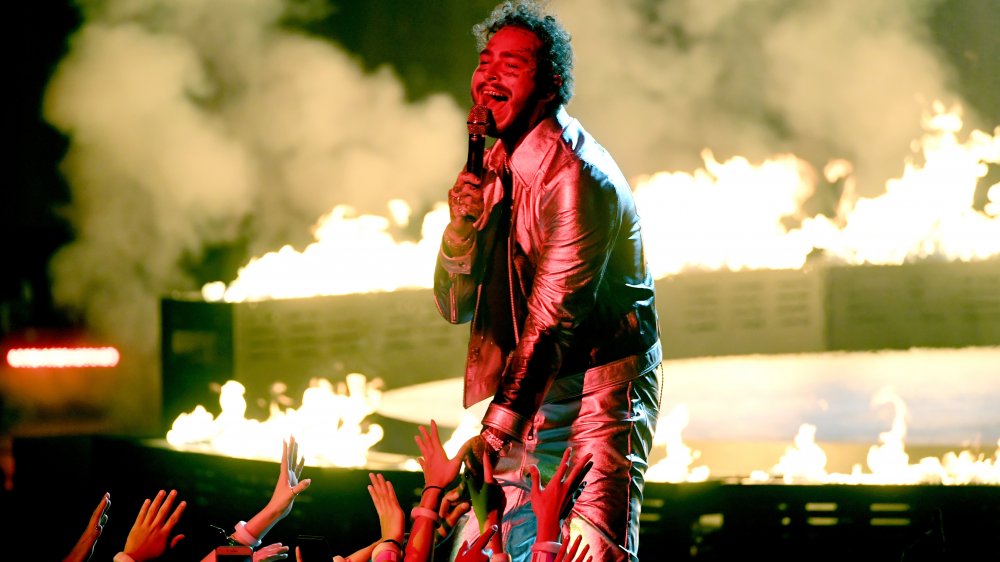 Kevin Winter/Getty Images
Post Malone wants fans who are worried about him to know that he is doing perfectly fine. In fact, the singer claims that he's never been better. According to Consequences of Sound, during a concert in Memphis, Tenn., Malone told fans that he's "not on drugs," adding, "I feel the best I've ever f***ing felt in my life. But for anyone that's concerned here, I appreciate the love and the support, but I feel f***ing fantastic and I'm not doing drugs."
Even before Malone addressed concerns about his well-being, some fans came to the rapper's defense, saying it was normal behavior for him. "He always gets super low to the ground during his performances," one fan wrote. "He tripped/lost balance & continued with the song. i know he drinks a lot & all but he's completely fine after the show!!"
Even though Malone has assured fans that all is well at the moment, that doesn't mean that he hasn't had his fair share of struggles in the past. 
Post Malone has opened up about 'trying' to get help for his mental health problems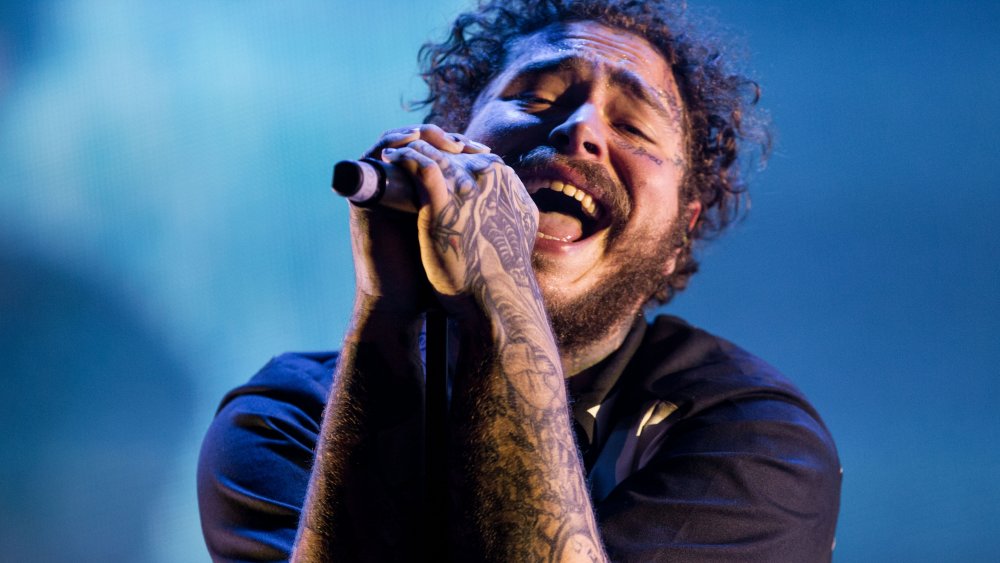 Santiago Bluguermann/Getty Images
While Post Malone might be doing alright at the moment, fans aren't unjustified in their concerns. Malone recently opened up about his mental health struggles that have inspired much of his music and even body art. In September 2019, he spoke with Variety about when he started dealing with anxiety."I'd say since the beginning of middle school, I always felt like I was always anxious and kind of sad all the time, but I kind of came out of it," he said.
In another chat with GQ, the artist said he is "trying" to get mental health help, but explained that it's "difficult" for him. "Through my songs, I can talk about whatever I want," he said. "But sitting here, face-to-face, it's difficult." While talking to the outlet about his musical peers who have passed away in recent years — including Mac Miller and Lil Peep — as a result of their struggles with substance abuse, Malone revealed: "That could have been me." 
Even though Malone has his demons that he's trying to work through, it truly seems like his fans have his back no matter what and just want the best for the rapper.
If you or someone you know is struggling with substance abuse and mental health, please contact SAMHSA's 24-hour National Helpline at 1-800-662-HELP (4357).