Presley Gerber Reveals New Face Tattoo Isn't What It Seems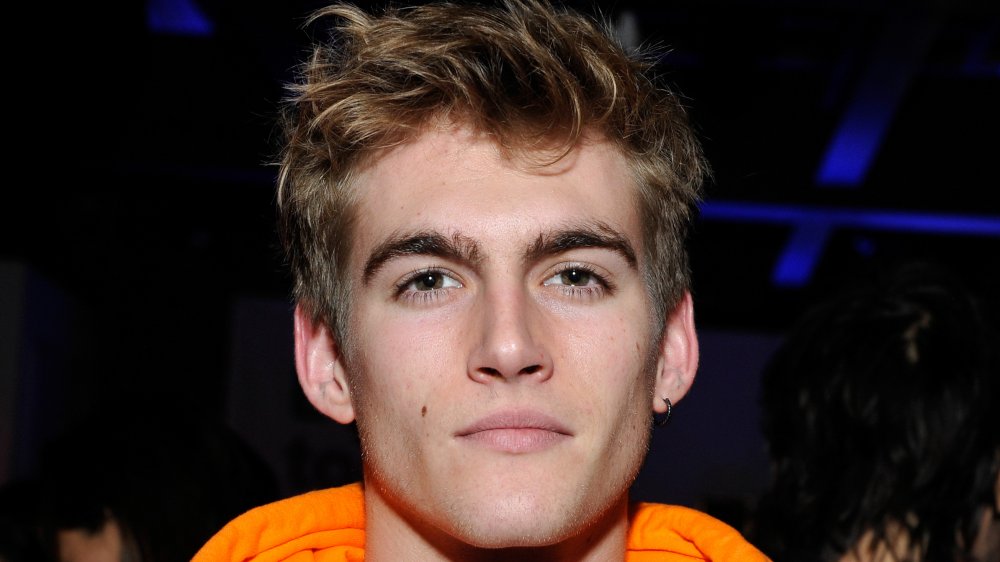 John Sciulli/Getty Images
Last month, Presley Gerber — a.k.a. the son of supermodel Cindy Crawford and businessman Rande Gerber — caused quite a commotion when he debuted an interesting facial tattoo. The 20-year-old model got the phrase "misunderstood" etched on his cheek by celeb-favorite tattoo artist JonBoy, who's inked everyone from Kendall Jenner to Gerber's own sister Kaia. Gerber has since deleted the snapshot of the attention-grabbing tat, but that doesn't mean the conversations about it have stopped.
According to Page Six, Gerber defended his tattoo on Instagram Live in February, saying, "If I thought this was going to ruin my face or I didn't want this, I wouldn't have done it. I think that's a pretty obvious thing." Meanwhile, his girlfriend apparently chimed in to say, "His parents love it, by the way." Hey, if his famous parents approve, isn't that what matters?
Gerber reportedly explained in the video, "It says 'misunderstood,' because that's how I felt my entire life." He also added, "F**k you if you don't like it." Further proving that he doesn't care what anyone else thinks, Gerber appeared to add a new face tattoo to his collection — a star with the letters "LA" in the center, likely a nod to his Los Angeles upbringing. But as it turns out, this ink may not be what you think.
Presley Gerber's new ink is sparking mixed reactions
After Presley Gerber showed off what appeared to be new ink on Instagram, fans decided to weigh in on the bold choice. One person pleaded in the comments, "Please, stop inking up your handsome face. Listen to the people who love you most....your parents!" Another wrote, "Mumma Mia. You are going to regret those Tatts. Down the track."
However, not everyone hated it. A supportive fan wrote, "U can do n have anything on your face ( love it btw) but u will always be gorgeous." Someone else added, "Ok but the face tatts are a serve" with two heart-eye emojis. In other words, the reactions here are pretty mixed — not that Gerber likely cares either way. After all, it's his body and he can decide what to do with it.
Following all the buzz surrounding the L.A. star design on his cheek, Gerber decided to clear the air, claiming that the face tattoo isn't actually real. Wait, what?
Presley Gerber claims that the face tattoo is just 'a filter'
It's safe to say Presley Gerber's new "tattoo" sparked its share of backlash. He later hopped on his Instagram Story, clarifying, "It was a filter lol damn.. also I don't 'want to be hood' wtf u don't know me chill I'm grateful if I wanted to I could be posting money n sh*t but I don't so stfu please or imma delete my gram it stressful." As you can see in the selfie behind the text he shared, that same star ink is absent from his face. It really must have been a filter after all.
Adding a little extra context to all that's been happening, a source told Us Weekly recently, "Presley is obviously going through a super rebellious phase right now. He is trying to get out of the shadow of his family and find his own way and create his own identity. He also likes the attention he's been getting, even if negative, from his tattoo and recent posts."
If it wasn't clear before, it should be reiterated now: Gerber will probably continue to do whatever he wants with his face — tattoos, filters, or anything else. As his first face tat emphasized, he feels a bit "misunderstood" and it seems like that's not changing anytime soon.