The Truth About Selena Gomez's Neck Tattoo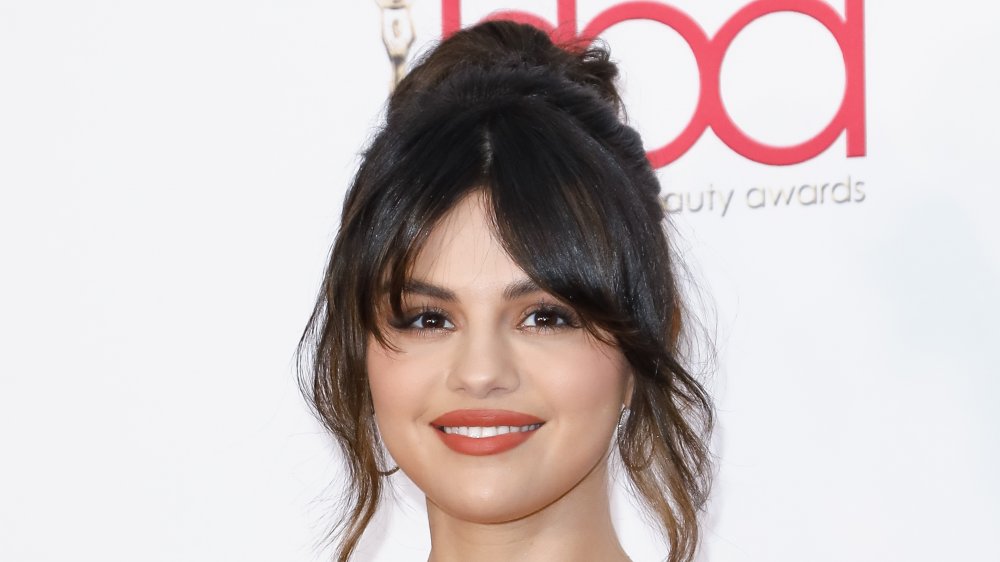 Tibrina Hobson/Getty Images
2020 is already gearing up to be the year of Selena Gomez. After almost a decade of bewildering drama with her now-ex, Justin Bieber, it looks like the Rare artist has finally put her past behind her. With the Biebs tying the knot a second time with Hailey Baldwin in a lavish (albeit odd) ceremony at the end of September 2019, all eyes were on Gomez.
The Texas-born singer finally bounced back from her ex, and as Elle notes, in October 2019 she released what was "her first public comment on her love life" since her final breakup from Bieber: a new song, "Lose You To Love Me." "I know there are thousands of people... who have felt this feeling," the Spring Breakers starlet told On Air With Ryan Seacrest. "It doesn't matter if you're in my position or if you're in someone else's, because you're always going to somehow find this negative space... It took me a long time to get through it, but now it's fine. I'm smiling."
Well, Gomez certainly has reasons to smile. By the time she released her full-length album Rare in January of 2020, it was met with overwhelming positivity. As Variety put it, it's "one of the best pop albums to be released in recent memory." So, besides going through an absolutely stunning transformation artistically, what else has Gomez been up to? 
For starters, she's sporting some fresh ink. Let's take a look at the truth behind Gomez's neck tattoo.
Selena Gomez has had a rough few years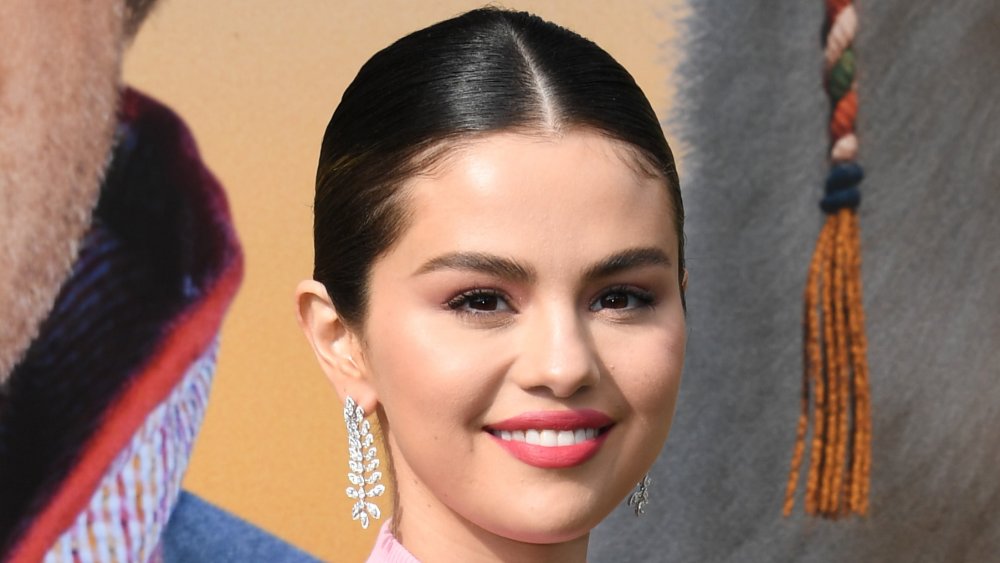 Jon Kopaloff/Getty Images
Selena Gomez's journey to get to where she is today hasn't come without its own set of hardships. As NPR put it in January 2020, the star has "battled Lupus, depression, and anxiety, and had two high profile breakups — all while millions followed along on social media." It's definitely a lot to take in, especially when you're considered such a role model to so many fans.
Thankfully, the "Wolves" crooner channeled her hardships into her new album Rare, and she's been very honest with the public regarding all her personal difficulties. "The reason why I've become so vocal about the trials and tribulations of my life is because people were already going to narrate that for me," she explained to NPR. "All of these things happened, and I wasn't going to deny that, I wasn't going to pretend to put a smile on when it actually was awful — a few of the worst moments of my life."
Instead of turning to the dark side like some other fellow child stars, The Dead Don't Die actress confirmed to NPR that she used Rare to build a diary "from the past few years." We're sure all of her fans breathed a sigh of relief when she told Apple Music's Zane Lowe that same month, "I would like to say that this is a fresh start. I started with this album, but I'm going to continue to just do better."
Selena Gomez' neck tattoo means more than you think
While some celebs seemingly just pile on their tattoos without much reason (ahem, Post Malone), it seems like Selena Gomez's new neck piece has more meaning than you may think.
Taking to Instagram in mid-January 2020, the singer showcased a fresh piece of ink on her neck: "Rare" in cursive. While some think the tat commemorates the release of her album Rare, the starlet offered a bit more insight during an interview with NPR. "The word has meant so much more to me than just a title of a song. We live in a time where everything is based on your looks and social media and there are so many different channels telling people what they should look like, and how they should do this, do that," she began. "And I want to represent a person that is just saying, 'You are who are; you're unique and you're rare.'" Beautiful!
As most fans already know, Gomez is very vocal about the "terrible" pitfalls of social media within her generation. "It does scare me when you see how exposed these young girls and young boys are and they're not really aware of the news or anything going on... I think it's dangerous, for sure," the Disney Channel alum dished during a Cannes Film Festival press conference for her flick, The Dead Don't Die. But between her tattoo and her interview comments, she's doing what she can to remind fans of their uniqueness.