The Real Reason Why Mama June No Longer Speaks To Her Daughters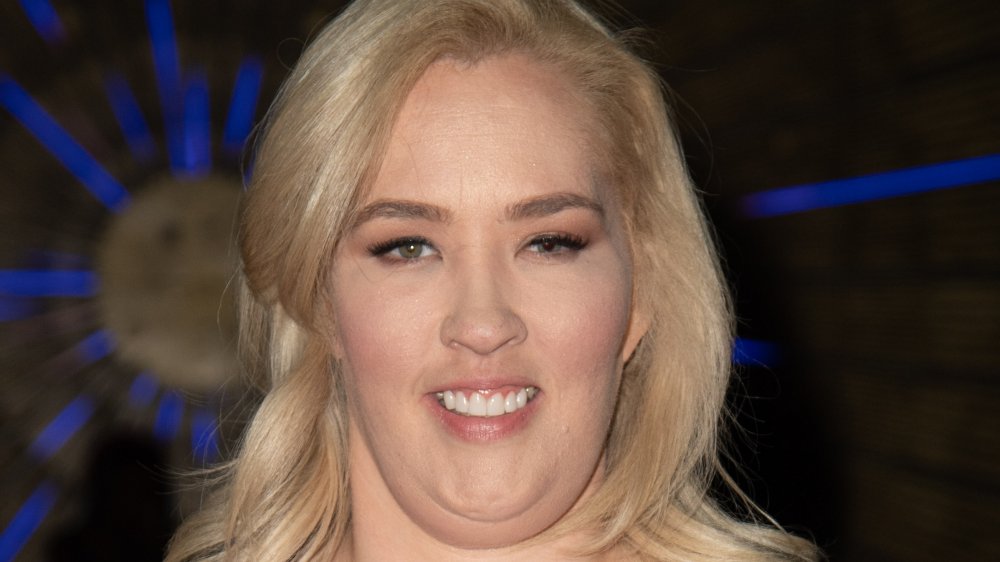 Earl Gibson Iii/Getty Images
June "Mama June" Shannon is best known as the mom of Alana "Honey Boo Boo" Thompson, who rose to fame on the TLC series, Toddlers & Tiaras. Honey Boo Boo, who was just 5 at the time, became a fan favorite of the show for her outlandish and funny remarks, like her popular catchphrase, "A dollar makes me holler!" The mother-daughter duo then landed a show on TLC, Here Comes Honey Boo, which also featured members of their immediate family. However, the hit series was canceled in 2014 when it was revealed Mama June allegedly rekindled a relationship with an ex who is a convicted sex offender. But the family's reign on TV wasn't over, as We TV launched Mama June: From Not to Hot in 2017, following Mama June's cosmetic and weight-loss surgeries.
Sadly, in the last few years, Mama June's life has taken a nosedive despite her cosmetic enhancements. Not only is the reality star supposedly not speaking to her daughters, but she and her new boyfriend, Geno Doak, were arrested in March 2019 for drug possession charges, People reported.
So, does Mama June's arrest have to do with the breakdown in communication with her kids? We reveal the real reason for the fallout. 
Mama June goes MIA
The complicated dynamics between Mama June, Honey Boo Boo, and her other daughter, Lauryn Michelle "Pumpkin" Shannon, surfaced in a clip for Season 4 of Mama June: From Not to Hot: Family Crisis. Filming in the aftermath of Mama June's arrest, Pumpkin complains that her mom "doesn't even answer" their phone calls. "It goes to voicemail," she laments in the video obtained by People. "Geno's phone goes to voicemail." An equally fed up Honey Boo Boo adds, "Or they'll say all their phones are dead and they were sleeping." The topic then shifts to the matriarch's larger issues and her attempt at rehab, as Pumpkin rehashes, "It's gotten so low to this point, like, what more is there to do? What more can we physically do for her? I mean, we tried to send her to rehab. The network even gave her the opportunity that anybody in their right f***ing mind would take. She checked out within less than 24 hours." It's also revealed that Mama June has been in Alabama, away from Georgia where her children reside.
It's not exactly clear why Mama June has been distant, although it's obvious she hopes things will work out. "Even though me n kids arent still seeing each other ... I hope one day that will change as I want them to know I miss n love them very much," she wrote on Instagram in January 2020.
Hopefully, the issues with Mama June can be resolved.