Sable: The Untold Truth Of Brock Lesnar's Wife
Sable — whose real name is Rena Marlette Lesnar (née Greek) — "defined what it means to be a woman in the rough world of WWE," according to her alumni profile from WWE. In other words, she became a female pioneer in the world of wrestling.
Born in 1967, Sable debuted in 1996 when she accompanied "Triple H to the ring at WrestleMania XII," as per WWE. And because of her vivacious personality and gorgeous physical appearance, she quickly became a popular personality in the wrestling world. According to Bleacher Report, Sable became a "heel" or villain of the wrestling scene, since "her actions became less-than-admirable as she transitioned from popular-yet-humble baby face to egotistical heel." Per her WWE profile, she "mocked her opponents with 'the grind,' a move reminiscent of 'Ravishing' Rick Rude where she gyrated her hips."
The WWE Diva would frequently come out in one-piece spandex suits and was an absolute success at entertaining audiences, through her fearlessness and charisma. Her ex-husband, Marc Mero spoke with Wrestling Inc. and said of Sable, "She did amazing, you never know how someone will do in front of the camera, and she did amazing and was one of the leading characters in the Attitude era."
Sable's early love life
Prior to her exposure in the world of wrestling, Sable was married to a man named Wayne Richardson. They wed in 1986, according to Heavy, and together, they had a daughter named Maraiah. Tragically, Richardson was killed in a drunk-driving accident in 1991, per the outlet.
In 1994, Sable married "Wildman" Marc Mero and they were together for 10 years, according to Inquisitr. When Mero got sidelined because of a knee injury, Sable kept her place in the WWE spotlight and allegedly Mero grew increasingly jealous of his wife's success when he returned. The feud between them actually got physical, according to WWE, with "Sable delivering a kick to the groin and a powerbomb (which she dubbed the 'Sable bomb') to Mero." 
Their marriage didn't last and Mero spoke about its deterioration on The Steve Austin Show, where he addressed rumors that Sable cheated on him with Brock Lesnar. While Mero was clearly initially heartbroken, he's since let it go and seems happy for his ex-wife and her new husband.
"You can't sleep, you can't eat, you're sweating," Mero recalled. "And I remember thinking, 'when I find out who this guy is, I'm going to kick the living tar out of this man!' And then, I found out it was Brock Lesnar! Steve, this gives forgiveness a whole new meaning! Our marriage was over. We ended up getting divorced, but God bless them! They got married. They have kids."  
Sable and Brock Lesnar's relationship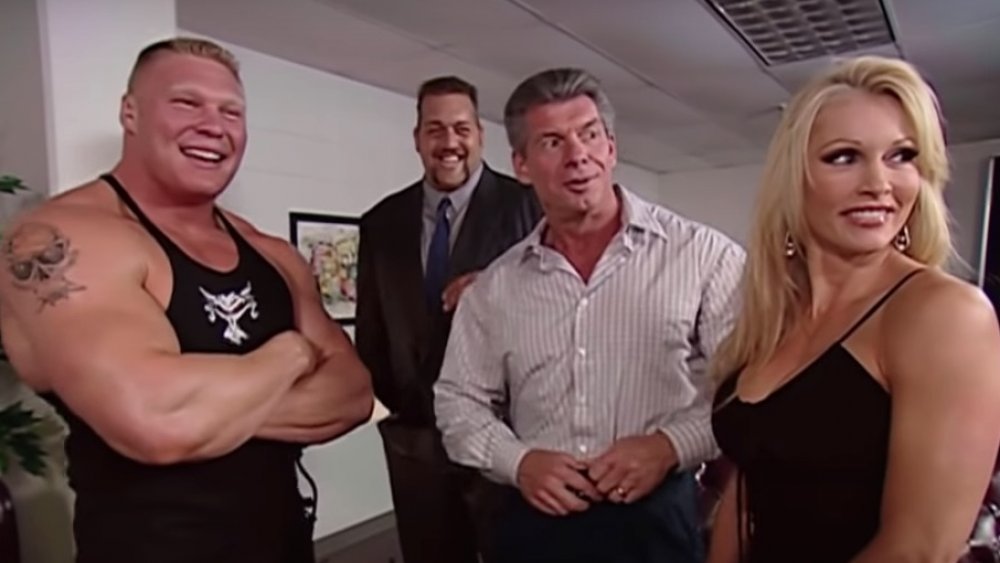 YouTube
While Sable made some changes in her romantic life, she also had some big shifts in her career. She parted ways from WWE abruptly in 1999 and filed a lawsuit for $110 million against the World Wrestling Federation, citing allegations of sexual harassment and unsafe working conditions after she refused to go topless, according to E! News. She ended up settling in a deal that made her family "very happy," the news outlet reported.
Sable also appeared in Playboy in 1999, in what became one of the highest-selling issues of the magazine ever, and she was asked to appear a second time in one year, according to the Ottawa Sun.
When Sable divorced Marc Mero and began dating wrestler Brock Lesnar in 2004, her new relationship had a bumpy beginning. Sable and Lesnar called off their engagement in 2005, but got engaged again in January 2006 and married in May of that year. Per Wrestle Zone, Sable was 38 at the time of their wedding and Lesnar was 28. Together, they have two sons, Turk and Duke, according to Heavy.
WrestleMania 36 is scheduled for April 4-5, 2020 and will feature Lesnar in a match against Drew McIntyre, according to CBS Sports. Because of the coronavirus, the shows will still go on, but will be filmed in an empty WWE Performance Center.