Kanye West 'So Glad' Kim Kardashian Exposed Taylor Swift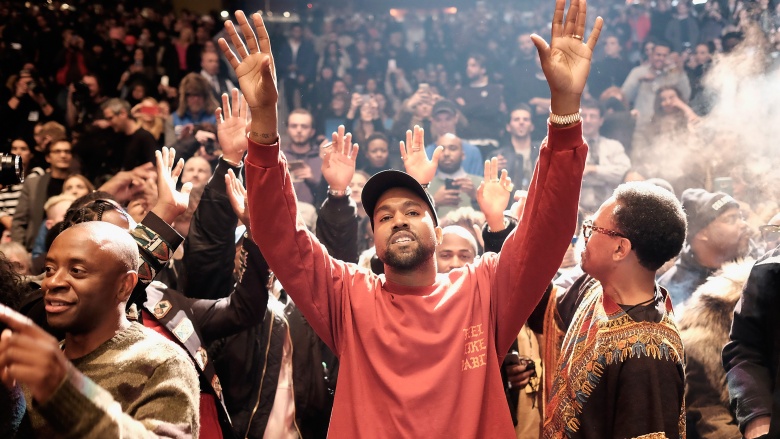 Getty Images
Kanye West shared his thoughts on wife Kim Kardashian's decision to leak videos to her Snapchat account that allegedly show Taylor Swift giving the thumbs up to his controversial song "Famous."
"All I gotta say is, I am so glad my wife has Snapchat," the 39-year-old rapper said during a surprise appearance at a Drake concert in Chicago (via TMZ) on July 27, 2016. "Because y'all can now know the truth. And can't nobody talk s*** about 'Ye no more!"
West has been forced to defend "Famous" since February 2016 when fans took issue with a set of lyrics referring to his longstanding feud with Swift. "I think me and Taylor might still have sex," West raps in the song. "Why? I made that b**** famous."
At the time, West claimed on Twitter that the song was pre-approved by Swift during an hour-long phone conversation. Swift's camp retorted, saying she "cautioned him about releasing a song with such a strong misogynistic message." The songstress then appeared to bash West while accepting the 2016 Grammy for album of the year. By then, Swift had seemingly won yet another battle against West.
Fast-forward to June 2016. That month, GQ magazine published an interview with Kardashian, during which she accused Swift of being a liar, playing the victim, and being totally in the loop on West's song. About a month later, Kardashian took things a step further by posting videos to her Snapchat of the phone conversation West referred to back in February. In the videos, Swift appears to sound much more upbeat about the song than her initial reaction indicated. She even thanks West for giving her a heads up.
Of course, Swift went on the defense after the videos were posted, calling them "character assassination" and claiming that none of the clips showed her talking about the lyric she took issue with: "that b****." Swift has since kept a lower profile, popping up only here and there on dates with her latest boyfriend, Tom Hiddleston.
Kimye isn't backing down. In addition to West's quote at the Drake concert, Kardashian recently posed for a photo with Swift's most recent ex and fellow Swift basher, DJ Calvin Harris, at a birthday party for Jennifer Lopez. She also skewered Swift on an episode of Keeping Up with the Kardashians.
In other words: this means war.