How Many Teen Mom Couples Are Actually Still Together?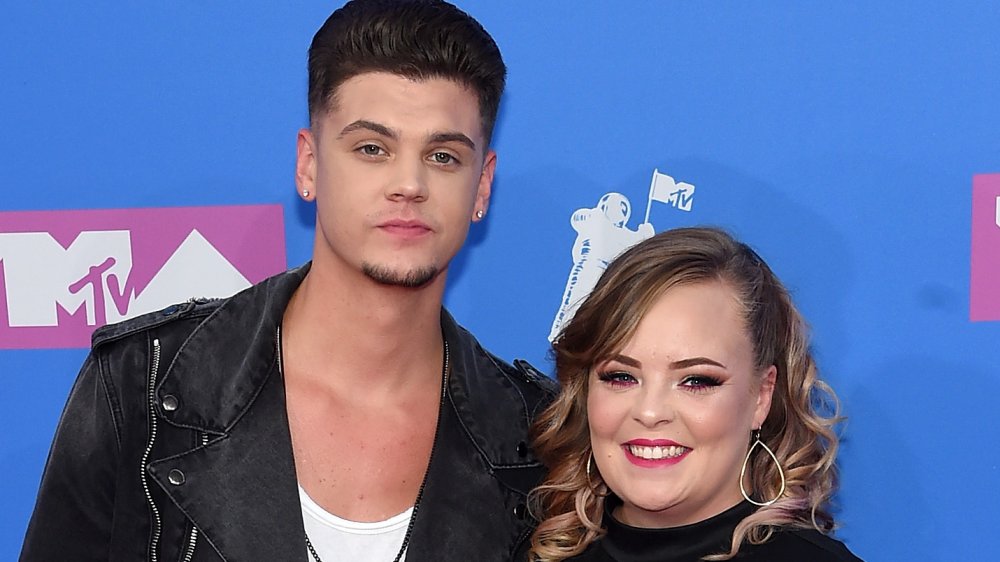 Jamie Mccarthy/Getty Images
MTV's longtime franchise, Teen Mom, features a lot of relationship drama. This trend probably has something to do with the show's origin, aka 16 & Pregnant, which featured unprepared, teenage couples bracing for parenthood. From star Maci Bookout battling it out with Ryan Edwards, the father of her son, Bentley, to Catelynn and Tyler Baltierra (pictured above) facing pressure on their relationship after choosing adoption for their biological daughter, Carly, the tension was never-ending. Coupling this stress with the statistic that "8 out of 10 teen dads don't marry the mother of their child," according to non-profit DoSomething.Org, it's not too much of a surprise many of the pairings on the show fell apart during or post-filming.
However, some duos who survived the tests and trials of teenage parenthood, coming out on the other side better than before. So how many Teen Mom couples are actually still together? We reveal the answer after the jump.
Catelynn and Tyler Baltierra worked through their issues
In May 2009, Tyler and Catelynn Baltierra made the difficult choice to place their daughter for adoption. Although the decision was right for them at the time, it caused problems for their relationship down the road, as they struggled to process the emotional effects of not being able to raise Carly themselves. 
Despite their earlier issues, the two got engaged in 2010 but called it off after Catelynn revealed she lied about a past hookup (via Us Weekly). The pair quickly reconciled, although their happiness didn't last for long as they called it off again in 2013. Finally, after a new proposal in 2014, the parents married in August 2015. However, things took a turn when Catelynn, who gave birth to the couple's second child in January 2015, began experiencing postpartum depression. "I think for the first time we didn't know how to communicate because we'd never been through it before," Tyler explained during a 2016 episode of The Doctors. "I think I probably handed it wrong because I didn't know."
Catelynn received treatment for her postpartum depression, but after suffering a miscarriage in fall 2017, she struggled with suicidal thoughts. The reality star ultimately overcame her issues with more treatment and therapy, and Tyler also worked on his mental health. Catelynn and Tyler then welcomed their third child in February 2019 and renewed their wedding vows on Season 8 of Teen Mom OG.
Mackenzie and Josh McKee almost didn't make it
Teen Mom 2 stars Mackenzie and Josh McKee encapsulate the definition of an on-again, off-again couple. Case in point: In the span of a few years, they filed for divorce, got back together, had a second engagement, and are possibly done for a second time. But before we dive into the drama, let's rewind a bit. 
After welcoming their son Gannon in 2011, the two got engaged and married in 2013. The couple, who now reside in Oklahoma, welcomed their daughter, Jaxie, in 2014, and two years later, they had another son, Broncs. All seemed to be going well for the growing family, despite Mackenzie's mom being diagnosed with stage 4 brain cancer. Sadly, the reality star's mom died in December 2019.
Despite making it through their teenage years intact, the couple split in August 2019. "Due to stress, me needing to stay focused, the media, etc. I am deciding my marriage needs a break," she tweeted at the time. Amid cheating allegations against Josh, the pair worked on their marriage and he proposed to Mackenzie again on her 25th birthday in October 2019. "We found our way back to each other even when we thought it was impossible," Mackenzie gushed, per People. 
Although we're not exactly sure where the couple stands as of this writing (Mackenzie posted about living alone in March 2020, which she since deleted), we have a feeling they'll get back together in the end.